Andy Burnham had clearly eaten his Weetabix before going on Newsnight last night. The shadow health secretary was in a punchy mood as he attacked the coalition's use of the private sector in the NHS.
Burnham told interviewer Kirsty Wark that the market was "not the answer" for healthcare. However Wark refused to be bulldozed and demanded to know what Labour thought the right amount of private sector involvement was.
"The vast majority of outsourcing was done, 4.4%, in the last Labour government," Wark said, with the help of a graph. "There is only less than 2% that has happened in the last four years. So do you want it back at 4.4%?"
The testy exchanges on Newsnight came after former Labour health secretary Alan Milburn said that Labour's focus on extra funding for the NHS without plans to deliver the reforms that the services needs could prove to be a "fatal mistake".
Burnham defended Labour's record. He told Newsnight there was a "supporting role" for the private sector in the NHS. However the government was letting it go "too far" and risked destabilising the health service. But Wark, to Burnham's irritation, continually pressed him on specifics on what the right percentage of private involvement was. "I'm not going to put a number," Burnham said.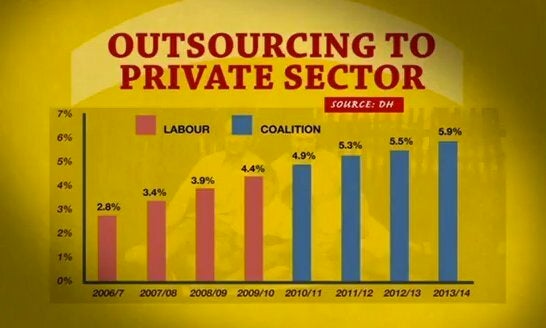 BBC Newsnight's private sector involvement graph
Yesterday the shadow health secretary launched Labour's 10-year plan for the NHS. It focused on previously-announced promises to invest an additional £2.5 billion in the NHS, recruiting 20,000 more nurses and 8,000 GPs, joining up health and social care and guaranteeing GP appointments within 48 hours and cancer tests within a week.