Yes, that's right - 'EastEnders' is going interactive.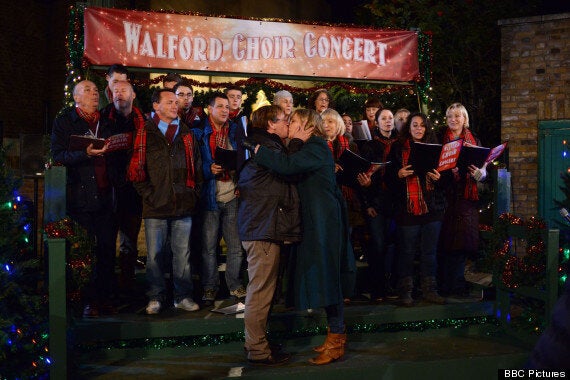 Ian and Jane got engaged in Christmas Eve
Bosses have picked five tracks that were all popular when the show debuted in 1985, in a nod to the 30th anniversary, and fans can choose one of the following:
Jennifer Rush's 'The Power Of Love'

'I Want To Know What Love Is' by Foreigner

'You're The Inspiration' by Chicago

'That Ole Devil Called Love' by Alison Moyet

Eurythmics' 'There Must Be An Angel (Playing With My Heart)'
We'd just like to take a second to consider the huge importance of this task. This is Ian's live wedding and let's face it, his one final shot at happiness.
The sad reality is, we know very little about the businessman's music tastes and the wrong song has the potential to derail the entire day. Good. Glad that's clear.
The couple are set to marry on 19 February, and it hasn't gone unnoticed that this is also the official date for the unmasking of Lucy Beale's murderer.
This also makes matters worse when it comes to choosing the song. Imagine if Lucy's fave 1985 tune starts blasting out as Jane and Ian are cutting the cake, leaving the murderer overcome with guilt, and forcing them to reveal themselves.
We're reading into this too much, you say? Point taken.
While fans had speculated over whether the couple would make it up the new aisle, the new announcement appears to confirm that they will manage it.
Which is your favourite? Remind yourself of the tracks by watching the videos below, then cast your vote via the official website.