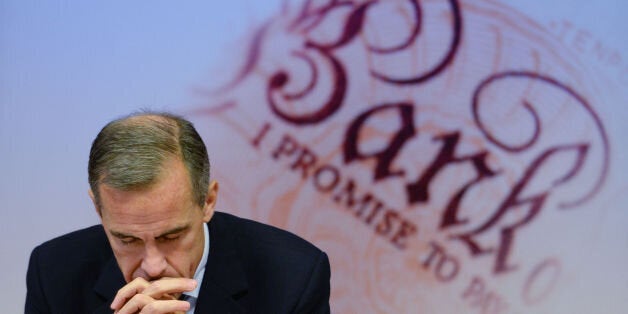 Mark Carney has been urged by MPs to spare mortgage-holders and other borrowers the "misery" of interest rates rising too sharply, the Huffington Post UK can reveal.
The Bank of England revealed, in response to a Freedom of Information request from HuffPost UK, that Labour MP Rob Flello was among the most vociferous in expressing concerns to governor Carney about the impact of rates rising.
Writing last year, Flello, MP for Stoke-on-Trent South, expressed fears to the central bank boss that the start of rates rising, for the first time since March 2009, could see more people failing to keep up with their mortgage repayments, losing their homes and being evicted.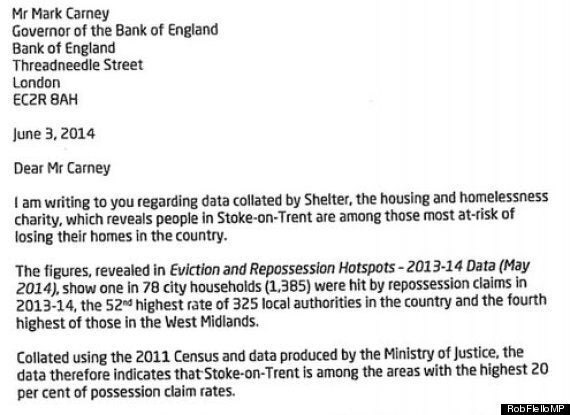 Ministers, he wrote, "must make it a priority to keep people in their homes and do more to increase the chronically low level of house-building", warning that "continued action on both fronts will only inflict misery on people".
Flello, a former shadow justice minister, went on to outline his fears about what would happen when policymakers decide to raise rates from their 0.5% historic low.
"I am concerned that more people... may fall victim to this scourge, and, ultimately, eviction," he wrote.
"If homeowners are evicted, their chances of being able to step back on the housing ladder will not be helped by a market in which rising prices are increasingly pushing houses beyond the reach of more and more people."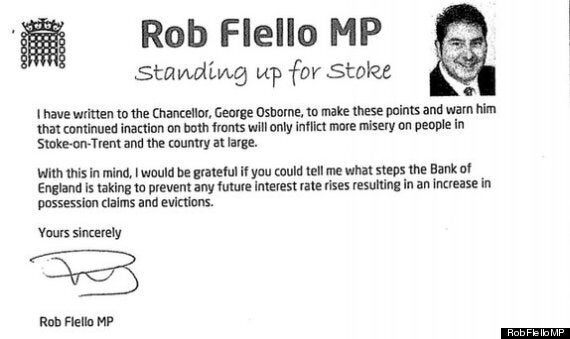 Flello joins other MPs in warning the Bank against raising interest rates too quickly. Other MPs, like Liberal Democrat MP Adrian Sanders and former Tory solicitor general Oliver Heald, passed on letters to the Bank governor from their constituents expressing concern about when the Bank may raise rates.
This comes as the Bank's chief economist has signalled that rate-setters may only increase rates by as much as 0.5% a year, which it only rising as high as 2.5% by the end of the decade.
Andy Haldane said that rates would not stay at their historic low "forever", but officials were "in no rush to raise" them.
"The recovery is taking hold nicely," he told the Daily Post on Wednesday, "the last thing we want to do is knock the stuffing out of that." The Bank is not expected by the markets to start raising rates until January 2016.
Falling inflation has seen Bank policymakers shy away from backing an interest rate rise, with its Monetary Policy Committee voting unanimously to keep rates low in their first meeting this year.
This marks a major change from previous months, when two members of the Bank's nine-strong committee, Martin Weale and Ian McCafferty, wanted to raise rates by 0.25%.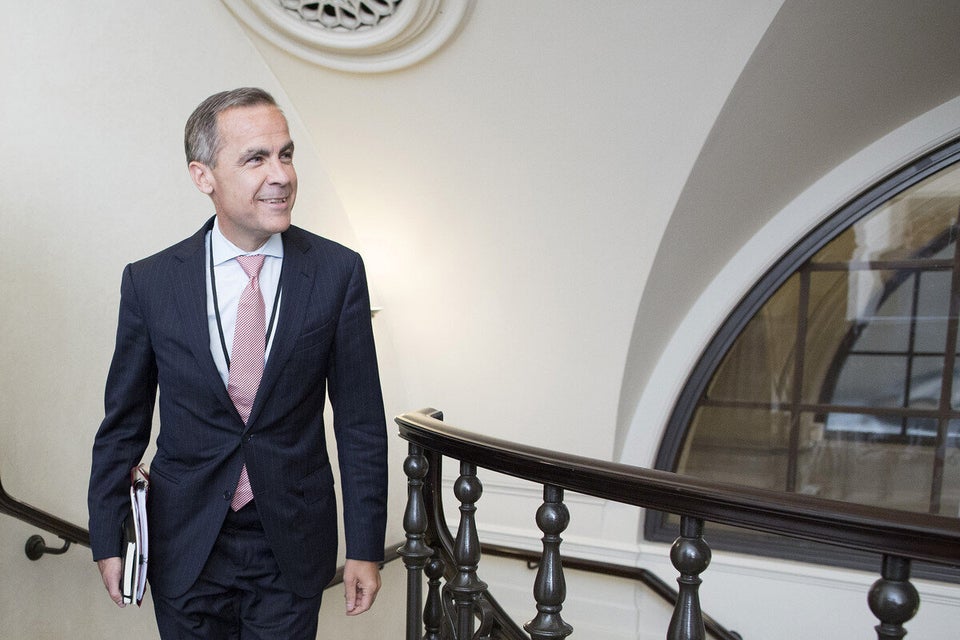 Mark Carney's 1st Year At Bank of England
Popular in the Community