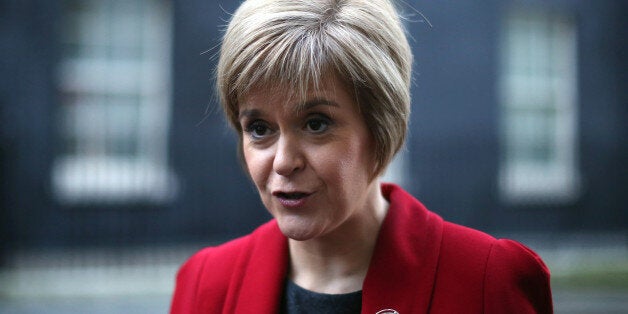 Nicola Sturgeon has said she is not overly keen on being part of a formal coalition with Ed Miliband following the general election. However the SNP leader indicated would be willing to prop up a Labour minority government on a "case by case" basis.
A surge in support for the SNP in Scotland suggests the party could dramatically increase its number of Westminster MPs in May - largely at the expense of Labour. The result could leave Miliband reliant on the support of the SNP to get into Downing Street.
However Sturgeon told journalists in Westminster on Wednesday that an informal deal, rather than one modelled on the current Conservative-Lib Dem government was more likely.
"I'm not that instinctively enthusiastic about the idea of coalitions. I would much prefer an issue by issue, case by case arrangement," she said.
The Scottish first minister said: "Assuming the SNP does well in the general election, we will be down there [London] looking to get the best deal and best situation for Scotland."
"I would hope there would be a willingness to reflect the outcome of the election if the SNP do perform well," he said. "I don't know Ed Miliband particularly well as a person, but in a sense, that is neither there nor there."
Sturgeon also indicated her predecessor, Alex Salmond, who is hoping to get elected to the Westminster parliament in May, would have a role in any negotiations with Labour. The party has ruled out supporting a Conservative government.
Asked if Salmond would be on her negotiation team, Sturgeon replied: "If Alex is elected, as I wold be fairly confident in predicting he will be, then Alex will be a key part of the team in Westminster and of course will have a part to play."
On Wednesday, Ed Balls appeared to rule out an alliance with the SNP. Asked if Labour would do a "deal" with Sturgeon, he replied: "No. And I don't think anybody is suggesting any suggestion of a deal with the SNP at all."
The result of the election appears to be so tight, that Labour or the Tories may have to rely on the support of more than one of the minor parties in order to form a government.