'EastEnders' fans on Twitter finally had something to discuss besides who killed Lucy Beale on Monday night, after Peter Beale's abs sent viewers into overdrive.
After Peter, played by Ben Hardy, whipped his kit off in an attempt to charm Jacqueline Jossa's character, Lauren Branning, it took just minutes for 'Peter Beale' to start trending on Twitter, with the majority of users swooning over his ripped body.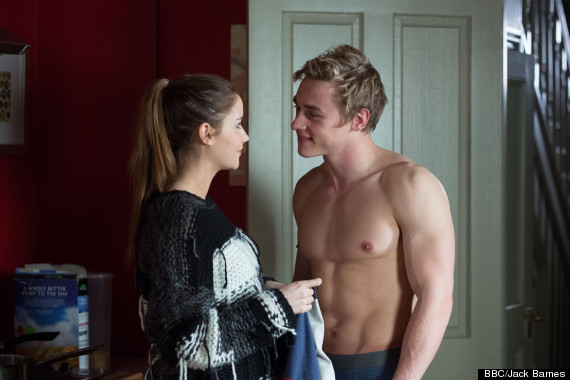 One word: wow
Peter Beale on last nights eastenders tho 😍👌

— carley (@CarleyHowell1) February 3, 2015
Oh Peter Beale 😻

— Kirsty (@kirstynice) February 2, 2015
UMFFF PETER BEALE DAYUM

— eryn (@peachydemi) February 2, 2015
Don't leave, Peter Beale. #EastEnders pic.twitter.com/b0AZ2e8czB

— Ryan Love (@RyanJL) February 2, 2015
Three words; Peter fucking Beale 😍😍

— ✨ (@sadiejjjthorne) February 3, 2015
I enjoyed watching eastenders last night.. Or in other words. I enjoyed watching Peter Beale take his top off...

— Jess (@jesshayesx) February 3, 2015
In other news, what has Peter Beale been doing? Don't you sell vegetables? How are you that ripped?

— raychill whinerhouse (@adultcereal) February 3, 2015
Unfortunately for the legions of fan Ben has bagged himself after stripping off on screen, they shouldn't get too used to the sight of his chiselled body, because he announced recently that he would be quitting 'EastEnders' later this year.
While it's not yet known exactly how he will be leaving the soap, it's been widely speculated that it could have something to do with - you guessed it! - the Lucy Beale storyline his character is currently embroiled in.
Since last year, Albert Square residents - not to mention 'EastEnders' viewers, of course - have been trying to get to the bottom of who was behind the murder of Peter's sister, Lucy.
Following a mammoth eight-month investigation, that has seen a number of leading 'EastEnders' characters in the frame for her killing, viewers can finally look forward to finding out who the culprit is next week.
The murderer will finally be revealed during Thursday night's live episode, which comes as part of a week-long celebration in honour of the soap's 30th anniversary.
Check out some of the sexiest ever 'EastEnders' stars in our gallery below...
LIKE US ON FACEBOOK | FOLLOW US ON TWITTER