Police have uploaded up to 18 million mugshots, including those of innocent people, to a national database, despite concerns it could be unlawful, it has been reported.
The photos were uploaded to the "completely unregulated" database, BBC Newsnight reported.
The programme said the 18 million figure included "hundreds of thousands" of people who were not convicted of a crime.
This is despite a 2012 High Court ruling that two people who were not convicted of a crime should have their images deleted by the Metropolitan Police, which had retained their mugshots.
That ruling said forces had to address the issues around photo retentions within months.
A spokeswoman for the Association of Chief Police Officers (ACPO) confirmed the images included "duplicates", meaning the number of mugshots did not reflect the number of different people in the database.
SEE ALSO:
Biometrics Commissioner Alastair MacGregor told Monday's Newsnight that he was surprised police have not "addressed" issues around the uploading and retention of images of people without a criminal record.
He said the database could be a "tremendously useful thing in the fight against crime" but added people must be confident it was being properly regulated.
He said: "I think there is always a danger that if you can do something then you will do it, the technology takes over... without giving the attention to the other issues that arise in relation to it as one should.
"Its value will be very significantly undermined if the public can't have confidence in it. And if the public can't feel, well, this is properly regulated, there are proper controls on what can be done and so on."
Lib Dem MP David Laws, the schools minister, wrote to the Home Office, the BBC said, to express his concern.
He said: "I am alarmed that a searchable police database of facial images has been brought into operation without any public consultation or Parliamentary debate."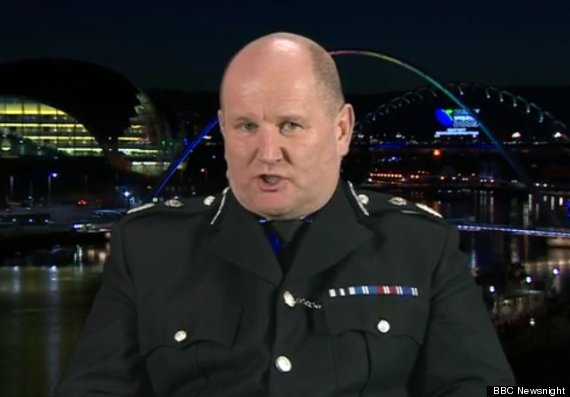 Durham Chief Constable Mike Barton said he was 'unashamed' about the system
David Davis, the former Tory shadow home secretary, said: "You cannot treat innocent people the same way you treat guilty people. You should not misuse the data in this way."
Norman Baker, the Lib Dem MP and former Home Office minister, said police "ought to have stopped and asked themselves what they were doing and if it had public support".
Durham Chief Constable Mike Barton, the national policing lead on intelligence, said he was "unashamed" about the system even if it included pictures of people not convicted of any crime because "we need them for different purposes".
"Everybody is very keen that the police enter the cyber world," he told Newsnight.
"I hear much criticism of policing that we're not up to speed and it does come as a surprise to me that we're now being admonished for being ahead of the game."
He added: "If Parliament chooses to... regulate our use of photographs over and above that which we already have, then I'm more than happy."
He said the information is kept in accordance with the Data Protection Act, which he said police had taken as "our bible on this".
When asked how many of the 18 million photos were of unconvicted people, Barton said: "I don't know exactly. That's what I'm working through."