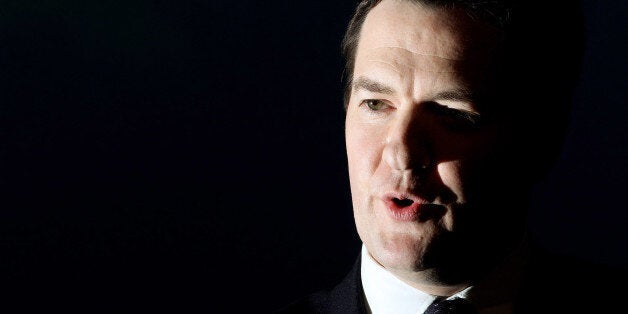 George Osborne will make the deepest cuts in the industrialised world if the Tories win May's general election, an influential think-tank has warned.
In stark analysis of the pain that lies ahead, the highly respected Institute for Fiscal Studies found that the chancellor's spending plans over 2015-2019 would be the "largest fiscal consolidation out of 32 advanced economies over the period".
The think-tank found that just over half of Osborne's projected cuts have been done, with around 45% left to come, equating to billions of pounds more slashed from government spending, with as much as £51.4 billion cut from departmental budgets between 2015–16 and 2019–20, on top of 9.5% (£38.2 billion) cuts up to 2015–16.
Cuts of this scale could lead to public spending falling to its lowest share of national income since at least 1948 and fewer people working in the public sector than at any time since at least 1971, the think-tank said.
As part of their "Green Budget", looking at Osborne's plans before his own keynote Budget speech next month, the IFS warned that "difficult choices lie ahead" and that the chancellor will inevitably have to raise taxes after the election.
"The first year after each of the last five elections has seen the announcement of net tax rises of more than £5 billion per year in today's terms," the IFS said.
Labour's shadow chancellor Ed Balls said the IFS' analysis showed that "if the Tories win the election, Britain will face the biggest spending cuts of any major advanced economy".
He added: "George Osborne's failure to boost productivity and wages is the reason why his plan has not only failed working people but failed on the deficit too."
If Osborne keeps spending protected for departments like the NHS and schools, the IFS predicted that he would be forced to cut other budgets, which include prisons, local councils and the Foreign Office, by as much as 42%,
"For any overall cut in departmental spending, protecting real spending on health, schools and overseas aid doubles the average cut for all other departments," the IFS warned. "Protecting these departments from 2015–16 onwards would mean that the Autumn Statement plans for 22% cuts overall between 2010–11 and 2019–20 would become 42% cuts for unprotected departments."
The IFS also found that the Tories would do better at getting the debt down than Labour, predicting that Ed Miliband's party would see debt fall by 9% of national income, compared to 19% under David Cameron's party.
With Iain Duncan Smith boasting today of making welfare "savings" over this parliament, the think-tank rubbished the government's record as it warned the budget has seen "no real reduction" due to a ballooning pensions bill.
Paul Johnson, director of the Institute for Fiscal Studies, said that whoever is chancellor after May "will still have a lot of fiscal work to do over the course of the next parliament", adding: "The public finances have a long way to go before they finally recover from the effects of the financial crisis."
Related