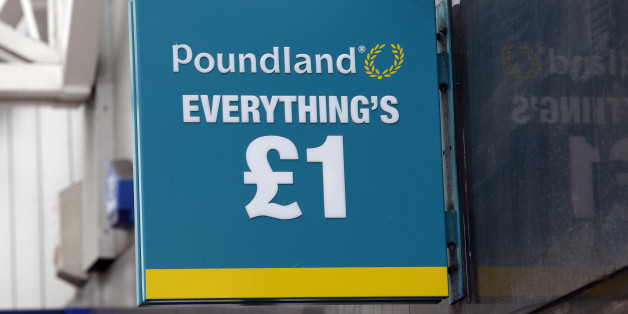 Danny Lawson/PA Wire
Poundland is set to buy rival 99p Stores in a £55 million cash and shares deal, in a move that has set Britain alight with jokes about how much the retailer is paying for its rivals.
Well, one joke in various forms.
Poundland says its £55m deal to buy 99p stores will deliver "better value" for customers. Insert penny joke here...

— Adam Parsons (@AdamParsons1) February 6, 2015
If I had a penny for every Twitter gag about the price increase when Poundland takes over 99p Stores I'd easily afford the price increase

— Eddie Robson (@EddieRobson) February 6, 2015
The high street shakeup will see 99p Stores become Poundland shops over time.
Poundland, which floated on the stock market last year, will also pick up a warehouse and distribution centre in the transaction.
But many were 'surprised' that Poundland was paying more than 99p, as may be expected for the single price retailer.
Poundland has agreed to buy 99p Stores Ltd for £55 million. Confused ? Inflationary ?

— Patrick Wintour (@patrickwintour) February 6, 2015
But the lack of comic material certainly didn't stop people trying.
Poundland to buy 99p Stores for, I presume, 99p. Surely. Otherwise their whole premise is a lie.

— David Schneider (@davidschneider) February 6, 2015
Poundland are getting ripped off. £55m? Everything is supposed to be less than a quid

— Andrew clark (@Bigandyclark) February 6, 2015
Surely that's "£55,000,000.99p" RT @Channel4News: Poundland is set to buy its rival 99p Stores in a £55m cash and shares deal. #c4news

— Caitlin Moran (@caitlinmoran) February 6, 2015
Or written another way...
"Poundland has agreed a £55m takeover of discount rival #99p stores" Silly Poundland! They paid £54,999,999.01 more than asking price

— Fabrizio Viani (@fabrizioviani) February 6, 2015
Ok, this one is a little different.
I've got 99p Poundland £55m jokes and this isn't one of them

— Martin Belam (@MartinBelam) February 6, 2015
There was even a little outrage.
Poundland FALSE ECONOMY pic.twitter.com/dWtif3YVKw

— Felicity Morse (@FelicityMorse) February 6, 2015
Poundland press contacts have confirmed to me they do plan to turn 99p Stores into Poundlands, resulting in an extra 49p on my weekly shop.

— Ryan Barrell (@RyanBarrell) February 6, 2015
Anyway, here's the actual business behind the deal...
Chief executive Jim McCarthy said: "This is a good deal for both businesses and will benefit customers and shareholders.
"Through working together, Poundland will improve choice, value and service for 99p Stores' customers, bringing Poundland's know-how and range to 99p Stores."
Family-run 99p Stores was founded by Nadir Lalani with a single site in Holloway, north London, in 2001, helped by sons Hussein and Faisal, before opening a further three stores later that year.
It has grown rapidly in recent years following the demise of Woolworths in 2008 as bargain retailers have become regular fixtures in UK high streets.
Poundland is paying £47.5 million in cash plus £7.5 million in new shares. The deal will be partly funded by a share placing.
The firm said the deal was dependent on the approval of the Competition and Markets Authority (CMA) and talks with the regulator have already been held.
Poundland describes itself as Europe's largest single price value retailer. It has opened nearly 600 stores in the UK, Republic of Ireland and Spain since 1990 - trading in the latter two countries under the Dealz brand.
Representatives of the single price giant confirmed to The Huffington Post UK they plan to slowly turn all 99p Stores into Poundland shops over time.
So rush out and get some of these deals while you still can: