Contactless payments are now very much a thing.
Spending on contactless cards more than trebled over the last year to reach a record £2.32 billion in 2014, industry figures show.
Consumers typically made 10 contactless payments every second throughout 2014, with contactless cards being used a total of 319.2 million times last year, the UK Cards Association said.
But what that means for the equally important figure of 'number of people embarrassed by attempting to pay contactless on a non-contactless machine' is unclear.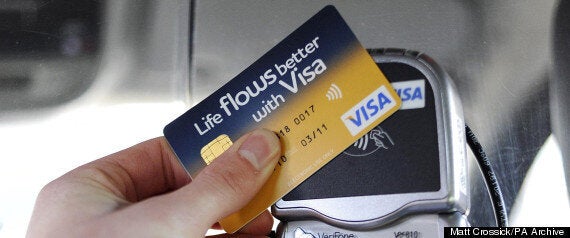 The latest figures show that contactless tap and go payments have now "firmly stepped into the mainstream", the Association said.
Year-on-year, annual spending increased by 255%, from £653.4 million worth of contactless payments being made in 2013. Spending on contactless cards last year was more than double the total of £857.2 million spent using this method during all of the previous six years combined.
There are now 58 million contactless cards in circulation in the UK, which is 52% more than there were in December 2013. People using contactless spend £8.26 per transaction, on average.
The figures were released as separate data from Barclaycard, which processes nearly half of all credit and debit card transactions in the UK, revealed that Bristol has seen the most significant increase in contactless usage in 2014, when compared with the country's other major cities.
London leads the way when it comes to overall contactless use, according to Barclaycard's figures. Nearly one in three (30.1%) card transactions taking place last year in London were contactless, according to Barclaycard's data.
Transport for London launched contactless payments across the transport network in the capital last September.
Shashi Verma, Transport for London's director of customer experience, said: "We have seen over 41 million journeys made across London using contactless within just five months.
"Using contactless payments to travel can save our customers time, they don't need to stop to top-up an Oyster card, or buy a ticket."
New technology is increasingly making it easier to pay in ways which do not involve reaching for your wallet at all.
Paym, the cross-industry mobile payments scheme which enables people to send payments as easily as texting, recently said that nearly two million people have now signed up to the initiative, which launched last April.
Wearable payments technology is also being developed. Last year, Barclaycard unveiled its bPay wristband, which allows people to pay with a wave of the wrist. It has also been trialling pairs of contactless payment gloves, which people can use by touching the back of their hand on the reader at the till, in a similar way to making contactless card payments.