A leading US television news anchor is taking temporary leave after admitting he told a false story about being aboard a helicopter that was shot down in the Iraq war.
Brian Williams, the presenter and managing editor of NBC Nightly News, will be absent for several days after he apologised for saying he was on the aircraft, which was hit by rockets in over the Iraqi desert.
Williams had told viewers that he was in a Chinook aircraft that was attacked by ground fire in 2003, and forced to land.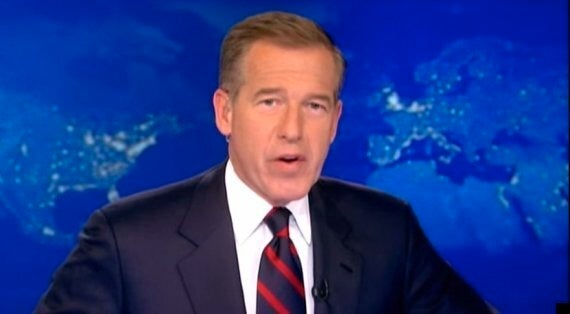 Williams has admitted he actually wasn't in the helicopter
In a press release on Saturday, Williams said:
In the midst of a career spent covering and consuming news, it has become painfully apparent to me that I am presently too much a part of the news, due to my actions.

As Managing Editor of NBC Nightly News, I have decided to take myself off of my daily broadcast for the next several days, and Lester Holt has kindly agreed to sit in for me to allow us to adequately deal with this issue. Upon my return, I will continue my career-long effort to be worthy of the trust of those who place their trust in us.
His false story earlier this week was immediately challenged by Iraq war veterans - including some who were involved in the shooting incident - who called him out on his Facebook page.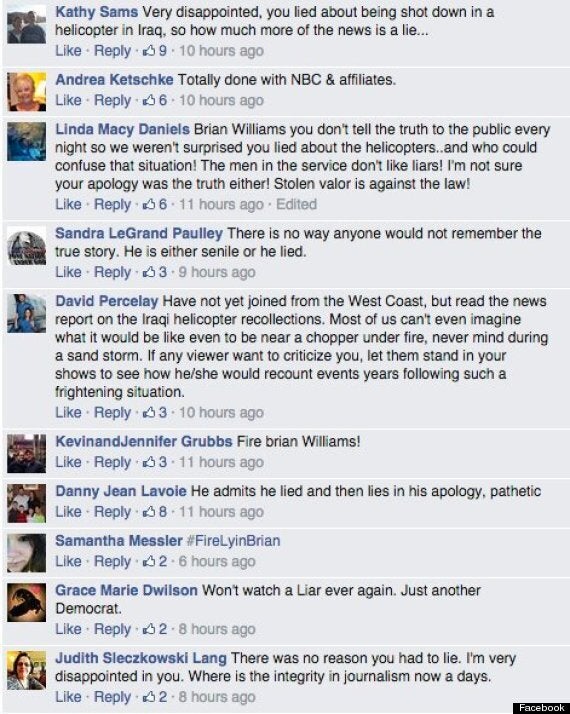 Williams made the claim while he was reporting on tributes at a hockey game to a retired soldier, who had provided support after the helicopter was attacked.
After the crowd gave the soldier a standing ovation, he said: "The story actually started with a terrible moment a dozen years back during the invasion of Iraq when the helicopter we were traveling in was forced down after being hit by an RPG," Williams said. "Our traveling NBC News team was rescued, surrounded and kept alive by an armor mechanised platoon from the US Army 3rd Infantry."
Brian Williams' on-air "mistake" about which helicopter he was in: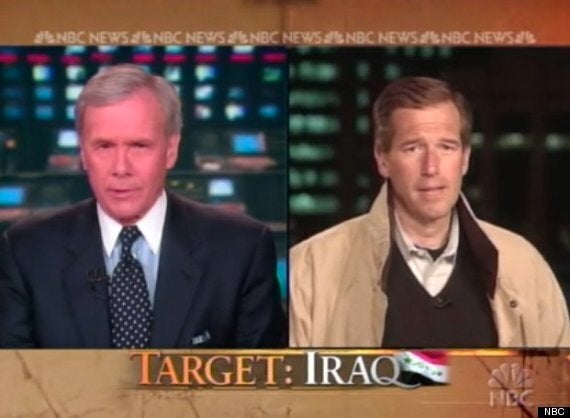 Williams clearly told NBC in the 2003 video that another helicopter was hit, not his
In his humiliating apology in the NBC studio on Wednesday, Williams said: "I made a mistake in recalling the events of 12 years ago. It did not take long to hear from some brave men and women in the air crews who were also in that desert."
"I want to apologise. I said I was travelling in an aircraft that was hit by RPG fire. I was instead in a following aircraft. We all landed after the ground fire incident and spent two harrowing nights in a sandstorm in the Iraq desert.
"This was a bungled attempt by me to thank one special veteran, and by extension our brave military men and women, veterans everywhere, those who have served when I did not. I hope they know that they have my greatest respect, and also now my apology."
The claim has apparently been reported by his employer NBC several times over the years.
On his Facebook page, Williams said that he made the mistake because of the "fog of memory" and having repeatedly watched footage of the aftermath of the attack.
"I feel terrible about making this mistake, especially since I found my OWN WRITING about the incident... I was indeed on the Chinook behind the bird that took the RPG in the tail housing just above the ramp."
He added: "Because I have no desire to fictionalize [sic] my experience ... and no need to dramatize [sic] events as they actually happened, I think the constant viewing of the video showing us inspecting the impact area -- and the fog of memory over 12 years -- made me conflate the two, and I apologize. [sic]"
He said in the TV apology that he merely wanted to "thank a veteran who protected me and so many others after a ground fire incident in the desert during the Iraq war invasion."
Williams isn't the only person to liberally edit a story about a war experience. Hilary Clinton was lampooned for saying in 2008 that she landed at a Bosnian airport under sniper fire and was forced to run for cover, when in fact she was greeted on the runway by smiling US and Bosnian officials for a ceremony.
Related