Prince Charles has said he is alarmed at the number of people in Britain being radicalised, describing the role of the internet in recruiting them to extremism as "the frightening part".
In the interview with BBC Radio 2's Sunday Hour, the Prince of Wales was asked about radicalisation and said: "Well. of course, this is one of the greatest worries, I think, and the extent which this is happening is the alarming part.
"And particularly in a country like ours where, you know, the values we hold dear. You think that the people who have come here, born here, go to school here, would abide by those values and outlooks.
"The frightening part is that people can be so radicalised either by contact with somebody else or through the internet...I can see I suppose to a certain extent, some aspect of this radicalisation is a search for adventure and excitement at a particular age."
In recent days, Clarence House has had to deal with claims made in a new book about Charles by journalist Catherine Mayer.
The book says his household is so riddled with backstabbing it is nicknamed 'Wolf Hall', after the treacherous Tudor court depicted in Hilary Mantel's novels depicting the rise of Thomas Cromwell.
During the Sunday Hour interview, Charles suggested that when he becomes King he may still be sworn in as Defender of the (Anglican) Faith - following years of speculation that the title could be changed to encompass all faiths.
But he said he believed an important part of the role was to be a "protector" of every religion in multicultural Britain.
Charles was interviewed ahead of the start of his six-day tour to the Middle East, a region under heavy threat from extremists such as the so-called Islamic State.
As heir to the throne, Charles is also heir to the title of Defender of the (Anglican) Faith - a role he has been openly discussing for the past 20 years.
He said: "I said I would rather be seen as defender of Faith all those years ago because... I mind about the inclusion of other people's faiths and their freedom to worship in this country.
"And it always seems to me that while at the same time being defender of the faith you can also be protector of faiths.
"You have to come from your own Christian standpoint, you know, in the case I have defender of the faith and ensuring that other people's faiths can also be practiced."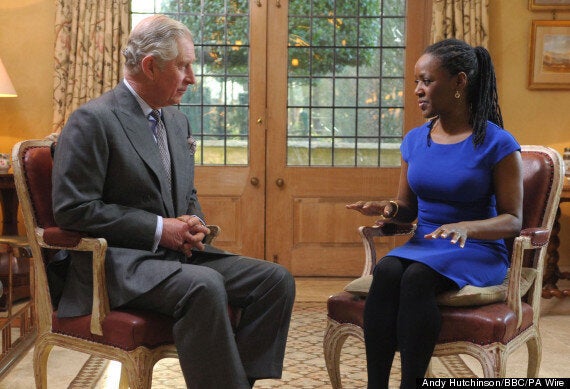 Prince Charles being interviewed by Diane-Louise Jordan for BBC Radio 2's The Sunday Hour
He added that he had "deep concerns" for churches in the Middle East and feared there would soon be very few Christians left in the region.
"It's a most agonising situation but then I suppose we must remember that all around the world there is appalling persecution going on," he said.
"Not of Christians but of Muslims or of other faiths and religions and other minorities and I suppose we have to try and remember that.
"That we have to balance that but at the same time I fear that the problems in the Middle East are not going to go away immediately. And so there is a danger that there is going to be very, very few left."
He added: "I think the secret is we have to work harder to build bridges... despite the setbacks and despite the discouragement to try and build bridges and to show justice and kindness to people."