The Jordanian government has released a highly choreographed video shows its fighter jets preparing to bomb Syria.
State TV showed footage of aerial attacks on Syria and shots of F-16 jets taking off from an airbase.
It also revealed male and female Jordanians scribbling messages in chalk on missiles.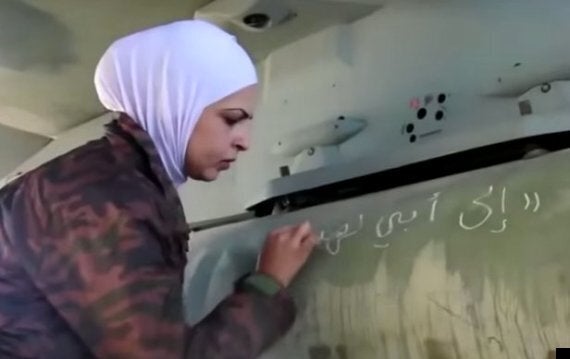 "For you, the enemies of Islam," one read.
In one scene a pilot holds up a piece of paper from the cockpit of a jet quoting a line from the Quran which reads: "Don't think God doesn't notice what the wicked do."
Hostage Lt al-Kaseasbeh was filmed being burned alive in a cage in footage released on Tuesday.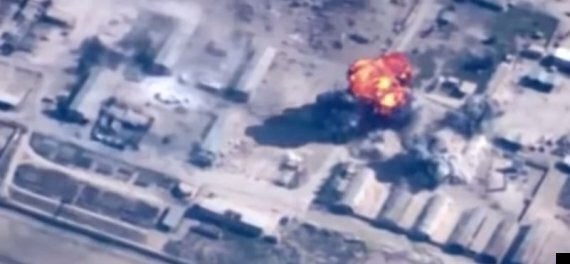 The footage is purported to show the aerial bombing of Islamic State territory in Syria
A military statement, read during the broadcast stated: "This is the beginning and you will get to know the Jordanians" — an apparent warning to IS. It added the strikes will continue "until we eliminate them."
As part of the new campaign, Jordan is also attacking targets in Iraq, said Foreign Minister Nasser Judeh. Up to now, Jordan had struck IS targets in Syria, but not Iraq, as part of a U.S.-led military coalition.
"We said we are going to take this all the way, we are going to go after them wherever they are and we're doing that," Judeh told Fox News.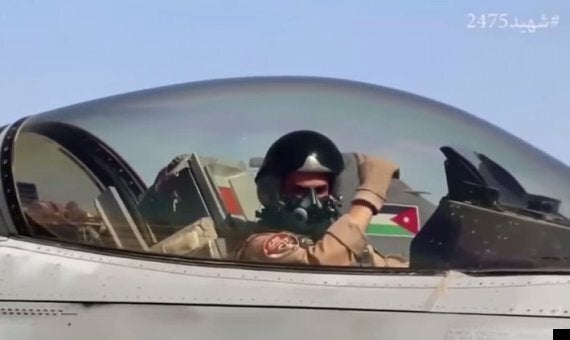 An F-16 jet pilot gives a 'thumbs up'
King Abdullah was paying a condolence visit to the family of the pilot in southern Jordan when the fighter jets roared overhead.
The king pointed upward, toward the planes, as he sat next to the pilot's father, Safi al-Kaseasbeh.
Al-Kaseasbeh told the assembled mourners that the planes had returned from strikes over Raqqa, the de facto capital of the militants' self-declared caliphate.
His son had been captured near Raqqa when his F-16 fighter plane went down in December.
Earlier this week, Islamic State displayed the video of the killing of the pilot on outdoor screens in Raqqa, to chants of "God is Great" from some in the audience, according to another video posted by the militants.