The Conservatives have mounted a robust defence of their former ministerial colleague Stephen Green, who was chairman of HSBC while the bank is alleged to have helped clients dodge tax payments totalling millions of pounds.
Tory peer Lord Green headed the bank from 2003-2010 before going on to serve as the coalition's trade minister and as part of David Cameron's Cabinet Committee for Banking Reform, and also as an adviser to chancellor George Osborne on banking issues.
Speaking in the House of Commons on Monday, Treasury minister David Gauke said: "There are clearly questions that need to be answered about what happened at HSBC between 2005 and 2007. HMRC are taking evidence from around 1000 people where there's evidence that they've broken UK law and HMRC will continue to take evidence where further evidence arises."
The leaks are reported - by BBC's Panorama and the Guardian - to include evidence that the bank colluded with some clients to hide accounts from tax authorities on their home countries.
Among those alleged to have been exposed as having accounts with the Swiss arm of HSBC are said to be politicians, sports stars and celebrities as well as criminals and traffickers.
Lord Green flees as a BBC Panorama reporter asks about his time at HSBC
Labour MP Adrian Bailey, chair of the Commons business committee, lambasted the government for appointing Green, "the chief executive of a bank actively promoting tax evasion", adding: "What sort of message does this send?"
"Instead of tackling tax avoidance and tax evasion, the government has effectively promoted it by putting it in the heart of government," fellow Labour MP Chris Bryant said.
Danny Alexander, Liberal Democrat chief secretary, said: "Financial institutions who are proven to have colluded with tax evaders should face the full force of the law.
"We quite rightly prosecute and often jail people guilty of damaging our society through conventional crime and anti-social behaviour. The way we treat systematic tax evasion should be no different. If that means jail for offenders and those that conspire with them, then so be it."
"There have been 42 loopholes that this government has closed," Gauke told MPs. "We inherited a tax system where not enough was being done to prevent tax evasion".
David Cameron also rejected criticism of Lord Green's appointment, saying he had been an 'excellent" minister who had done a "good job".
Public accounts committee chairman Labour MP Margaret Hodge, chair of the influential Public Accounts Committee, said the former trade minister faced "serious questions".
"If it had been a benefit cheat it would have been up for court years ago. Now we have had only one tax cheat taken before the British courts," she told the BBC Radio 4 Today programme.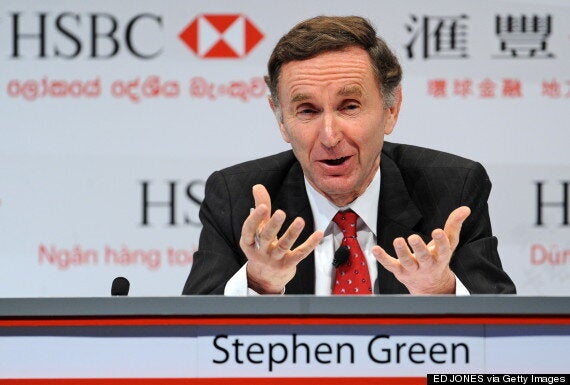 Lord Green ran HSBC before going on to be a Tory peer and the coalition's trade minister
"Either he didn't know and he was asleep at the wheel, or he did know and he was therefore involved in dodgy tax practices," she went on. "Either way he was the man in charge and I think he has got really important questions to answer."
HSBC was forced to issue an apology after a United States Senate committee found that over the last ten years the bank had provided services to some lenders in Saudi Arabia and Bangladesh believed to have helped fund al Qaeda and other terrorist groups.
Shadow financial secretary to the treasury Cathy Jamieson said: "HMRC were made fully aware of these practices back in 2010. There are serious questions for the Chancellor to answer about why just one person out of over a thousand have been prosecuted in five years.
"And why the Government's Swiss tax deal has been such an embarrassing flop, raising a fraction of the amounts initially boasted of by ministers."
"Tax avoidance and evasion harms every taxpayer in Britain, and undermines public services like the NHS."
In a bid to divert attention from former HSBC boss, and Tory peer, Stephen Green, David Gauke accused Ed Balls, who served as City minister in the years up to 2007, of having "questions to answer" about what he knew of HSBC"s dealings in Switzerland. Labour sources suggested that the Labour shadow chancellor was unaware of any wrongdoing and it was a "desperate bid" to distract attention from the appointment of Stephen Green.
"The information was first given to the government in 2010, so of course he [Ed Balls] was not aware of it," he said.
In a statement to the Guardian, HSBC said: "In the past, the Swiss private banking industry operated very differently to the way it does today. Private banks, including HSBC's Swiss private bank, assumed that responsibility for payment of taxes rested with individual clients, rather than the institutions that banked them. Swiss private banks were typically used by wealthy individuals to manage their wealth in a discreet manner.
"HSBC has cooperated and continues to cooperate to the extent that it can with requests for information from governments regarding account holders. However, providing client data to foreign authorities would itself constitute a criminal offence under Swiss law."
Related