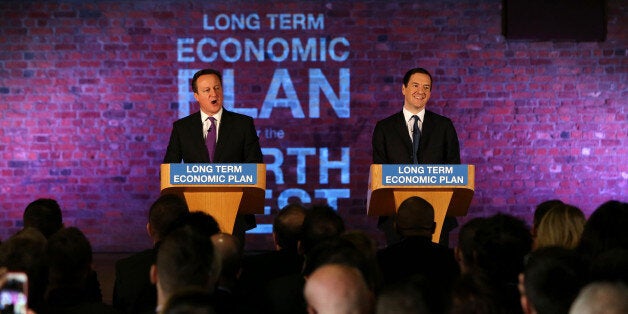 The Tories ' flagship election slogan, boasting of having a "long-term economic plan", has failed to impress one major business leader, despite the party's doubling-down to portray themselves as the pro-business choice.
John Longworth, director general of the British Chambers of Commerce, told the Financial TImes: "Do you know what it is? No? Exactly. Neither do I. They have done a lot of things, the current government, which have been pro-enterprise but we don't really know what the plan is for the next parliament."
Longworth's verdict will be particularly embarrassing as senior ministers - including David Cameron and George Osborne, have given the well-worn phrase "long-term economic plan" major prominence in the Tories' election campaign.
The business chief also used his speech today at the BCC's conference in London to warn that the debate on Britain's place in the European Union has been "hijacked by political ideology".
"Economic pragmatism – what's best for Britain, for British business, for our national growth ambitions – must win the day," he said.
Speaking to the BBC ahead of his speech, Longworth called for the referendum on Britain's membership of the European Union to be brought forward. "We need to bring the referendum date forward because two-and-a half-years of uncertainty isn't good for growth and investment," he said.
Meanwhile, Labour's shadow chancellor Ed Balls used his own speech to accuse the Tories of causing "uncertainty and risk for British business" with their referendum plan.
"Britain walking out of the EU is the biggest risk to our economy in the next decade," he said. "EU exit risks British jobs, trade and investment and the future prosperity of the UK"
"Britain must lead the debate for reform in the EU. Banging the table for change and for the EU to work better for Britain. But not flirting with exit and putting party interest above the national economic interest."
George Osborne has sought to downplay concerns about the coalition's renegotiation plans. He told Bloomberg Business TV: "We've made it clear that Britain wants to stay in a reformed European Union. The European Union needs to change so that it's a continent where jobs are created, prosperity is created. We also need to make sure that the relationship with members of the EU who aren't in the euro, like the United Kingdom, is a fair one.
"There has been a lot of talk, often in the media, that somehow our European policy might deter investment.
"The truth is, since we set out our policy we've continued to receive a huge amount of investment into the United Kingdom - more than much of the rest of Europe put together - and we are now a real go-to destination for international investors because we have a competitive tax system, we've got a skilled workforce, it's a great place for start-ups to grow a business."
Popular in the Community