After finally putting to rest a damaging class storm over White Van Man, Labour has created another mini-bus-related controversy all of its own making.
The good news for Labour is that everyone is talking about Harriet Harman's pink bus. The bad news is, it's not in a good way.
Harman's rosy-hued mini-bus is about to go on tour in what some have described as a "patronising" attempt to encourage women to vote and is due to visit more than 70 constituencies in the run-up to the general election.
The Labour deputy leader's 'woman-to-woman' campaign hopes to address at least some of the 9.1million women who failed to vote in the 2010 election. Everyone is talking about Harriet Harman's #pinkbus
But rather than spearheading women's representation in politics, Harman was forced to defend her decision to use the bright van, insisting: "We wanted it to look conspicuous and therefore a white van was not going to do the job. It is a very nice looking bus."
She told Huffington Post UK political director Mehdi Hasan there had been "doctrinal discussions" before the launch of the women's campaign over whether the bus's driver - provided by Labour's biggest union funder - should be a woman.
"Unite has provided us with a driver and blow me down they've managed to find a woman with one of these licences," she said. We've had lots of doctrinal discussions, such as: should we be all right with a male driver?"
Asked whether the choice of pink for the bus's colour was "patronising", Harman said: "Well it doesn't have big eyelashes on the front. We don't care. Actually it's got to look like itself. Because it's new; it's different."
Gloria de Piero, Labour's spokeswoman on women and equalities opined the bus was "cerise" and general election co-ordinator Lucy Powell issued the somewhat risqué statement that Labour wanted to have a conversation with women "around the kitchen table."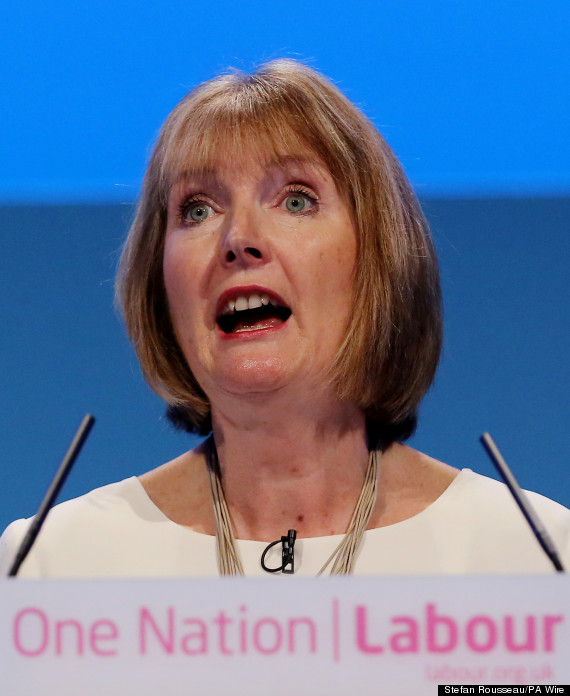 Harman has defended the vehicle, pointing out it is the same colour as the typeface for Labour's One Nation slogan
Scorn was to be expected from some quarters.
Tory MP Caroline Dinenage said: "The wheels have come off the Labour bus. Getting Harriet Harman to drive around the country in a pink van to try and attract the female vote is as patronising as it gets. This is clearly just another divisive gimmick that the electorate will see through."
Meanwhile a Lib Dem spokeswoman said: "Women voters won't forget Labour's car crash record on the economy just because Harriet Harman turns up in a pink van."
Despite the umbrage, as of Wednesday morning Harman's pink bus was a hot topic of conversation and among the top trends on Twitter in the United Kingdom. But probably not for the reasons she would have hoped…
Women,does this make you want to wash a floor ?then beware Labour's #pinkbus as it could make you feel all political pic.twitter.com/NNZI0fbdOW

— Rosie Kane (@RosieMKane) February 11, 2015
Does the #pinkbus have a hot tub? And it will need a kitchen for those "around the kitchen table" chats ... pic.twitter.com/bE9hM3MStX

— Deputy Doll (@Deputy_Doll) February 11, 2015
Oooo pink #PatronisingBTLady #pinkbus pic.twitter.com/IyX55O6Nw3

— hoppinghaggis (@hoppinghaggis) February 10, 2015
After being ridiculed for their #pinkbus @UKLabour has done a redesign to make it less embarrassing pic.twitter.com/WTqu7Ny58p

— Happy to Be Tommy (@HappytobeTommy) February 11, 2015
Gordon Brown rolls into town to woo the ladies #pinkbus pic.twitter.com/qpXjQWokth

— bazzared1903 (@bazzared1903) February 10, 2015
OMG! Have you seen @UKLabour's latest #GeneralElection poster for women? #pinkbus pic.twitter.com/L6abQcXngU

— AngryBritain.com (@AngryBritain) February 11, 2015
Following #Labour's brilliant #pinkbus idea, here's their idea to appeal to the 'ethnic vote' pic.twitter.com/iEPX9qK2Df

— Bob Smith (@Schmiffy12) February 11, 2015
"@orniastic: And a vote for #Labour is a vote for a secure future for your daughter too #pinkbus pic.twitter.com/ctN17XjMBv"

— Nick Morris ن (@nickdmorris) February 11, 2015
After criticism and ridicule, Labour ditch the pink bus and go for something a bit less sexist... #PinkBus #PinkVan pic.twitter.com/hdfaRack6G

— Simon Conquest (@SimonConquest) February 11, 2015
Actually looking forward to this weekend's #LabourDoorstep. #PinkBus pic.twitter.com/rPBtlyMzTu

— Европейский комиссар (@MoodySlayerUK) February 11, 2015
Celebrity endorsement for Ed Miliband:

I've never voted Labour before, but now they've got a #pinkbus... pic.twitter.com/02aP0F1Fxz

— Peter Thompson (@TheRedRag) February 11, 2015
Harriet Harman's #pinkbus photocall looked a bit awkward this morning pic.twitter.com/7AQB0IzBGa

— Elliot Wagland (@elliotwagland) February 11, 2015
Ignore the disinformation campaign by the #Faragistas Comrades, there is no #PinkBus . It's Frosted Tulip pic.twitter.com/6nfoH0D0ag

— Comrade Joyce (@ComradeJoyce) February 11, 2015
#pinkbus Don't you wish you were a woman pic.twitter.com/Ov5pk6g2b4

— OldUnclePunch (@OldUnclePunch) February 11, 2015
Labour rolls out pink bus VIP series - for those hard to get votes 👇#LabourFail #pinkbus pic.twitter.com/VXmf0SvYAD

— A Gizowska (@AnnaGiz) February 10, 2015
"Calm down, dears," says ladies' man @MayorofLondon. "Mine's much bigger than Labour's."

#pinkbus pic.twitter.com/lFT5QcIggS

— JP Janson De Couet (@ostercywriter) February 11, 2015