The good news for Labour is that everyone is talking about Harriet Harman's pink bus. The bad news is, it's not in a good way.
Harman's rosy-hued mini-bus is about to go on tour in what some have described as a "patronising" attempt to encourage women to vote and is due to visit more than 70 constituencies in the run-up to the general election.
The Labour deputy leader's 'woman-to-woman' campaign hopes to address at least some of the 9.1million women who failed to vote in the 2010 election. Everyone is talking about Harriet Harman's #pinkbus
"Unite has provided us with a driver and blow me down they've managed to find a woman with one of these licences," she said. We've had lots of doctrinal discussions, such as: should we be all right with a male driver?"
Asked whether the choice of pink for the bus's colour was "patronising", Harman said: "Well it doesn't have big eyelashes on the front. We don't care. Actually it's got to look like itself. Because it's new; it's different."
Gloria de Piero, Labour's spokeswoman on women and equalities opined the bus was "cerise" and general election co-ordinator Lucy Powell issued the somewhat risqué statement that Labour wanted to have a conversation with women "around the kitchen table."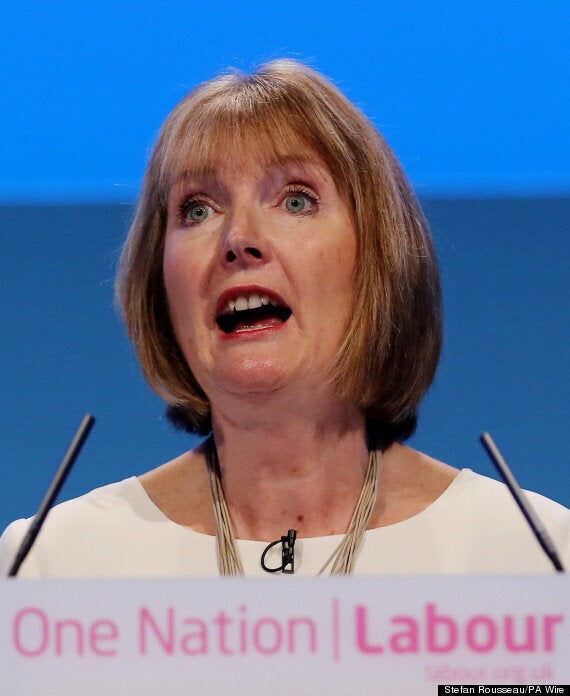 Harman has defended the vehicle, pointing out it is the same colour as the typeface for Labour's One Nation slogan
Scorn was to be expected from some quarters.
Tory MP Caroline Dinenage said: "The wheels have come off the Labour bus. Getting Harriet Harman to drive around the country in a pink van to try and attract the female vote is as patronising as it gets. This is clearly just another divisive gimmick that the electorate will see through."
Meanwhile a Lib Dem spokeswoman said: "Women voters won't forget Labour's car crash record on the economy just because Harriet Harman turns up in a pink van."
Despite the umbrage, as of Wednesday morning Harman's pink bus was a hot topic of conversation and among the top trends on Twitter in the United Kingdom. But probably not for the reasons she would have hoped…