Standing on a roof, Fry smiles and says: "But thy eternal summer shall not fade", quoting a line from the famous Sonnet 18 which begins 'Shall I compare thee to a summer's day?'
But this evocative film is not a ode to a a person.
Fry reads the famous lines of Shakespeare's love poem
In fact, it's a love poem to a whole planet.
David Harewood - the British actor who played David Estes in Homeland - and The Kumars at No. 42. comedian Meera Syal also appear in the film, and other stars speaking the well-known lines include Gavin And Stacey actress Alison Steadman and Silent Witness star Emilia Fox.
The high-profile figures are all backing the Show The Love campaign, which is aiming to "turn Valentine's day hearts green" to raise awareness of climate change.
The movement is organised by the Climate Coalition, a group of more than 100 organisations including Greenpeace, Oxfam, RSPB and WWF.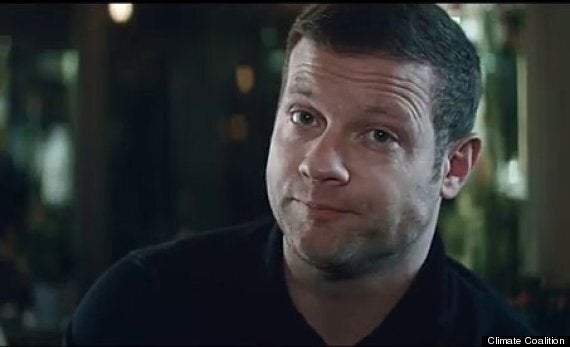 Dermot O'Leary reads another line from the sonnet
They are asking supporters to wear green hearts this Valentine's Day, to show their love for the planet and "make what you love part of something bigger" by posting the video social media with the hashtag #showthelove.
"Climate change is already happening yet not a lot is going on when it comes to doing something about it," Stephen Fry said.
"When you think about losing what you love because of climate change, it's a no-brainer to want to see things change for good. It's time our world felt the love. We need to stop climate change so that the things we love are not lost."
Shall I compare thee to a summer's day?
Thou art more lovely and more temperate:
Rough winds do shake the darling buds of May,
And summer's lease hath all too short a date:
Sometime too hot the eye of heaven shines,
And often is his gold complexion dimm'd;
And every fair from fair sometime declines,
By chance, or nature's changing course, untrimm'd;
But thy eternal summer shall not fade
Nor lose possession of that fair thou ow'st;
Nor shall Death brag thou wander'st in his shade,
When in eternal lines to time thou grow'st;
So long as men can breathe or eyes can see,
So long lives this, and this gives life to thee.
All the actors, chefs, musicians and business people in the film donated their time for free.
The film is part of a week long campaign, calling on world leaders to take steps to protect the planet we hold dear.
The film was produced by Ridley Scott Associates, the company founded by Aliens, Gladiator and Blade Runner director Ridley Scott.