Pregnant women are usually encouraged to take things easy and enjoy "eating for two" by well-meaning friends and family.
But for ballet dancers, putting their feet up while pregnant is not always favourable (or even possible).
Known for their grace and strength, professional ballet dancers will often continue to train right up until their due date. Some will even be back in the studio soon after giving birth.
Ballet is undeniably based on aesthetics and a woman's body will change more during those nine months of pregnancy than it's likely to during any other stage of her life.
So what's it like to be a pregnant ballet dancer, what does training while pregnant involve and most importantly, will dancing while pregnant harm an unborn child?
Elizabeth Harrod is a soloist at The Royal Ballet. Her husband, Steven McRae is also a principle dancer with the company. We spoke to Harrod while she was eight and a half months pregnant with their first child. She's since given birth to a baby girl, Audrey.
"We found out one evening after work and I barely slept that night, my head was spinning and overflowing with questions of 'what happens next?'," she says.
"Because of the nature of our job it wasn't a matter of taking a few weeks to get used to the idea and let things sink in, there were a few changes that I felt needed to happen with immediate effect which lead to us telling our director Kevin O'hare just two days later.
"However it was still very early days so naturally the cautious side of me didn't want to announce it to the world and talk publicly about it for quite some time."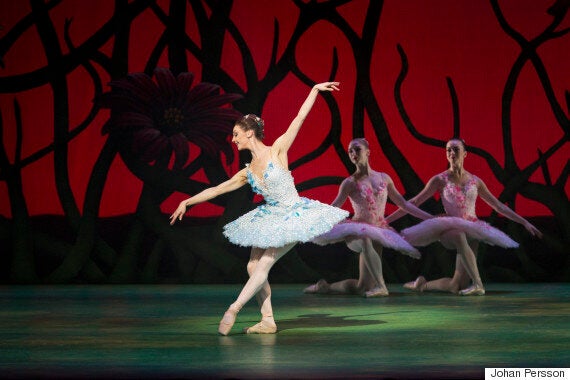 Elizabeth Harrod in Don Quixote
Harrod says she's wanted to become a mother "for as long as she can remember in adult life", but that didn't influence her decision to become a dancer.
She was performing in Sleeping Beauty when she discovered she was pregnant, but decided not to tell her dance partners she was expecting until the run of shows had finished, as she didn't want them to feel nervous handling her.
"I must admit I did feel a little anxious myself and hyper aware of my body," she adds.
"I feared slipping and falling down hard and also had a sense that although nobody knew I was pregnant, I felt like I had it written on my forehead.
"Suddenly performing on stage felt far more exposing than it had ever felt before, it was like an out of body experience."
Harrod continued to train up until the week of her pregnancy, although her routine mainly consisted of a very relaxed daily barre towards the end - this isn't at all unusual for professional dancers.
Christina Arestis, also a soloist at The Royal Ballet has a six-year-old son, Alexi. She told us she did Pilates right up until her due date and even took part in a ballet class the day she went into labour.
Mary Helen Bowers - the woman behind the Ballet Beautiful fitness company and the trainer who helps get Victoria's Secret models into runway form - was also still dancing at nine months pregnant.
She took a series of beautiful dance images documenting her pregnancy back in 2013 before giving birth to her first child, Lumina Belle.
Speaking to HuffPost Parents Bowers said: "The image of a pregnant woman embracing her figure and really putting it out there can be scary to some people, but I don't let that stand in my way and I don't think other women should either.
"My company, Ballet Beautiful, is built around celebrating the strength and femininity of the female body - for me pregnancy has just been an extension of that."
But does exercising while pregnant cause any harm to an unborn child or the expectant mother?
Speaking to HuffPost UK Lifestyle, Geeta Nargund, medical director, Create Fertility, said moderate exercise in pregnancy "is good for the woman".
"It can help to reduce the risk of thromboembolism (clotting problems) and increase maternal circulation. But she should not continue to exercise if she feels tired or breathless," she says.
"Excessive maternal exercise is not good for the baby because it may divert blood flow away from the placenta. Good placental circulation is necessary for normal fetal development."
Training while pregnant is just the start of the challenges facing a professional dancer. Both Arestis and Harrod say they did have concerns about getting back into shape post-pregnancy.
"I was fairly relaxed about the inevitable changes that pregnancy would have on my body. As a dancer you are very aware and in tune with yourself as your body is the tool of your trade," Arestis says.
"You are constantly working on trying to improve your physique, but I found it incredibly liberating not having to worry about that.
"However, the bigger I became I started to panic about the state my body would be in post pregnancy."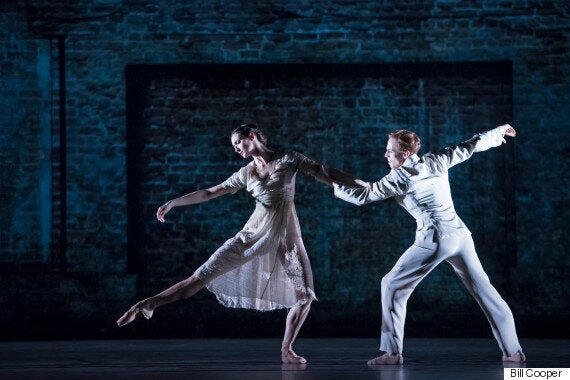 Christina Aretis in Ceremony of Innocence
Harrod adds: "I'd be lying if I said getting back into shape was something I didn't think about - my job relies on me being in a certain shape.
"However I've been conscious not to make this the focus of this incredible experience. The fact is no matter how hard it is, if I want to get back into shape then I will, how long this will take is another matter.
"I'm extremely lucky to have the unconditional support of my husband so I know if the going gets tough he'll spur me on until I've reached my goal."
Arestis chose to take six months off when her son Alexi was born, then spent 12 weeks getting back into shape, starting off with Pilates classes and working up to jumping and pointe work.
"It took a good couple of months of performing to really feel I was back to my old self again," she says.
She now juggles her life as a dancer with being a mum; her schedule is busy, but not impossible.
"Alexi enjoys coming to watch me perform especially if it involves a trip to the canteen," she jokes. "I am often asked over breakfast 'who are you going to be tonight mummy?' He likes to know if I am going to be playing a Queen, a swan or a crazy cook!"
Harrod is currently enjoying time off with her new baby. She knows being a working mother won't be easy, but isn't that the case with any profession?
"I very much look forward to tackling the career with a new outlook and different perspective but with the right support network of family, friends and professional child care I hope to continue my career as I left it, which was thriving," she says.
"I don't feel the difficulties we face as ballet dancers are particularly greater than career women of any sort, it will be demanding there's no question, but most certainly possible."
Elizabeth Harrod and Christina Arestis are Soloists of The Royal Ballet. Christina will perform in Swan Lake at the Royal Opera House (10 Feb – 9 April, and relayed live to cinemas on 17 March). Find out more at roh.org.uk/cinemas.
Related