The selfless community work of Chapel Hill shooting victim Deah Shaddy Barakat is coming to light in the days following his death.
The 23-year-old was shot dead alongside his wife Yusor Mohammad, 21, and her sister Razan Abu-Salha, 19 at their home in North Carolina on Tuesday.
Craig Stephen Hicks, who is rumoured to be an atheist, was arrested and charged with three counts of first-degree murder.
In the wake of the deaths much has been speculated as to whether the crime was motivated by anti-religion/ anti-Muslim sentiments, or as recent reports suggest, a dispute over a parking space.
Razan's father Mohammad Abu-Salha says police told him each victim was shot in the head and that he is convinced it was a hate crime.
SEE ALSO:
Abu-Salha, a psychiatrist said: "The media here bombards the American citizen with Islamic, Islamic, Islamic terrorism and makes people here scared of us and hate us and want us out. So if somebody has any conflict with you, and they already hate you, you get a bullet in the head."
While the investigation is ongoing, evidence of the trio's kindness and community spirit is emerging.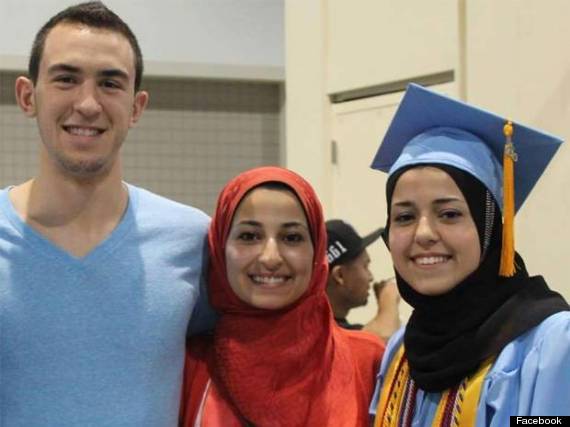 Barakat, Yusor Mohammad, and Razan Mohammad Abu-Salha were found dead on Tuesday
Newlyweds Barakat, a second-year dental student at the University of North Carolina, and wife Mohammad were involved in helping the homeless and raising funds for Syrian refugees in Turkey.
Barakat, who was of Syrian descent, posted an appeal on his Facebook page in August 2014 asking: "I NEED YOUR HELP! I'll be traveling to Turkey next summer with 10 dentists to provide urgent dental care to Syrian refugee students. I will be starting a MONTH-long fundraising drive on September 1st to raise money for needed dental supplies. 100% of donations will directly benefit the refugees. Lets help those in pain and in need! Please share this with your friends and family when it goes live. Thank you for your support!"
He also uploaded a video to YouTube in which he appealed for funds for the trip.
Wearing a 'Carolina Dentistry' t-shirt he addressed the camera: "These kids don't have access to the same health care as us, and their prolonged pain can easily be taken care of with the work that we do, but we need the proper funding
"So let's relieve their pain. If you want to make a difference in the life of a child most in need, then I urge you to take advantage of this opportunity."
On 28 January, Barakat tweeted his confusion about religious hatred and violence, stating: "It's so freaking sad to hear people saying we should 'kill Jews' or 'Kill Palestinians'. As if that's going to solve anything."
It's so freaking sad to hear people saying we should "kill Jews" or "Kill Palestinians". As if that's going to solve anything SMH

— Deah Barakat (@arabprodigy30) January 28, 2015
A day later he posted an image accompanied with the caption: "Tonight we provided free dental supplies and food to over 75 homeless people in downtown Durham! #DowntownSmiles"
On 1 December, he posted an appeal for a Muslims Without Borders fundraiser for Syria, urging his friends to: "Ask me about it!"
"He was a completely genuine guy. Loving, caring, friendly, smart," said Muneeb Mustafa, 23, who knew Barakat since both were in high school. "He was an ideal human being. He was a role model. He was somebody that people would look up to and want to be just like him."
Barakat's wife was due to enroll in the same dental programme as her husband in the fall and the couple along with Mohammad's sister regularly volunteered in rural North Carolina clinics to help the uninsured and poor.