The Green Party leader has said a cross-party pledge to tackle climate change "will be treated with some suspicion" in light of the utter failure to take significant action against global warming by the three main parties.
David Cameron, Nick Clegg and Ed Miliband have each signed a pledge to work together to take on the challenge of climate change and to work "across party lines" to agree cuts to the UK's carbon emissions.
But Greens leader Natalie Bennett told HuffPost UK that while the agreement, brokered by a coalition of environmental charities and the think tank Green Alliance, was to be "celebrated" but with a healthy dose of scepticism.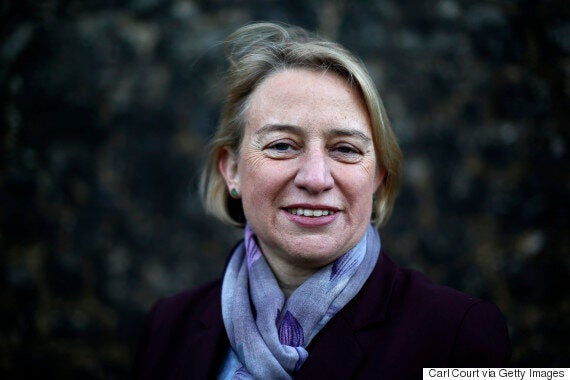 Natalie Bennett, the leader of the Green Party
"No doubt these warm words will be treated with some suspicion by many," she said. "In the Tories, Labour and the Lib Dems we have three parties who have been in power in recent years and failed to go anywhere near far enough in the fight against runaway climate change."
The statement signed by the Prime Minister, Deputy Prime Minister and the Leader of the Opposition said: "Climate change is one of the most serious threats facing the world today.
"It is not just a threat to the environment, but also to our national and global security, to poverty eradication and economic prosperity.
"Acting on climate change is also an opportunity for the UK to grow a stronger economy, which is more efficient and more resilient to the risks ahead. It is in our national interest to act and ensure that others act with us."
The three leaders have pledged:

To seek a fair, strong, legally binding, global climate deal which limits temperature rises to below 2C.
To work together, across party lines, to agree carbon budgets in accordance with the Climate Change Act.
To accelerate the transition to a competitive, energy efficient low carbon economy and to end the use of unabated coal for power generation.
Commentators have questioned political commitment on climate change and business leaders have called for certainty on carbon cuts, and in the face of entrenched disagreement on the issue in other key countries such as the US.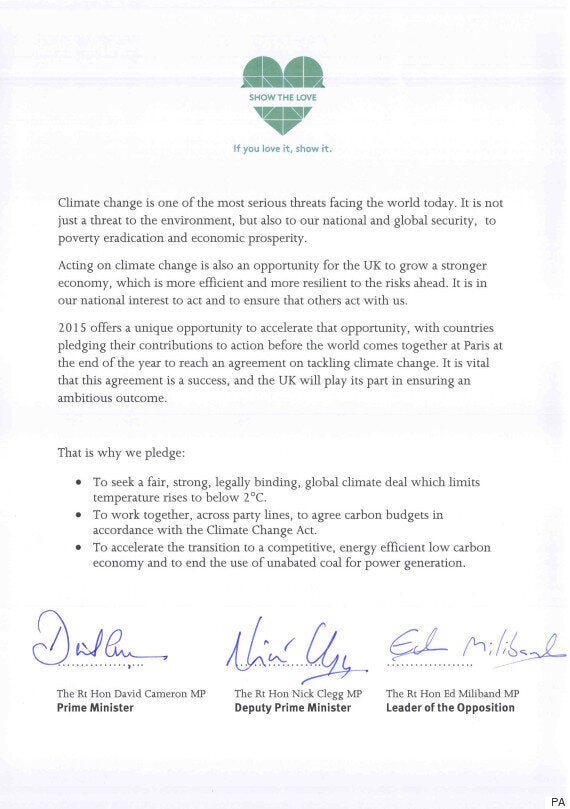 The pledge signed by leaders
The agreement was brokered by think tank Green Alliance, backed by Christian Aid, Cafod, Greenpeace, RSPB and WWF and has drawn praise from US vice president, Al Gore, who said: "This agreement represents inspiring leadership and true statesmanship by all three men. The political courage it represents on all sides is exactly what our world most needs in order to solve the climate crisis."
Bennett said her party would hold the leaders to their word. "Voters will be able, however, to make a judgement as to why it has taken them so long to reach this point, and how it squares with their actions in government and policies on fracking, road building, airport expansion, energy efficiency and renewable energy," she said.
"The next Government must cut carbon across our economy: that means no new runways in South East England, an end to damaging road building programmes and substantial investment in affordable public transport.
'We will work hard to ensure that this agreement is maintained in letter and in spirit, and that decisions and policies are based on evidence and realism - particularly about the little developed technology of carbon capture and storage."