A video in which a woman tells a black man "you have a problem because you guys used to be slaves" is being investigated by police.
The video, apparently shot last year but now being investigated, shows the woman arguing with the man on the Jubilee Line, apparently after he bumped into her.
She tells him: "You called me racist, I'm not racist. That is why people have a problem with you guys. I have black friends. I'm not racist.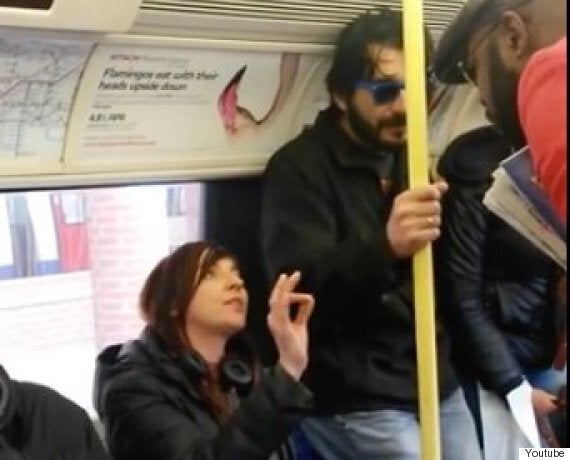 The woman arguing with the man
"If you acted like a human being then I wouldn't have a problem with that. You have a problem because you guys used to be slaves."
At this point, other people in the carriage react with shock and tell her to "shut up".
The man, wearing a red blazer and black flat cap, becomes angry and shouts: "Did you just call me a slave?"
She denies this but the man gets up and walks to another part of the carriage, while the woman argues with another passenger who says: "Just stop it."
Someone tells her to "get some education" and she calls the man "a piece of shit" after he returns to the same part carriage and he resumed arguing with her.
The YouTube clip was uploaded on March 3 last year.
The uploader wrote: "Before boarding the train I was advised to not enter the carriage. Canning Town to Stratford. However the argument had started long before I boarded."
A spokesman for British Transport Police told The Independent they were investigating the clip but did not know when it was filmed.
The spokesman said: "Officers are currently analysing the video and are appealing for the person who recorded it to come forward."