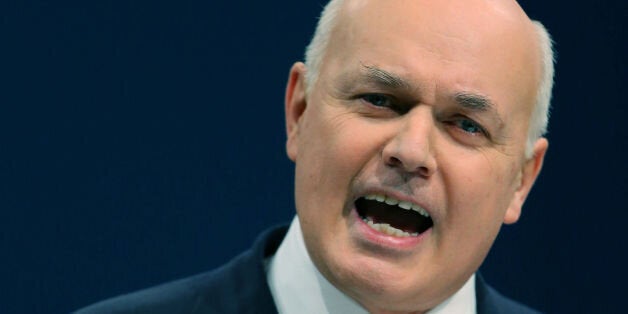 Iain Duncan Smith has defended his flagship Universal Credit scheme, insisting evidence shows it is helping people find work quicker and earn more.
The Work and Pensions Secretary cited Government research suggesting that those receiving the benefit were 5% more likely to find employment within four months than comparable Jobseekers Allowance claimants.
They spent an average of four days more in work during that period, earning around £50 more, according to the analysis.
But Labour said Universal Credit - which starts being rolled out across the country tomorrow - was massively behind schedule and saving far less than expected.
The system replaces a bundle of income-based benefits - including JSA, tax credits and housing benefit - and is designed to prevent situations where people can be worse off taking jobs than staying on welfare.
Duncan Smith insisted it had been better to delay the scheme rather than risk problems.
"I would rather have this work, I would rather have it that everyone's experience as we have seen already is positive, people are going into work quicker, they are staying in work longer, and they are earning more," he said.
He also said the programme was under its budget, dismissing a multi-million pound write-off of failed IT.
"All IT systems in development, the private sector and the public sector, of course you invest in them, some bits and pieces don't work, there's always a certain amount of a write down and some write off," Duncan Smith said.
"Compared to the expenditure of something in the order of £2.4 billion that was originally expected we are now spending £1.8 billion, and included in all of that we are actually spending £600 million on this development less than was originally expected."
But shadow work and pensions secretary Rachel Reeves said: "The only person who believes Iain Duncan Smith's promises on Universal Credit is Iain Duncan Smith.
"Iain Duncan Smith promised Universal Credit would save taxpayers £1.7 billion in reduced error and fraud. But now he's admitted the Government has cut the amount of planned savings by two thirds.
"Iain Duncan Smith promised one million people would be claiming Universal Credit by April 2014. But the latest figures show only 26,940 people on the new benefit. At this rate it will take 1,571 years to roll out Universal Credit.
"Labour wants Universal Credit to work and we'll call in the National Audit Office to do an immediate review of this failing programme to get a grip of the spiralling waste and delays."
Javed Khan, chief executive of charity Barnardo's, said: "It is vital that the new benefits system makes work pay for the poorest.
"We are deeply concerned that a series of 'stealth freezes' by the UK Government have eroded Universal Credit to the point where poor working families in future will be left almost no better off by this system than they were before.
"Struggling families are increasingly telling us they are having to choose between heating their house and eating, as the rising cost of living has left them unable to pay energy bills.
"We are urging the Government to urgently restore the link between benefits and inflation, so that when Universal Credit is rolled out to families it will help provide the poorest households with a wage they can thrive on."