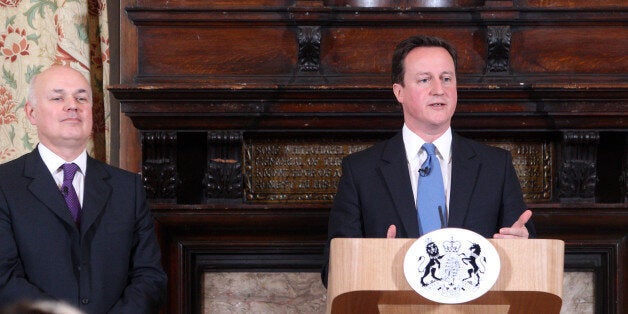 David Cameron has been reined in by senior cabinet minister Iain Duncan Smith over his plan to strip benefits from the obese and drug addicts if they fail to improve their lifestyle.
The controversial proposal was unveiled by the prime minister last week, with Downing Street saying that the benefit curbs, worth about £100 a week, were a "personal priority". However, the work and pensions secretary's allies have warned about the implications of the plan.
Christian Guy, director of the Centre for Social Justice, a think-tank set up by Duncan Smith, told the Times that the plan "had to be about health and getting people treatment, and not about slashing at budgets and making life more difficult for people".
The Tory cabinet minister expressed lukewarm support for the idea in an interview with the BBC's Andrew Marr over the weekend, saying: "We're not actually talking about saying we'll take your benefits away from you if you can't get yourself out of obesity. The problem we've got is that lots of people are either fearful or don't want to take the help that's there.
"We invest in the help, whether it's to support people to get off drugs... or whether it's to get people into a particular mindset to reduce their weight because their health condition is so bad.
"What we want is people to take that help and to take responsibility for their condition and try to improve. No one's going to penalise anybody who tries."
Iain Duncan Smith on Andrew Marr's show
David Cameron announced last week that the plans' feasibility would be looked at by Professor Dame Carol Black, an adviser to the Department of Health. However, the idea was quickly derided by experts.
Announcing the proposal, he said: "Some [people] have drug or alcohol problems, but refuse treatment.
"In other cases people have problems with their weight that could be addressed - but instead a life on benefits rather than work becomes the choice.
"It is not fair to ask hardworking taxpayers to fund the benefits of people who refuse to accept the support and treatment that could help them get back to a life of work."
Dr Sarah Wollaston, the Tory chairwoman of the parliamentary health select committee, tweeted: "Coercive consent to treatment is not consent to treatment."
She warned that the proposal would amount to "asking doctors to break the law", would be unlikely to succeed and "won't save taxpayers a penny either".
David Haslam, head of the National Obesity Forum, said: "These proposals [seem] utterly outrageous and discriminatory and wrong, because obesity and addiction are not something people choose to achieve; they are a combination of genetics and background and all sorts of situations beyond their control . . ."
See more on General Election 2015
Related