A model from Bournemouth has become the first male model and amputee to hit the catwalk at the prestigious fashion event.
Jack Eyers, 25, was chosen by designer Antonio Urzi - who counts Beyoncé and Lady Gaga as fans - to model in his show at Lincoln Center on 15 February.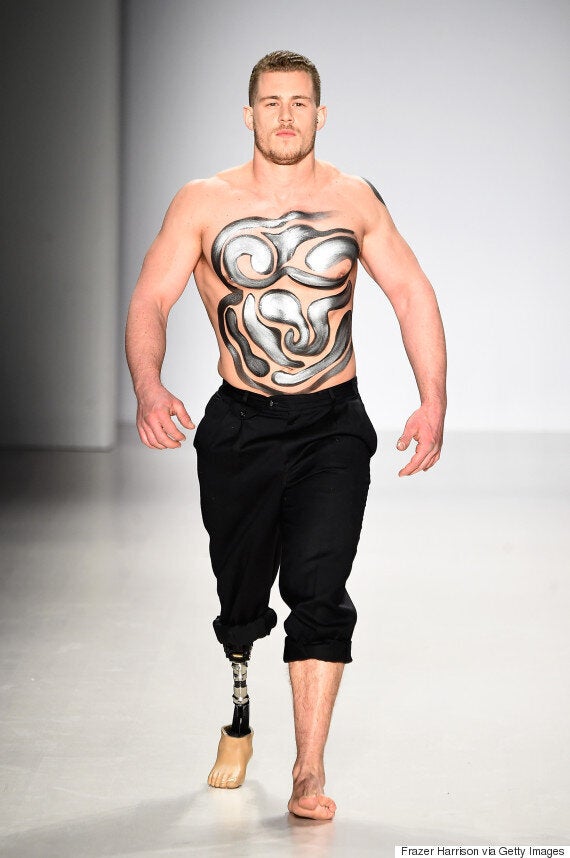 Prior to appearing in the show, Eyers revealed to Caters News that it all felt very "surreal". He added: "To be the first male amputee model on a New York Fashion Week runway feels amazing - it feels like such a big deal."
The 25-year-old model revealed that he'd had his leg amputated aged 16, after suffering from a condition called proximal femoral focal deficiency.
The defect occurs at birth and can result in one leg being shorter than the other.
"Growing up with the deformed leg was really hard — I had no muscle structure or knee joint and I walked with a really pronounced limp,'' he said.
"At primary school I was really into sports but it was hard to join in, and I would get bullied. I remember at the age of around seven, saying I wanted to have it amputated, but I needed to wait until it stopped growing - it felt like this devil attached to me.
"When I finally got it removed it felt like I'd been reborn."
After having his leg amputated, Eyers became a fitness fanatic and, shortly after realising he wouldn't be able to fulfil his dream career as a fireman, he decided to give modelling a go.
He has since appeared in campaigns for fashion retailer Boohoo, as well as in advertisements for Tango and Barclays. More recently he became the face of charity, Scope.
The 25-year-old also teamed up with Models of Diversity, a campaign hoping to encourage diversity on the catwalk when it comes to race, age, shape, size and ability.
Fashion designer Urzi spotted Eyers through the campaign, and the rest, as they say, is history.
Eyers revealed: "I just want to show that having a disability doesn't need to hold you back. I want people to see me, and to realise that there need to be more disabled models walking the runway."