The plans have rocked the audience of BBC Three, which launched original comedy series like Being Human, Mighty Boosh, Bad Education and Little Britain.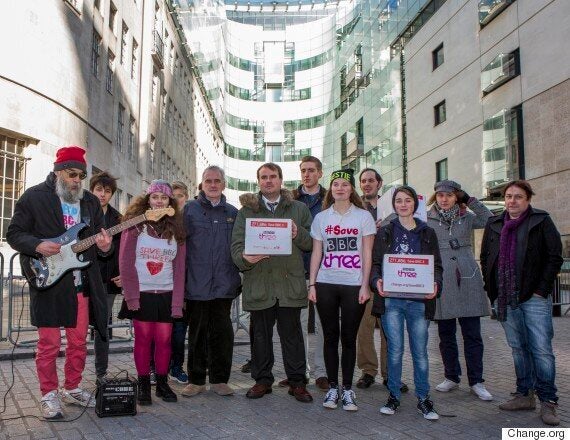 The petition was delivered on the consultation deadline day of 17 February
The decision is subject to the approval of the BBC Trust, which ran a public consultation that ends today.
The protest against the move - which aims to save £50 million a year - has been building since BBC Director Tony Hall announced his intention to close the channel in March last year.
Labour MP John McDonnell tabled an Early Day Motion to save the channel, saying it would cause job losses. He said ahead the petition event today: "I urge the BBC management to reconsider their proposal to close a television channel for the first time in the history of the institution."
"BBC3 has consistently given birth to popular, innovative content and its closure would be a loss to our diverse, high quality public service broadcasting in this country."
Last month, comedy TV companies Avalon and Hat Trick approached the BBC Trust with a proposal to BBC Three, but a decision hasn't yet been reached.
The change.org petition has 272,000 signatures and claims the BBC "does not cater enough for young adults". It says the state broadcaster should and should keep the channel to "continue to invest in new comedy, drama, drama and music programming for young adults in its rightful home."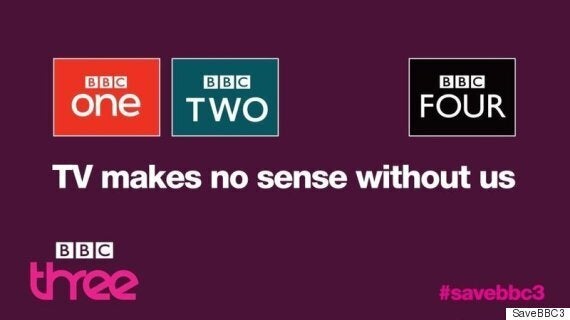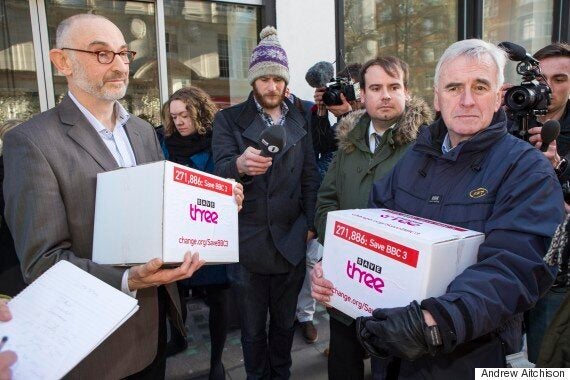 Around 50 people gathered to present the petition, including 'One Man And His Beard', a singer who has written a song in support of the campaign.
He sang outside the BBC headquarters at Broadcasting House before protesters delivered the petition in several large boxes to the BBC Trust office nearby.
The BBC Trust said in 2014 that BBC Three was its most successful channel for appealing to young and diverse audiences.
We believe that the BBC does not do enough to cater for young adults, and scrapping BBC Three from cable, satellite, and terrestrial television would be a big mistake. While broadcasters should invest in new online ideas the BBC should not take BBC 3 off our TV screens.

With this move there will be less money for quality programming, will restrict access for those in many rural areas, as well as those without an active broadband connection. Furthermore, the BBC is wrong to then re-spend the money on a BBC1 +1 at a time at a time when the BBC want people to turn to the iPlayer.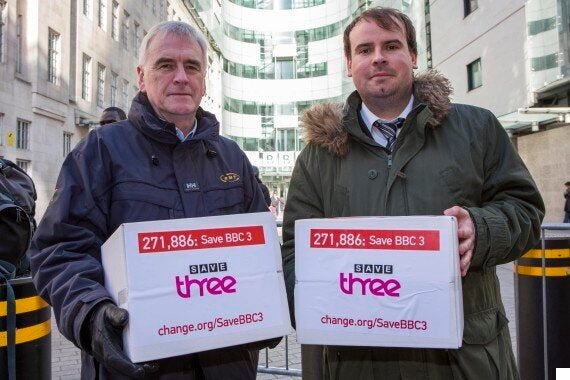 A BBC spokesperson told The Huffington Post UK: "BBC Three is not closing and it is not for sale but with the licence fee frozen we've had to make some difficult choices in order to save £800 million a year, including our proposal to move the channel online. There is no easy solution but we have chosen to make a bold move to reinvent the service rather than simply having to take money out of all our programmes across the board."
Popular in the Community