Bored of lemon and sugar? We've got some alternative pancake recipes for you to try out this pancake day.
For those who enjoy fruity treats give Kate Gowing's apple and cinnamon pancakes a go. If you're a breakfast (or brinner) fan, Rich Harris's maple bacon pancakes are a must-have.
Or if you just like to go pancake mad on pancake day, why not try out both and have one after the other.
Pancake day is only once a year after all....
Step 1: Prepare The Pancakes
Combine the plain flour, baking powder, cinnamon and caster sugar. Give it a good mix.
Create a well in the centre and crack one egg into the middle.
Add buttermilk and milk to the bowl.
Stir until it turns into a thick batter.
Grate the apples into the bowl and mix well.
Pop the butter into a hot pan and let it melt.
Grab a ladle and pour the batter into the pan and form pancakes.
You need a couple of minutes on both sides. Top tip: You know that they are ready when they start to bubble.
Take the pancakes off the heat and dust over the pancakes with icing sugar.
Serve with Greek yoghurt, raspberries and honey.
12 rashers of smoked streaky bacon
Heat a little vegetable oil in a frying pan, add the bacon and fry gently for 2-3 minutes on each side until crisp and golden. Remove from the pan and drain on kitchen paper.
Wipe out the pan then add 1 tbsp of maple syrup.
When bubbling, return the bacon to the pan and cook for 2 minutes until glazed.
Step 2: Make The Pancake Batter
Sieve the flour, baking powder and salt into a bowl, and make a well in the centre.
Whisk the buttermilk and eggs together and pour into the well.
Gradually incorporate until smooth and thick.
Heat a little oil in a large frying pan, add spoonfuls of the mixture and fry for 30-60 seconds on each side until puffed up and golden.
Transfer the cooked pancakes to a warm plate and cover with foil. Repeat with the remaining batter.
Serve the pancakes in stacks and top with the glazed bacon, a knob of butter and a little extra maple syrup.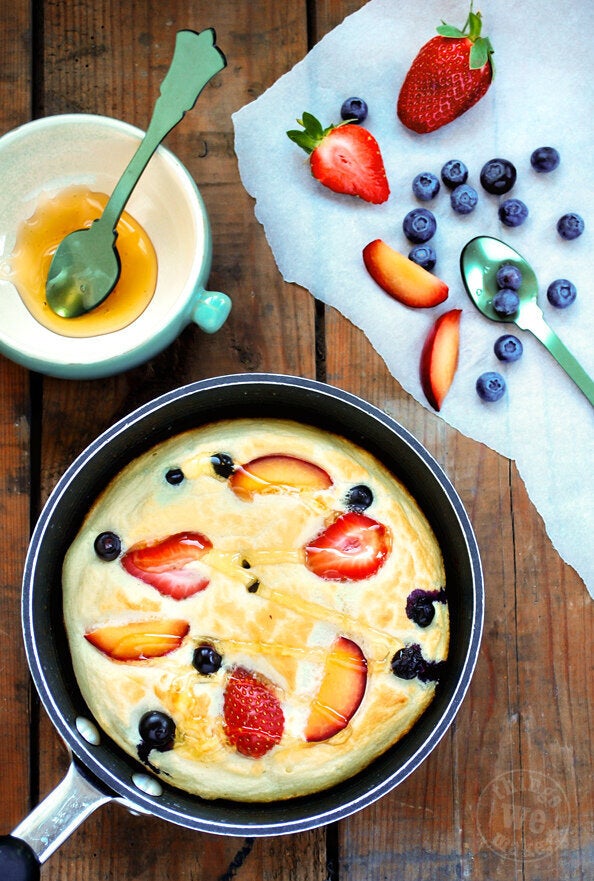 Pancakes For Shrove Tuesday