If you're in search of a great pint, then you might want to head down to this particular "rural gem" in Gloucestershire, which has been named Pub of the Year.
Run by Peter Tiley, The Salutation Inn - known as The Sally to locals - has been given the prestigious title of Pub of the Year by Camra (the Campaign for Real Ale board).
The man behind the award-winning pub, Tiley, 31, quit his job as a business analyst in London two years ago in order to follow his love of beer.
He has since built up a huge sense of community among his customers, which - alongside some tasty food and drink - has helped to land his establishment the prestigious accolade.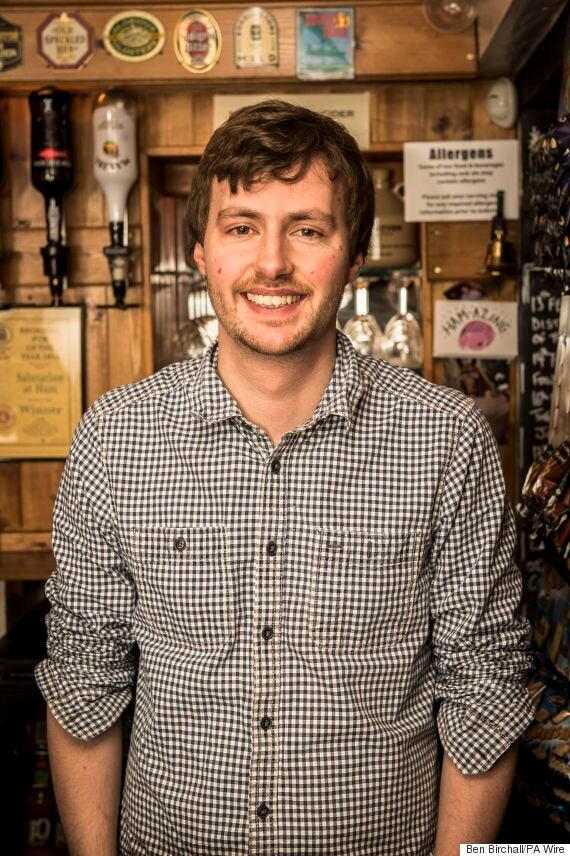 Built in 1840, the Sally boasts two cosy bars, a log fire, traditional skittle alley, piano for regular singalongs and even occasionally invites locals behind the bar.
Camra's judges say they were overwhelmed by the welcome drinkers receive, with one remarking: "It's like being invited into a private house."
Tiley modestly said the pub was a result of hard work by him and wife Claire, 32.
"It's wonderful," he said. "We feel incredibly lucky and we're very grateful to all the people who have made this pub such a good pub - it's not just us.
"Everyone has contributed towards this pub in making it something very special - the locals, the staff, everyone has."
And it's not just the people that make this particular pub so great.
"We always have five to six real ales from local brewers, such as award-winning Severn Vale, and nine different ciders from people such as Tom Oliver.
"We don't do coffees, but we do really, really good beer. We aren't a coffee house, we are a pub."
Last year, the pub raised 11 pigs in a 19th century walled garden situated 100 yards from the pub. The pub now serves
ham on the daily lunch menu.
This year, piglets will be back along with chickens, and potatoes will be planted so the Sally can provide a home-grown plate of ham, egg and chips.
The pigs are fed apples from local growers, as well as pulp leftover from cider making, which gives the meat an "incredible" flavour, Tiley said.
As well as ham, egg and chips, the daily Sally lunch menu features a Ploughman's lunch and a wildcard dish whipped up by local chefs Dan and Hannah Ashford.
"This isn't a pub for vegetarians," added Tiley, who will soon begin brewing his own beer.
Regulars often crowd around the wooden piano in the bar for singalong sessions, enjoy Morris dancing and go apple wassailing to ensure a good cider year.
There are live folk music events, guest chef nights - one each month, the only time dinner is served - and 'meet the brewer' evenings so locals can see the face behind their pint.
"We have a lot going on and it is always busy here," Tiley said. "I'm not sure what makes it so special, it has something about it that you can't put a name to.
"On a Friday night all the regulars are crammed in and you can barely move but it is just the most brilliant place."
Members of the local community rallied round when Tiley and his wife moved into the rural village, with some even donating camp beds for the pair to sleep on.
"We had no furniture," Tiley said. "They have been brilliant from the moment we arrived. They've painted the skittles hall, done the gardening, built picnic benches. We feel so lucky.
"I was terrified on my first night, I thought everyone was thinking, 'who is this young guy behind the bar, what does he know about running a pub?'.
"I truly believe that every village should have a pub, they are so vital for the local community and I would be absolutely devastated to mess this one up.
"We had to get it right. It's been hard, really hard, but it is worth it."
Since taking over at the pub, Tiley has been researching its history, including the fact it was once used to hold inquests and post-mortem examinations.
Tiley grew up in Gloucestershire but left to work as a telecoms business consultant in London. His passion for beer meant he regularly visited pubs in the capital.
A speech by Apple boss Steve Jobs on being passionate about work made him realise he wanted to work in the drinks industry, with an original plan to run a micro brewery.
His father, a teacher, told him the Sally was up for sale and he took the plunge, investing all his savings in it.
"When I went to pubs in London I figured out that little things like a warm welcome, saying hello, goodbye or, better still, knowing your name, meant a lot, so I have put that into practice here.
"I had a good job in London but I felt I needed to do something I really cared about."
Pubs are judged on atmosphere, level of service, value for money and community focus, with extra weighting for the quality of their real ale, cider and perry.
Camra director Abigail Newton said: "What Peter and Claire have done in the short time they have been running the pub is nothing short of staggering and goes to show that passion, enthusiasm and a real love of beer are hugely important when running a pub.
"They have hit the ground running and taken what was already a great pub and made it truly exceptional - beating off over 50,000 other landlords from across the UK."
The winning pub is described in Camra's Good Beer Guide 2015 as a "rural gem in the Severn Valley, within walking distance of the Jenner Museum, Berkeley Castle and Deer Park. The enthusiastic landlord keeps an inspired selection of ales and eight real ciders and perries".
The three other finalists were The Freshfield in Formby (Merseyside), The Harewood Arms in Broadbottom (Greater Manchester), and The Windmill in Sevenoaks, Weald (Kent).