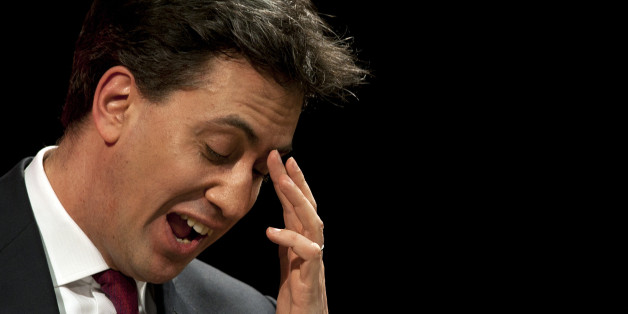 Hannah McKay/PA Wire
After a sustained bombardment from a series of business leaders, Ed Miliband has come under fire from two more bigwigs.
City grandee Sir John Ritblat has branded the Labour leader a "card carrying Marxist" who is "unfit to govern", while leading fashion entrepreneur Harold Tillman accused the party of wanting to "stamp on aspiration".
Why would these two businessmen decide to express their concerns, as reported by the Daily Mail? The paper waits until the 17th paragraph to admit that Sir John is a Tory party donor.
See more on General Election 2015
The 79-year old businessmen, known for building British Land into a property firm now worth £7 billion, is now chairman of the property company Delancey, through which he has given the Tories £100,000. He also attended the Tory party's summer fundraiser ball last year.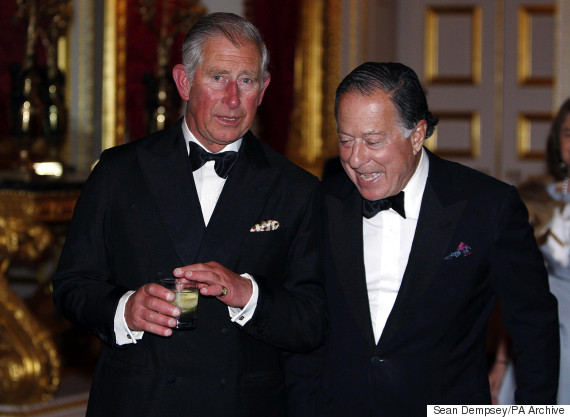 Sir John Ritblat with Prince Charles
Meanwhile, Harold Tillman, who previously owned the fashion chain Jaeger, worked regularly with Samantha Cameron, the prime minister's wife, when he was chairman of the British Fashion Council.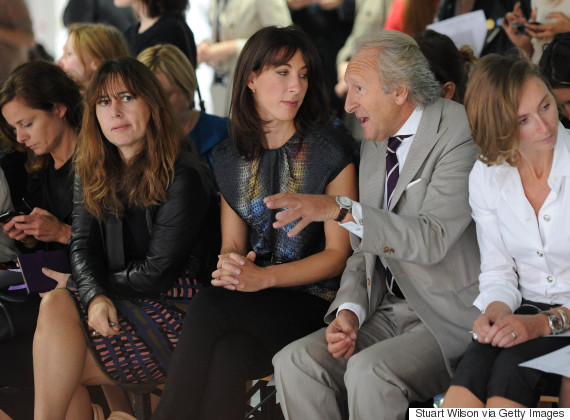 Harold Tillman talks to Samantha Cameron at London Fashion Week
"I am only just realising how socialist Miliband is," he told the Mail. "I am shocked at this, but Labour sound as if they want to stamp on aspiration."
Cameron, who works for leather goods and luxury stationery company Smythsons as a consultant, became an ambassador for the British Fashion Council in 2010.
Tillman and Ritblat are just the latest names with Conservative links to come out against Miliband, alongside Lord Stuart Rose, Sir Ian Cheshire and Sir Nigel Rudd.
Lord Rose, formerly head of Marks and Spencer, wrote in the Mail that his "steady drum-beat of anti-business policies" marked a return to 1970s-style Labour policies.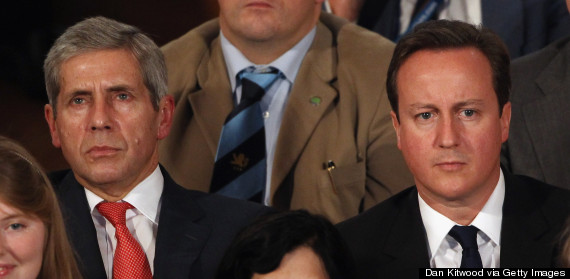 Stuart Rose with David Cameron at the Tory 2010 conference
The Tory peer, who was brought in by health secretary Jeremy Hunt last year to advise on the NHS, said Pessina was "perfectly entitled to speak out".
Lord Rose is so close to David Cameron that he personally, according to reports, helped his wife Samantha get an exclusive £65 polka-dot frock to wear at the Conservative party conference after it sold out at M&S within days.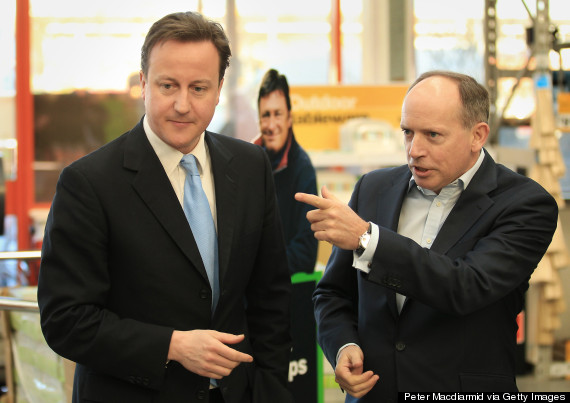 Sir Ian Cheshire tours a B&Q store with David Cameron
Meanwhile former B&Q chief Sir Ian Cheshire, who was given a knighthood by David Cameron last year, also weighed in against Miliband.
Sir Ian advises Cameron as a member of his business taskforce and will reportedly advise the government on the civil service.
The business chief helped Cameron last year by wading into the Scottish independence debate, warning that independence could force B&Q to put up prices.
Heathrow airport chairman Sir Nigel Rudd, who is a Tory donor, also attacked Miliband.
Labour MPs have been rather tetchy in response to these interventions by business leaders. Labour MP Sheila Gilmore told the Huffington Post UK that their attacks were "nonsense", saying: "I suspect it's no coincidence that they've chosen to attack Labour on the eve of the election, given their connections to the Conservative Party."
Ann McKechin, member of the Commons business select committee, added: "The recent comments made by a number of Tory supporting businessmen are only a crude and inaccurate election attack on Labour rather than being truly focused on the interests of business and growing our economy."