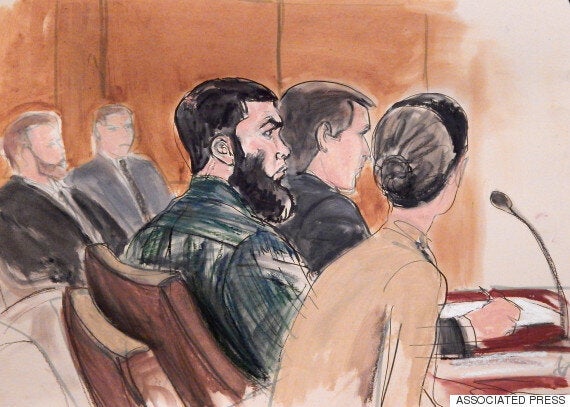 Abid Naseer, centre, accused of being an al-Qaida operative and acting as as his own attorney, is flanked by his team at the defense table
Naseer, who denies all charges, is accused of planning multiple bomb attacks, including ones on the Manchester and New York transport systems, as well as a suicide attack at the Arndale shopping centre.
He was extradited from Britain in 2013. If convicted, he faces a possible life sentence.
The government concedes the two, who are named in the same indictment, never met. In court this week, it was alleged that Naseer used the words "marriage" or "wedding" in emails as code words for explosives. Prosecutors allege Naseer also used the names of women as references to bombs.
In his opening statement, Naseer claimed that he only wrote about women because he was pursuing a bride and was planning an actual wedding.
In a strange twist to the trial, Naseer is representing himself, and on Wednesday cross-examined convicted terrorist Najibulla Zazi who prosecutors say was part of the same al-Qaida conspiracy, all the while referring to himself in the third person.
Naseer questioned how a trained terrorist like Zazi could create a secret email account using a New York City zip code that could tip off authorities about his location. Looking at the account information in evidence, the high school dropout responded that sometimes he's "not very intelligent."