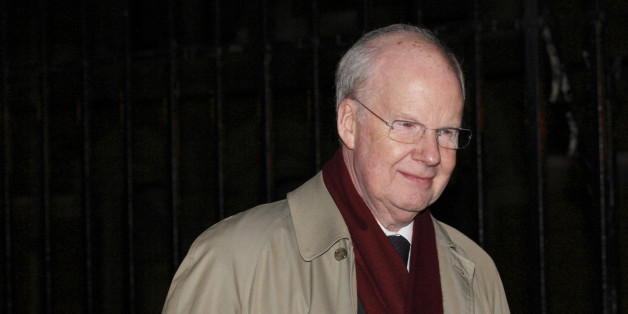 AFP via Getty Images
Cementing perhaps the worst week in the newspaper's history, The Daily Telegraph published an article on Friday in which it used the reported deaths of two members of News UK, the publisher of The Times and The Sun, to attack the company.
The move, roundly denounced by many on Fleet Street, marked the latest escalation in a war sparked by criticism of The Telegraph by its former Chief Political Commentator Peter Oborne, who resigned earlier this week, accusing his former paymasters of failing to cover the HSBC scandal because of the bank's close ties with the newspaper's advertising department.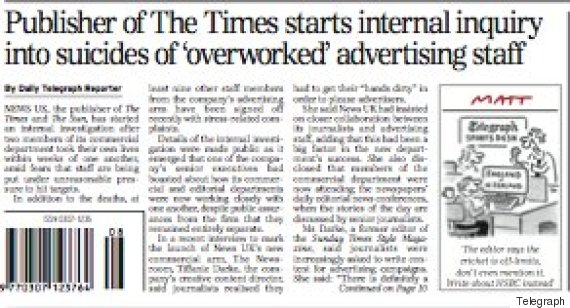 The story on the front of today's Telegraph
Rather than refute Oborne's accusations, on Thursday The Telegraph published a bizarre leader in which it blamed The Guardian, The Times and the BBC of being part of a vast plot to bring down David Cameron and the current government.
Having pointed the finger at its rivals, The Telegraph posted a separate article on Friday afternoon accusing the Guardian of dropping a report on Iraq due to concerns from Apple, who advertise in the paper.
.@MMacLennanTMG come on, Murdoch. If you guys can take down HSBC stories you can take down this, too http://t.co/1joaFOvF1a

— alan rusbridger (@arusbridger) February 21, 2015
Disgusting low from the Telegraph: use the death of News UK employees as part of its HSBC panic http://t.co/Hs1FZtb59P

— Stig Abell (@StigAbell) February 20, 2015
That was followed on Friday evening by the more guttural report on News UK, which said the Murdoch-owned company had launched an "internal investigation after two members of its commercial department took their own lives within weeks of one another amid fears that staff are being put under unreasonable pressure to hit targets."
One former employee of the Telegraph told HuffPost they were "horrified" by the News UK story, and the swirl of accusations. "It's been just horrible to see, there are so many fantastic journalists who work there."
The article claimed that the newspaper's commercial and editorial arms were working too closely with each other – exactly the charge levied at The Telegraph by its own erstwhile writer. Neither the article about the Guardian nor News UK featured a reporter byline. Both had comments turned off, no doubt fearful of a backlash.
Trying to explain to US colleagues how papers can publish anonymous news stories suggesting rivals drove their employees to death.

— Jim Waterson (@jimwaterson) February 20, 2015
Telegraph's destruction of its brand astounding for speed, effectiveness. Will Boris take a stand & resign? He can afford it.

— Jenni Russell (@jennirsl) February 20, 2015
A News UK spokesperson said: "We would never comment on the details around an employee's death but very sadly we lost two members of staff in unconnected circumstances in recent months from our London and Manchester offices.
"The company's HR procedures are second to none, with weekly and often daily meetings with team leaders, a compulsory induction and training day for new starters and a proud open door policy for all employees. In keeping with our high standards we are currently conducting an internal investigation".
The Telegraph's decision to use reported suicides to score points against The Times leaves a foul taste in the mouth: http://t.co/236GDd6t8x

— George Eaton (@georgeeaton) February 20, 2015
"Telegraph Reporter" needs to have the courage to identify himself, or herself, and then have a long hard look in the mirror.

— Patrick Wintour (@patrickwintour) February 20, 2015
Goodness me, this is turning into newspaper wars... via @suttonnick pic.twitter.com/LtEnBaBI7f

— John Stevens (@johnestevens) February 20, 2015
SEE ALSO:
@Telegraph Can anyone remember the last time a national newspaper imploded so spectacularly? Genuinely jawdropping to behold.

— Telegraph Reporter (@MatthewEyre) February 20, 2015
@Telegraph No-one willing to put their name to that piece of despicable grubbing?

— Struan Robertson (@struantheruin) February 20, 2015
It appears the @Telegraph has gone nuts. God knows there's enough to criticise Murdoch for but this is just shameful https://t.co/5tpoz3wdsa

— Tom Powdrill (@TomPowdrill) February 20, 2015
.@Telegraph This is like watching the neighbour, who everyone knew was a bit shaky, set fire to the washing line. Stop now.

— Andrew Smillie (@Sheriffbrody) February 20, 2015
@Telegraph rattled #headsgone

— Ashley Curtis (@AshJCurtis) February 20, 2015
@Masters_JamesD @robrowlands @Telegraph Imagine trying to get any journalist to put their name to this?

— Karl West (@kwest1969) February 20, 2015
@kwest1969 @Masters_JamesD @robrowlands @Telegraph In which editorial meeting was this ever approved is my question and by who? Sickening.

— Sarah Robertson (@sarah_robbo) February 20, 2015
@Markfergusonuk "By Telegraph Reporter" Funny. When I started in journalism people wanted a byline.

— Rafael Behr (@rafaelbehr) February 20, 2015
@Telegraph This is outrageous.

— juliagurney (@juliagurney) February 20, 2015
@Telegraph Just FYI, using suicide as a point scoring tool in your media spat is usually thought of as 'wrong' and 'very evil'.

— Hayden Donnell (@HaydenDonnell) February 20, 2015
The Daily Telegraph has not responded to a request for comment on this story. But journalists were privately expressing contempt, as rumours that the journalist had refused to put their name to the story in question circulated.
They've stuck it on P1. Uncontainable rage from friends at the Telegraph tonight. Dam is going to break. pic.twitter.com/GFY87tKTnb

— Harry Cole (@MrHarryCole) February 20, 2015
I have friends at @Telegraph and I know none of them would want to write this story.

— Sinead (@mcintyre2) February 21, 2015
All of us, from Buzzfeed to the BBC, proud of our jobs reporting the news, stand with our silent friends at the Telegraph tonight

— Matt Wells (@MatthewWells) February 20, 2015
@chmeredith absolutely. And yeah that has to be an awful position to be put in, I don't know how I'd cope. Solidarity with colleagues there

— Jules Mattsson (@julesmattsson) February 20, 2015