Britain and other western powers should start supplying sophisticated weaponry to the Ukrainian government to enable it to fight back against the heavily-armed, Russian-backed separatist rebels, former defence secretary Liam Fox has said.
Dr Fox warned that the credibility of the entire Nato alliance was now at stake as the insurgency in eastern Ukraine had raised the "shadow of conflict" in Europe for the first time since the end of the Cold War.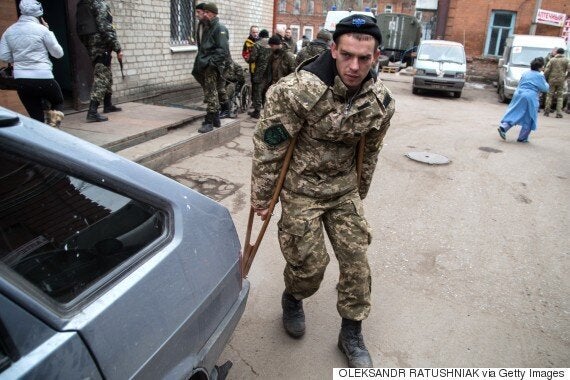 A wounded Ukrainian serviceman walks on crutches near the military hospital of the eastern Ukrainian city of Artemivsk
"Specifically what we should be giving them is encrypted communications because at moment the old systems that they are using make them a sitting target for the Russians whose technology is much bigger," he told the BBC Radio 4 Today programme.
"Secondly, they need anti-tank weapons because the Russians are using new, better-armoured vehicles against which the Ukrainians have no defence. Thirdly they need UAVs (unmanned aerial vehicles) for targeting.
"We should be giving them the weapons they need to defend themselves against an external threat. This is about their territorial integrity."
Britain and other European powers have so far drawn back from arming Kiev, fearing it would simply fuel the conflict, although US president Barack Obama has indicated he would consider supplying weapons to Ukraine if the Russians do not pull back.
"It has actually brought the shadow of conflict to the European continent, certainly for the first time since the fall of the Berlin Wall. This is a very serious issue. It is also about the credibility of Nato and the Western alliance. I think the defence of the Baltic, for example begins in Ukraine," Dr Fox said.
"Here is an alliance where only four of its members meet its defence obligations in terms of spending. They all want to have the insurance policy but they don't want to pay the premiums.
"I think that we now need to examine exactly what Nato is going to be doing in this crisis, what its credibility is.
"Will we now step up to the mark, will we put a military presence in the Baltic states, beef up the Baltic air patrols and recognise that we are getting close to a position where Russia is now going threaten Nato in its own territory?"
US Secretary of State John Kerry, in London for talks with Foreign Secretary Philip Hammond, said Russia's conduct was "simply unacceptable" and that he expected to see agreement on further international sanctions in the coming days.
"Russia has engaged in an absolutely brazen and cynical process over these last days. We know to a certainty what Russia has been providing to the separatists, how Russia is involved with the separatists," he told reporters.
"This is behaviour that is completely counter to everything that the global community has worked to achieve since World War II."
Hammond condemned the "unacceptable" way in which the ceasefire agreement signed in Minsk had been "systematically breached".
"We are going to talk about how we can maintain European unity and US-European alignment in response to those breaches," he said.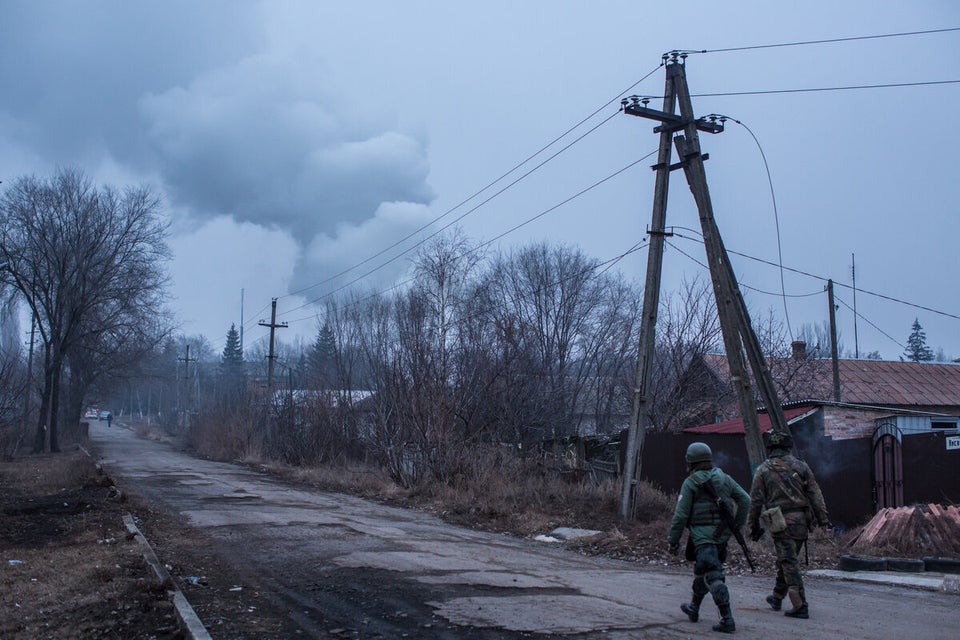 Ukraine In Ruins
Popular in the Community