Sure enough, the sequel had an enormous amount to live up to, with the first series drawing ever-increasing numbers to its deceptively simple story of who killed Danny Latimer in a small coastal town. Writer Chris Chibnall said at the time that he couldn't believe the numbers, helped by the fact that he told so few people who the murderer was, even cast members didn't know, let alone the head of ITV who had to guess along with everyone else. By the finale episode, 9.3 million viewers tuned in, to talk about the whys and wherefores of Mark Latimer's affair, Pauline Quirke's caravan antics and why exactly was that extractor fan so large and looming in the Latimers' kitchen.
What do we need from a story? Universal themes of love, loss, grief, anger, revenge and redemption told in a novel, idiosyncratic way. 'Broadchurch' Series 1 had all of this, with a small coastal town torn apart by the murder of a small boy, Danny Latimer, with his body found on the nearby beach. And that is it. Small boy murdered - who, why, when, how? But, through the talents of writer Chris Chibnall, the impeccable cast and its superb setting, a simple linear narrative opens the door to so much more that we want to know, and transcends the form of classic whodunnit into something far more complex.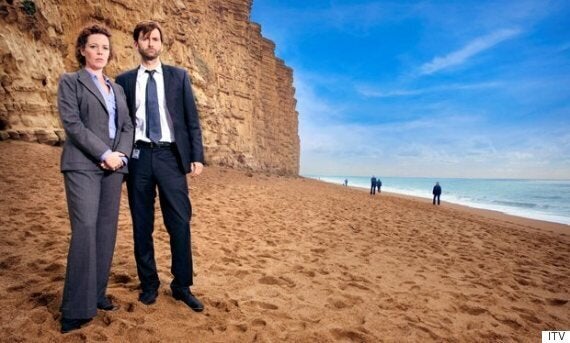 The Broadchurch cliff lent itself superbly to the drama surrounding it
DETECTIVE INSPECTOR HARDY
The detective charged with investigating the case was brought to life by David Tennant. Once thought of as an irreplaceable Doctor Who, popular Tennant will now have to work twice as hard to remove Hardy's crumpled coat and battered exterior from fans' minds. Playing against type, he was the outsider here, a shell of a man, brought to his knees by the failure of a previous case, and rabid with determination it won't happen again. Clearly, this man is in no fit state to direct traffic, let alone run a complicated murder investigation. Despite his brusque, determined tones - and never has Tennant's native Scottish burr been put to such good use - it's clear Hardy is fragile, sensitive and just as scared as the suspects he's investigating by the demons he's uncovering, not least his own.
DETECTIVE SERGEANT MILLER
Who could match Hardy for making a rich, multi-layered character out of the generic dramatic investigating cop? Ah, that'll be actress Olivia Colman, BAFTA-winning for her stunning portrayal of reluctant sidekick Ellie Miller. Her duty here is complicated by the fact that she's grieving too, for her friends, for her son with the loss of his best pal, for the community no longer the one she knew. And she's the unwilling bridge between Hardy and everyone else. What makes this performance so special? The lack of cliche between her and Hardy for starters - no sexual tension here, instead, delayed, unspoken but deep comradeship. And Olivia Colman bringing her own brand of humanity to her wounded character. It's all in the eyes.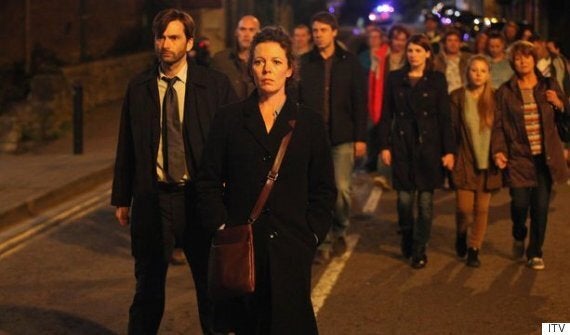 The entire community of Broadchurch was affected by Danny Latimer's death
In the Latimers, ghostly with the shock of their son's death, we have a complex portrayal of what happens when something bigger has to unite a dysfunctional family. Both parents Beth (Jodie Whittaker) and Mark (Andrew Buchan) had their secrets before their son's tragedy, and the gradual unweaving of their world, together with great performances from both, means we are properly invested in them, even if we never really trust them completely.
Would 'Broadchurch' have been the same series if it were set in Balham? We'll never know, because Chris Chibnall decided to write about the town he knew on the Dorset coast, with its stunning coastline and dramatic over-hanging cliff. A beach will always be a dramatist's friend - with its offering of beauty, solitude and reflection, and Chibnall isn't the first to tap into the metaphor of characters sitting on the edge between civilised society and something far more powerful but unknowable out there in the murky depths, etc.
But he brought this all shockingly to life with Danny's discovery in a place of such beauty, now tainted by evil. And no writer ever got luckier with a cliff-face - that sharp reminder that we are all really only one step away from toppling off.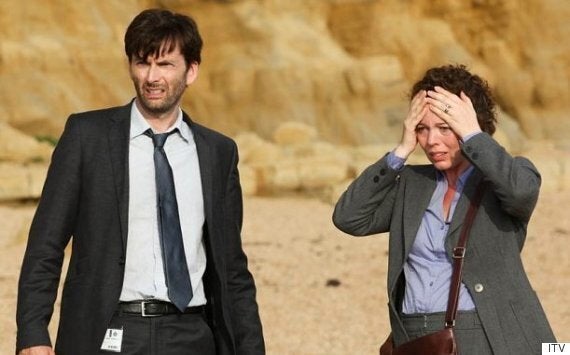 DI Hardy and DS Miller made a reluctant but deep partnership
The crime itself is an intimate one - the murder of a young boy whose circle was naturally small. Despite this, Chibnall casts his pen across the whole town, with each resident taking their turn under his thorough but ultimately compassionate gaze.
What do we learn? Nothing new, only that we are all inextricably bound to those whose paths we cross, and that vulnerability exists in such tough-looking castles as Susan Wright (Pauline Quirke) and Jack Marshall (David Bradley). The portrayal of misunderstood loner Jack by David Bradley is heartbreaking, but only one of Chibnall's reminders that the smallest pebble can always be seen in its wide-rippling consequences. And, just as the evidence of this in both Danny's and Jack's cases is enough to bring us to despair, so the silent unity by other, more diverse characters from whom we are led to think the worst, is a reminder to give us pause, and ultimately hope. Like I said, Chris Chibnall did an awful lot with a classic whodunnit.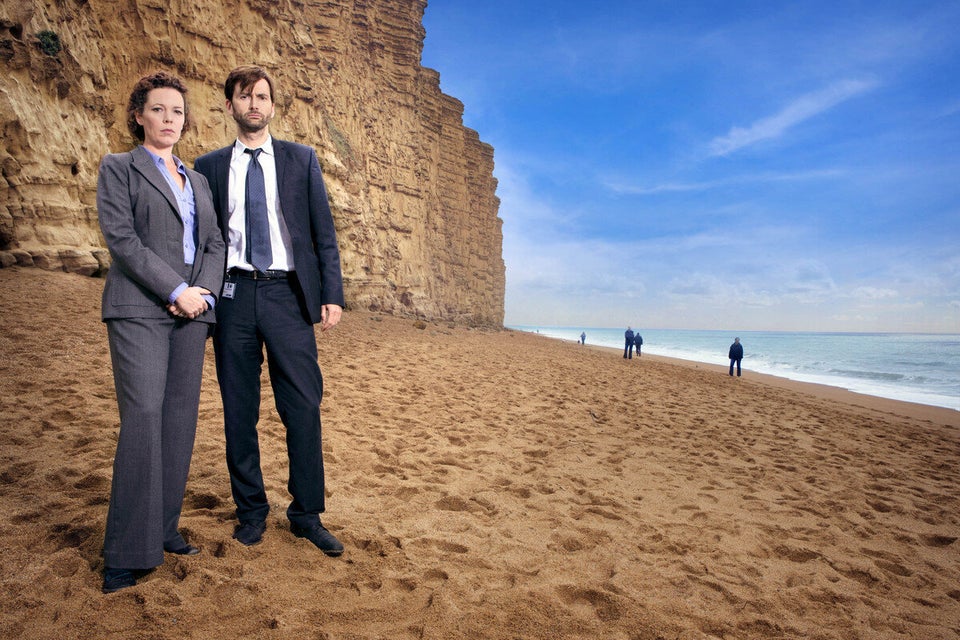 Broadchurch
Related