A former Archbishop of Canterbury who features on the exterior of a London University looks set to be removed over his "offensive" views on gay relationships.
Lord Carey, an alumnus of King's College London currently adorns the windows of the Strand's campus building. But following a campaign by the university's LGBT Liberal Association society, the former religious won't be a feature for much longer.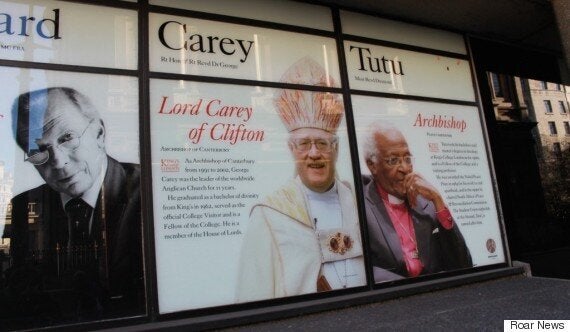 Lord Carey on the Strand campus
"[This] will also mean the removal of Lord Carey and the inclusion of minorities in the discussions for new alumni."
Lord Carey has previously said same sex marriage set a "dangerous precedent" which could lead to incest and polygamy. In 2012, he urged David Cameron to back down over the proposed plans to legalise gay marriage as it risked fuelling "Nazi" persecution of groups disagreeing with the reforms.
A spokesperson for KCL said: "It is likely, subject to planning approval, that the proposed redevelopment of the Strand campus will require a review of the Strand windows and we will consider the diverse views of our students, staff and alumni at the appropriate time."
In 2013, students at the London institution passed a motion to oppose Lord Carey's presence, saying: "Not only are the statements made by Lord Carey unacceptable, they are deeply offensive."