UPDATE: The source of this mystery has been found. Scroll down to find out more.
An odd edition of national newspaper The Guardian has Londoners (and us) really, really confused.
A seemingly hand-drawn copy of the paper from 23 February 2011 was handed out to commuters at London Bridge station on Monday. It was also apparently spotted at Old Street.
The bizarre Berliner appears to have been drawn with a fairly thick black marker pen and reproduced en masse to incredible detail. The words are scribbled but headlines, pictures and logos are easily made out.
There doesn't seem to be any particular point to the publication of this four-year-old copy of the paper. There are no satirical overtones or deviations from the original copy.
If it's a viral marketing tactic, it's a weird one.
If it's art, we don't quite get it.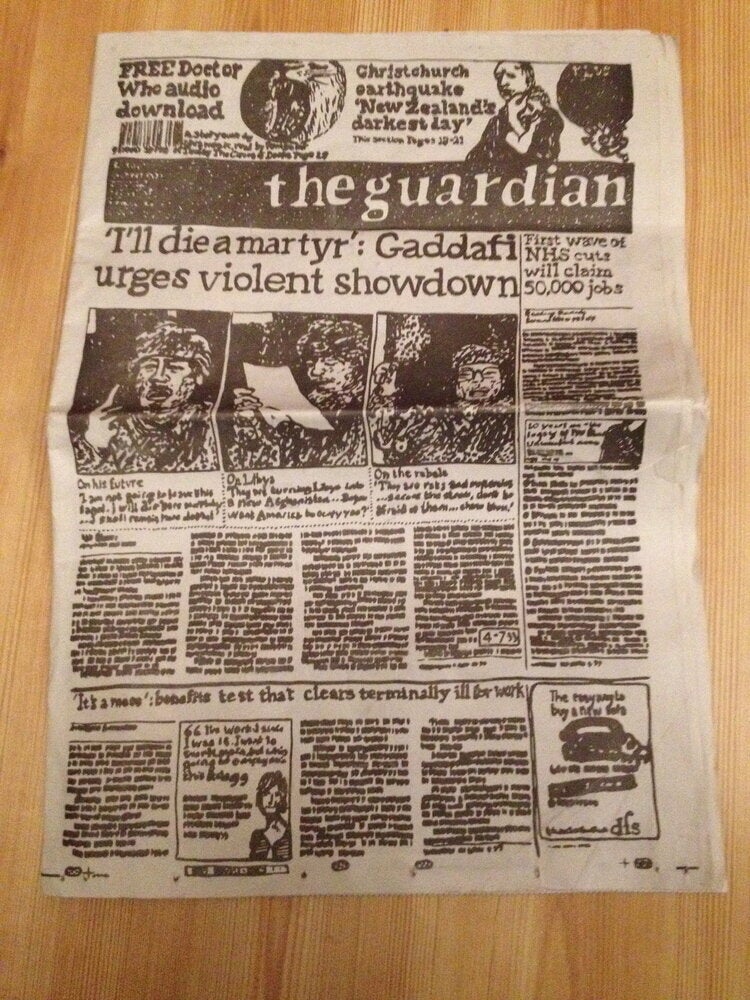 Mysterious hand-drawn Guardian
However, the company which produced that particular piece has since closed.
The newspaper are denying any involvement. A Guardian News and Media spokesperson told The Huffington Post: "Neither the production nor the distribution of the hand drawn copies of the Guardian are something that we've been involved with."
If you've got an explanation about this interesting issue, we'd love to hear it because we're scratching our heads over here.
UPDATE: The artist behind the mystery has been named as 37-year-old Charlotte Mann.
Some 3,000 copies were distributed with the help of students from St Martin's School of Art and the London College of Communication.
Mann used the issue from the day her daughter was born, and says the intention of the project was to make people wonder why the baffling newspapers had been created, rather than being a political or cultural statement.
"I could have made a drawing of an ancient copy of the Koran," she said.
"If I did that it would have seemed to have loads of political religious implications. If I'd have made a copy of the Argos catalogue, it would have seemed to be self-consciously making a statement about consumerism or class.
"It almost could have been anything, but you've got to choose something specific and I love the way a newspaper is weirdly neutral and potent at the same time."
Popular in the Community