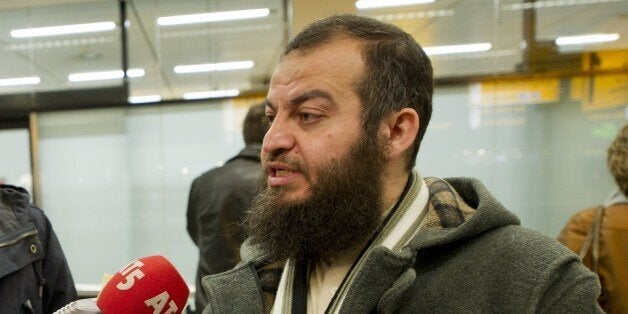 More than 2,500 people have backed a petition to stop a preacher who has previously described homosexuality as an evil, criminal act and a "scourge" which must be combatted, from speaking at a university.
Islamic speaker Sheikh Haitham al-Haddad is scheduled to appear at the University of Westminster on Thursday, the day before a national gay pride event is due to take place on campus.
Members of the university's LGBTI Society started the petition to block al-Haddad from talking at the "Who is Muhammad?" event, hosted by the student Islamic Society.
The petition calls on students to prevent al-Haddad from "preaching hate on our campus", asking: "How is it possible to create a safe space for thousands of LGBT students if an Anti-gay preacher is allowed on campus a day before?"
Al-Haddad has previously defended himself from accusations of being a hate preacher in a post on islam21c.com, writing: "There are many who have objected in the recent past to the Government's rush to legislate on same sex marriages, are all these 'hate preachers' too; the Members of Parliament, the Catholic Church and the Tory party faithful? The claim is as specious as it is ridiculous."
In a blog for HuffPost UK University of Westminster student Yazy Tauk argued inviting the speaker prevented the university from being a safe space for LGBTI students: "This is not this isn't a religious debate. This is a homophobic agenda we're dealing with and we need to abolish homophobia and transphobia, especially in universities where students have the right to express who they are without discrimination."
The University of Westminster Students' Union (UWSU) released a statement supporting al-Haddad's right to speak at the university event, which said al-Haddad has undergone an external speaker vetting process.
"Students should be encouraged to explore their ideas and opinions whilst they study in order to grow.
"We are proud of the diversity of our community and promote tolerance and respect as a key principle in all our activities.
"UWSU's policy on external speakers aims to enable students to 'debate, challenge, question and discuss issues important to them and, as part of the process, external speakers are invited to talk about specific topics. In all such cases, we follow the University guidelines and processes."
Posting on its Facebook page,the university's Islamic Society (ISOC) said Al-Haddad had not "been invited as an indirect affront, insult or gesture of indifference towards any part of the student community".
"We are more than happy to invite our esteemed teacher to provide us with beneficial knowledge once again, and have no qualms with looking to invite him again in the future."
The ISOC post also emphasised that the university operates an open platform policy and said that Al-Haddad "is one of the most knowledgeable Islamic figures in the UK".
Al-Haddad also took part last year in a video appeal to Islamic State to spare the life of British hostage Alan Henning.
HuffPost UK has been unable to reach the preacher for comment.