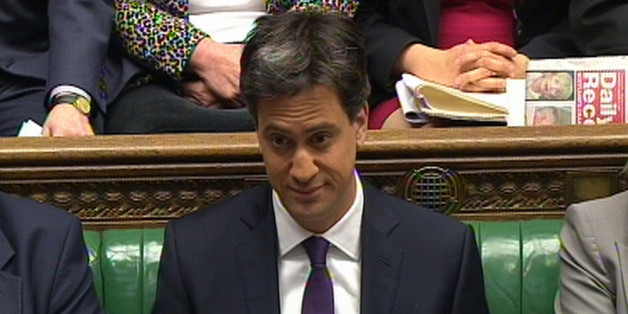 PA/PA Wire
There's only five installments of Prime Minister's Questions left until the general election, and with everything going on this week, today's was a fairly heated one.
Here's what happened, without all that noise:
Ed Miliband went on a rant about second jobs, even though the last Labour PM makes quite a lot on the side:
Miliband brings up second jobs for MPs and you can hear shouts of "Where's Gordon?" #PMQs

— Nadim Muslim (@NadimMuslim) February 25, 2015
Although Dave did promise to have a go at the double-jobbing thing before he was elected:
"Double-jobbing MPs won't get a look in when i'm in charge" - David Cameron. Ed Miliband: what changed? #pmqs

— Carl Packman (@CarlPackman) February 25, 2015
The MP for Eltham got a bit rowdy:
Clive Efford looks like he's about to explode according to Bercow #pmqs

— Arj Singh (@singharj) February 25, 2015
And Ed actually did quite well at the dispatch box for once:
#pmqs Cameron reeling as Miliband lands blow after blow!

— Voice of Bramley (@voiceofbramley) February 25, 2015
First win for Miliband in many months. #pmqs

— Jonathan Roberts (@robertsjonathan) February 25, 2015
But, oddly, he offered to stop any Labour MPs being paid trade union officials:
Ed Miliband moves quickly and says Labour would ban MPs being trade union officials #pmqs

— HuffPostUKPolitics (@HuffPostUKPol) February 25, 2015
That was all despite the current Act going through Parliament having an exception for trade union officials.
Dave couldn't even think of a new gag:
Cameron must be kicking himself that he forgot to use his "lock, stock and block vote" line in 2014... #pmqs pic.twitter.com/HmhpRlqxpr

— Asa Bennett (@asabenn) February 25, 2015
He ummed and ahhed a bit:
I think Natalie Bennett prepared Cameron for #pmqs today. "It's....the thing is...what.....er...."

— Matthew Young (@matt_young) February 25, 2015
The MP for Pendle was far from modest about a jobs fair in his constituency:
Guessing we'll see Rifkind and Straw at the next Pendle Job Fair #PMQs

— AngryBritain.com (@AngryBritain) February 25, 2015
There was much of the same:
I hate planted questions so much. What's the point of being an MP if you can't be bothered to ask your own questions? #pmqs

— Dominik Sokalski (@DominikSokalski) February 25, 2015
The chaps in Parliament focused mainly on things that affected them:
Is there a question on Ukraine? Libya? Iraq? Syria? #PMQs

— Martin Shapland (@MShapland) February 25, 2015
And the Father of the House stepped up:
Sir Peter Tapsell fears that unemployable "obsessive crackpots" might get elected if MPs are not allowed second jobs. #pmqs

— Andy McSmith (@andymcsmith) February 25, 2015
But David Cameron stumbled at the question "How many jobs should an MP have?":
PM says he has the job of PM and West Oxfordshire MP #pmqs 2/2

— Mark Denten (@BBCMarkDenten) February 25, 2015