Ukip will not grow unless it can shake off the taint of xenophobia and demonstrate it is the "party of the NHS", one of its MPs has insisted.
Mark Reckless, who won a by-election in Rochester and Strood after defecting from the Tories, said currently voters knew Ukip wanted to leave the EU and cut immigration.
But the party must "talk about other things as well" and reassure people it is not a threat to the NHS in order to have wider appeal.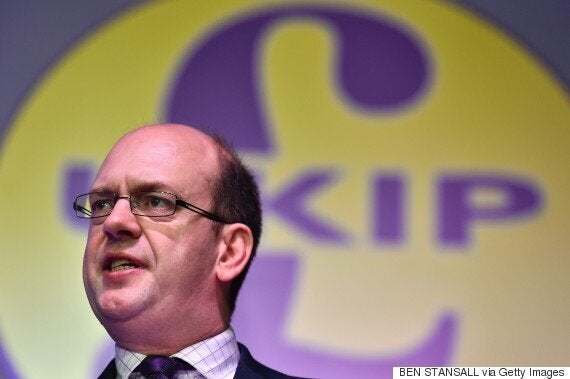 UKIP Member of Parliament Mark Reckless speaks on the first day of the party's Spring Conference
The comments came as Reckless kicked off the party's pre-election conference at the Winter Gardens in Margate, Kent.
Ukip is hoping the gathering will help it to regain momentum after a series of polls suggested support slipping.
Leader Nigel Farage has been boosted by research indicating he is on track to win the nearby seat of South Thanet.
The Survation survey, funded by party donor Alan Bown, put Farage on 39% ahead of Labour rival Will Scobie on 28% when people were prompted with candidate names.
A previous poll by Tory Lord Ashcroft in November had suggested the Conservatives could retain the seat - where their MP Laura Sandys is stepping down.
Reckless told activists: "There are two things most people know about us - we want to leave the European Union, and we want to cut immigration.
"We should talk about those things. But if we want to get beyond 20%-30% of the vote to the 40% or so we will need to win constituencies, we will have to explain why we want those things, challenge some of the misconceptions there are around our party, and talk about other things as well."
Reckless, who was warmly received by the crowd, said Ukip wanted to leave the EU "not just to control our borders ... but to boost our economy".
Pointing to figures showing net annual immigration had risen to 298,000 - three times David Cameron's target Reckless said the party would "bring those numbers down".
But he also argued that the points-based system would stop favouring migrants from Europe above those from other countries.
"Ukip is the only party that supports a non-discriminatory immigration system," he said.
Labour and the Tories have seized on discussion within Ukip over the NHS, after Farage indicated that he personally favours an insurance-based system. The party has made clear its policy is for healthcare free at the point of delivery. Reckless said Ukip would spend more than the other parties on the health service.
"To go beyond our base we will show that Ukip is the party of the NHS," he said."I was born into the NHS. My father was a doctor and my mother was a nurse. Three times the NHS has been a lifeline for our party leader. Ukip is the party of the NHS."
Farage - who addressed a US conference featuring right-wing Tea Party politicians overnight - is due to speak in Margate this afternoon.
Deputy chairman Suzanne Evans, who is drafting the election manifesto, told the conference it would not include much-mocked policies from 2010 such as forcing taxi drivers to wear uniforms or painting rail carriages in Union flag colours.
Giving a broad outline of the Ukip platform, she insisted that pulling out of the EU would save £10 billion annually, and reducing aid spending to US levels another £11 billion.
Reviewing the Barnett formula for allocating funding to Scotland, Wales and Northern Ireland would save up to £8 billion.
Activists cheered loudly when told scrapping the HS2 train link would save £4bn annually, and the money could be recycled in to tax cuts.
Health spokeswoman Louise Bours insisted Ukip did not want to privatise the NHS. The party would allocate an extra £3 billion a year to the health service, funded in the longer term by savings from leaving the EU.
The money would pay for 20,000 nurses, 3,000 midwives and 8,000 GPs, she said.
Tourists would need to have health insurance, and immigrants would only be entitled to free NHS care after paying tax for five years. Hospital parking charges would also be abolished.
Ukip immigration spokesman Steven Woolfe stressed the party was not anti-immigration or anti-immigrant. But he argued that the number of incomers had put strain on infrastructure such as schools, hospitals and the sewage system.
The public did not care about "colour of skin or race or creed" because they "believe in this country, they believe in Britain and they believe in its values" .
He added: "What they are concerned about is that our eye has been taken off the ball for nearly a generation.
"Schools are now full, hospitals are troubled, healthcare - it is very difficult to be seen in many areas of this country. Roads need to be built, we need to look at the way we feed ourselves because of our growing population. What about our water and sewage systems? All of these matter."
Popular in the Community