Boris Nemtsov, a charismatic Russian opposition leader and sharp critic of President Vladimir Putin, was gunned down Saturday near the Kremlin, just a day before a planned protest against the government.
The death of Nemtsov, a 55-year-old former deputy prime minister, ignited a fury among opposition figures who called the brutal killing an assassination. Putin quickly offered his condolences and called the murder a provocation.
Nemtsov himself had said in recent days that his family believed he would be murdered for his anti-Putin activism. Britain has said it will follow closely investigations in to the killing.
David Cameron condemned the "callous murder" of Nemtsov and said the crime "must be fully, rapidly and transparently investigated, and those responsible brought to justice".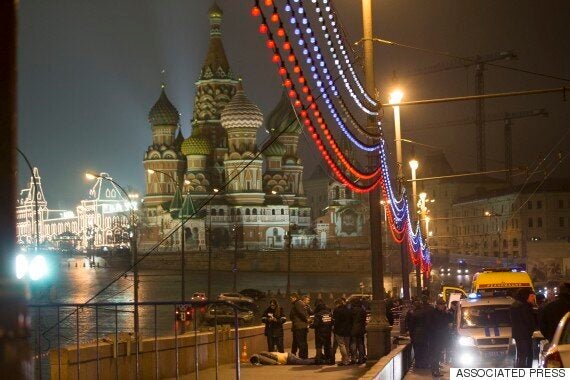 Police and medics surround the body of Boris Nemtsov in the early hours of Saturday, Feb. 28, 2015.
Nemtsov was working on a report presenting evidence that he believed proved Russia's direct involvement in the separatist rebellion that has raged in eastern Ukraine since last April. Ukraine and the West accuse Russia of backing the rebels with troops and sophisticated weapons. Moscow denies the accusations.
Putin ordered Russia's top law enforcement chiefs to personally oversee the probe of Nemtsov's killing.
"Putin noted that this cruel murder has all the makings of a contract hit and is extremely provocative," presidential spokesman Dmitry Peskov said in remarks carried by Russian news agencies.
The Prime Minister said he was "shocked and sickened by the callous murder" of "a man of courage and conviction" who was "greatly admired in Britain" not least by former PM Margaret Thatcher.
"Boris Nemtsov is dead. But the values he stood for will never die," he said in a statement. Putin is reported to have taken personal charge of the investigation which his spokesman said "has all the makings of a contract hit and is extremely provocative".
Paying tribute to the murdered politician, Cameron said: "His life was dedicated to speaking up tirelessly for the Russian people, to demanding their right to democracy and liberty under the rule of law, and to an end to corruption.
"He did so without fear, and never gave in to intimidation. He was greatly admired in Britain, not least by his friend Lady Thatcher, who visited him in Russia and who would have been appalled by today's news. The courage of Nemtsov's life contrasts with the utter cowardice of his murder. I extend my condolences to Boris Nemtsov's family and friends. The Russian people have been deprived of a champion of their rights."
Shadow foreign secretary Douglas Alexander said: "The shocking murder of former Russian deputy prime minister Boris Nemtsov has rightly drawn widespread international criticism and condemnation. Mr Nemtsov was a committed democrat and made a lasting contribution to politics in Russia, including being an outspoken critic of the conflict in Ukraine.
"The priority now must be a thorough and impartial investigation into this brutal murder. Clearly President Putin has a responsibility to show that the Russian authorities are willing and able to take the appropriate steps to identify Mr Nemtsov's killers and bring them to justice."
President Barack Obama called on Russia's government to perform a "prompt, impartial and transparent" investigation to bring the perpetrators to justice. Obama called Nemtsov a "tireless advocate" for the rights of Russian citizens.
US Secretary of State John Kerry said Nemtsov committed his life to a more democratic Russia, "and to strong relationships between Russia and its neighbors and partners, including the United States."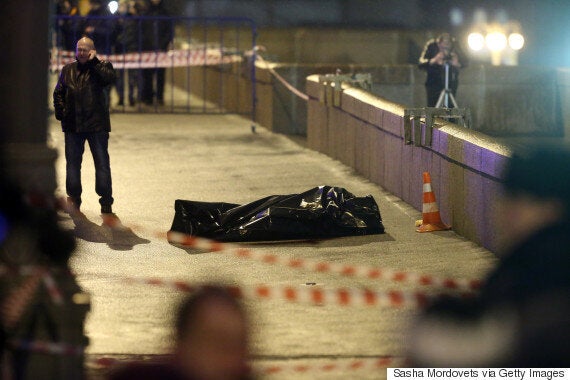 Russian police investigators stand near the body of killed Russian opposition leader and former Deputy Prime Minister Boris Nemtsov (Getty)
Pro-democracy activist and former world chess champion Garry Kasparov said on his Facebook page: "Shot four times, once for each child he leaves behind. A man of Boris's quality no longer fit Putin's Russia.
"He always believed Russia could change from the inside and without violence; after 2012 I disagreed with this.
"When we argued, Boris would tell me I was too hasty and that in Russia you had to live a long time to see change. Now he'll never see it. Rest In peace."
Nemtsov assailed the government's inefficiency, rampant corruption and the Kremlin's Ukraine policy, which has strained relations between Russia and the West to a degree unseen since Cold War times.
In an interview with the Sobesednik newspaper, Nemtsov said earlier this month that his 86-year old mother was afraid that Putin could have him killed for his opposition activities. Asked if he had such fears himself, he responded by saying: "If I were afraid I wouldn't have led an opposition party."
Speaking on radio just a few hours before his death, he harshly criticized Putin for plunging Russia into the crisis by his "mad, aggressive and deadly policy of war against Ukraine."
"The country needs a political reform," Nemtsov said on Ekho Moskvy radio. "When power is concentrated in the hands of one person and this person rules for ever, this will lead to an absolute catastrophe, absolute."
Ukrainian President Petro Poroshenko called Nemtsov a personal friend and a "bridge" between the two countries. He said on his Facebook page that he hopes the killers will be punished.
Nemtsov's lawyer Vadim Prokhorov said the politician had received threats on social networks and told police about them, but authorities didn't take any steps to protect him.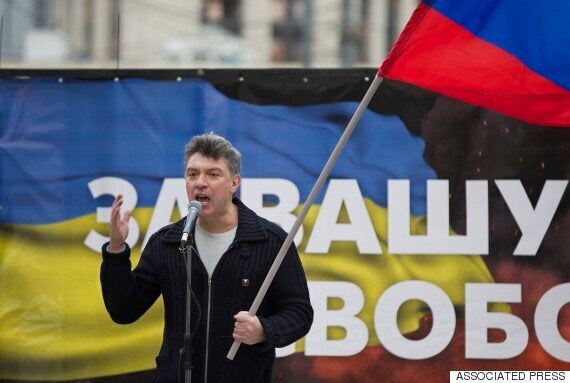 Boris Nemtsov addresses demonstrators during a massive rally to oppose president Vladimir Putin's policies in Ukraine, in Moscow, Russia. (AP Photo/Alexander Zemlianichenko, File)
The Russian Interior Ministry, which oversees Russia's police force, said that Nemtsov was killed by four shots in the back from a passing car as he was walking over a bridge just outside the Kremlin shortly after midnight.
Interior Ministry spokeswoman Yelena Alexeyeva told reporters that Nemtsov was walking with a female acquaintance, a Ukrainian citizen, when a vehicle drove up and unidentified assailants shot him dead. The woman wasn't hurt and was being questioned by police.
Mikhail Kasyanov, a former Russian prime minister now also in opposition, said he was shocked.
"In the 21st century, a leader of the opposition is being demonstratively shot just outside the walls of the Kremlin!" Kasyanov told reporters as Nemtsov's body placed in a plastic bag was removed on a rainy and cold night, as the Kremlin bells chimed nearby. "The country is rolling into the abyss."
Sunday's rally was pushed to the city's outskirts by the authorities, but Kasyanov said the rally organizers decided that they will stage a demonstration in the center of the capital to commemorate Nemtsov. Officials' failure to authorize it would be certain to cause anger and could lead to unrest.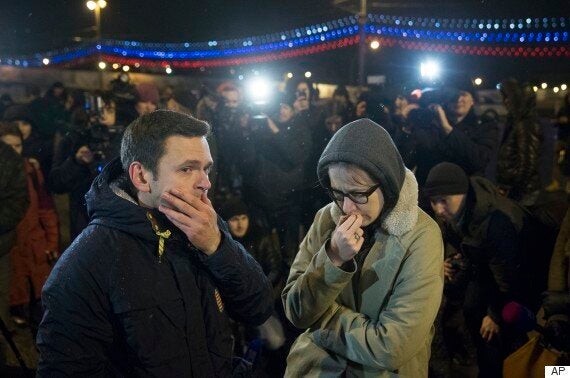 Russian opposition leaders Ilya Yashin, left, and Ksenia Sobchak, right, react as police investigate the the body of Boris Nemtsov, Saturday, Feb. 28, 2015. (AP Photo/Pavel Golovkin)
Opposition activist Ilya Yashin, who last spoke to Nemtsov two days before the killing, said he had no doubt that Nemtsov's murder was politically motivated.
"Boris Nemtsov was a stark opposition leader who criticized the most important state officials in our country, including President Vladimir Putin. As we have seen, such criticism in Russia is dangerous for one's life," Yashin said.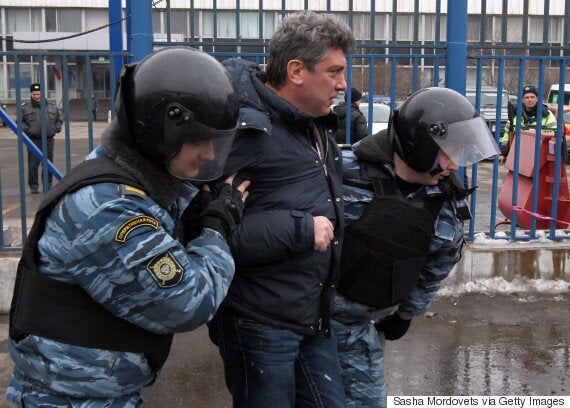 Police detain Boris Nemtsov in front of the Ostankino television center during a protest rally March 18, 2012 in Moscow. (Getty)
Vladimir Milov, a former deputy energy minister and opposition activist who co-authored a report blasting Putin's rule with Nemtsov, said he could have been targeted by the authorities or some nationalists driven by the Kremlin-inspired propaganda. "Nemtsov was a key engine behind protests who coordinated efforts by different political forces and had organizational and financial capabilities," he said on his blog.
Political analyst Stanislav Belkovsky told Ekho Mosvky radio that he did not believe that Nemtsov's death would in any way serve Putin's interests.
"But the atmosphere of hatred toward alternative thinkers that has formed over the past year, since the annexation of Crimea, may have played its role," Belkovsky said, referring to the surge of intense and officially endorsed nationalist discourse in Russia since it annexed Ukraine's Crimean Peninsula.
Irina Khakamada, a prominent opposition figure who co-founded a liberal party with Nemtsov, also blamed a climate of intimidation and warned that the murder could herald a dangerous destabilization.
"It's a provocation that is clearly not in Putin's interests, it's aimed at rocking the situation," she said in remarks carried by RIA Novosti news agency.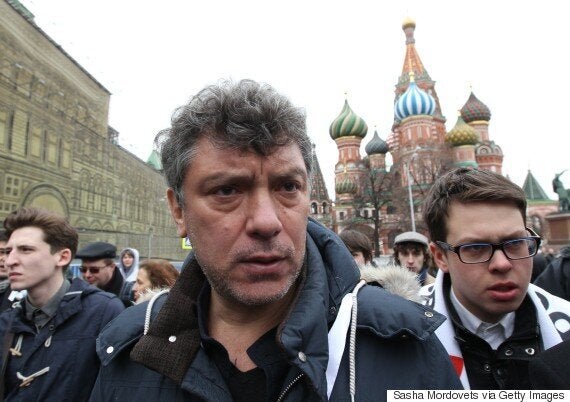 Boris Nemtsov (C) and other anti-Putin opposition activists attend an unsanctioned rally at Red Square on April 8, 2012 in Moscow, Russia. (Getty)
Michael McFaul, US ambassador to Russia from 2012-2014 and now a Stanford University professor, called the shooting "One of the most shocking things that I can remember happening in Russia for a long, long time."
US Senator John McCain, chairman of the Senate Armed Services Committee, said in a statement late Friday that "Boris is dead because of the environment of impunity that Vladimir Putin has created in Russia, where individuals are routinely persecuted and attacked for their beliefs, including by the Russian government, and no one is ever held responsible."
Russia's human rights commissioner, Yelena Panfilova, said "it wasn't just a shot in Nemtsov's back, it was a shot in the back of Russia."
Vladimir Ryzhkov, a longtime political ally of Nemtsov, blamed Putin for fueling "the atmosphere of hatred toward those with different views, the atmosphere of violence and aggression that now exists in the country."
After Nemtsov's body was taken away, people put flowers at the spot where he was killed.
"It's because of his activism, which was very important," said one, Yevgeniya Berkovich. "It's political in any case. Even if it was done by some random street cleaner who went crazy and had a gun, it's because he got it into his head that this is now the fashion."
Nemtsov served as a regional governor and then a deputy prime minister in the 1990s and once was seen as a possible successor to Boris Yeltsin, Russia's first elected president. After Putin came to power in 2000, Nemtsov became one of the most vocal critics of his rule. He helped organize street protests and exposed official corruption.
Nemtsov was widely liked for his good humor, larger-than-life character and quick wits, but he and other top opposition figures long have been purged from state television and steadily marginalized by the Kremlin propaganda machine.
He was one of the organizers of the Spring March opposition protest set for Sunday, which comes amid a severe economic downturn in Russia caused by low oil prices and Western sanctions.
Nemtsov said during a radio interview just before his death that it was hard to live under constant intimidation and pressure.
"I won't hide the fact that the opposition is under strong pressure," he said. "Lies are spread about the people, and one has to be a very strong person to cope with all this. I know this from my own experience."
Former Liberal Democrat leader Sir Menzies Campbell said Putin bore some responsibility for creating the kind of atmosphere in which dissent could end in "political assassination".
"Remember, other dissidents have met their deaths in recent years as have investigative journalists, so this is not a one-off," he told Sky News. "I am not saying that he (Putin) is responsible or that he ordered the killing or anything of that kind. There is no evidence to support that.
"But if you create an atmosphere in which those who are opposed to government find themselves subjected to what is essentially a political assassination then you have to take some responsibility."
He said the declaration that Mr Putin would take personal charge of the investigation had "induced a certain amount of scepticism both in Russia and abroad". "It demonstrates just how difficult it is in Putin's Russia to be a dissident; to have a view which is different from the view of the Putin government.
"And for that, the fact that that atmosphere exists at all, is something for which I think Mr Putin must take responsibility."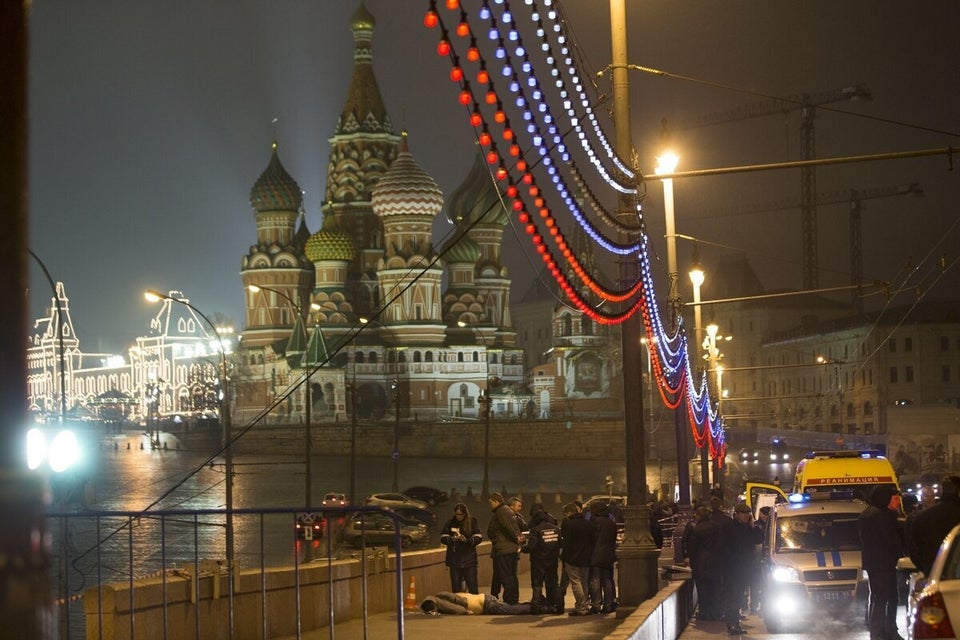 Kremlin Critic Killed