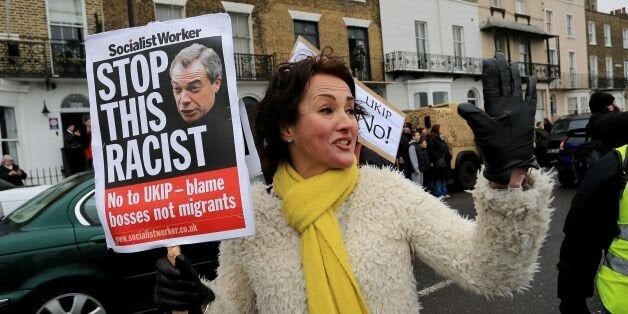 Around 200 anti-Ukip protesters marched on the venue of the eurosceptic party's spring conference in Margate on Saturday afternoon.
The rally sang a variety of songs with lyrics including "Nigel is a banker" and "immigrants are here to stay" and "we're black, white, asian and we're gay". Signs included messages such as "stop this bigot" and "say no to hate".
A lot of the people in the march were from the Socialist Worker Party or from trade union branches who had travelled to the Kent coast from outside the county.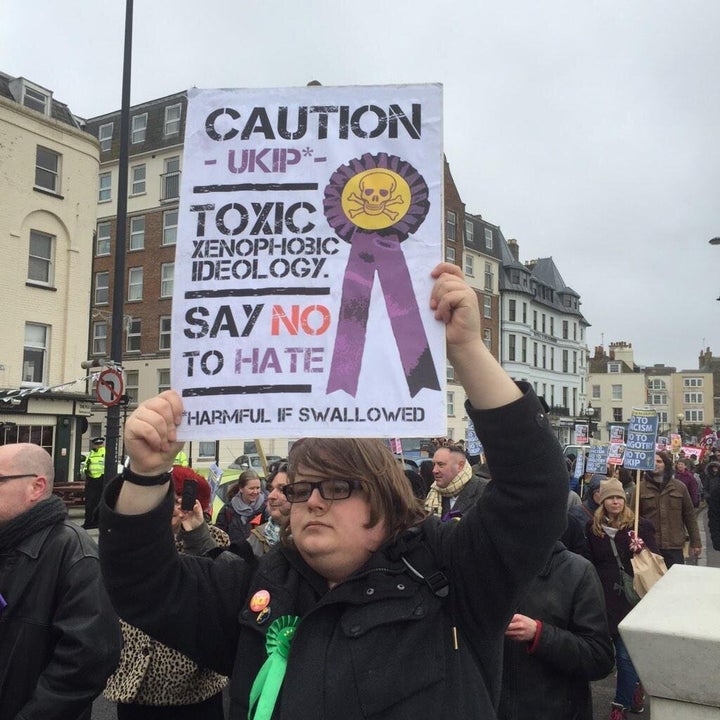 A more direct banner featured pictures of Farage, David Cameron, Ed Miliband and Nick Clegg and read simply: "All fucking wankers".
Political opinions aside, the demonstrators had a pretty good beat to sing along to.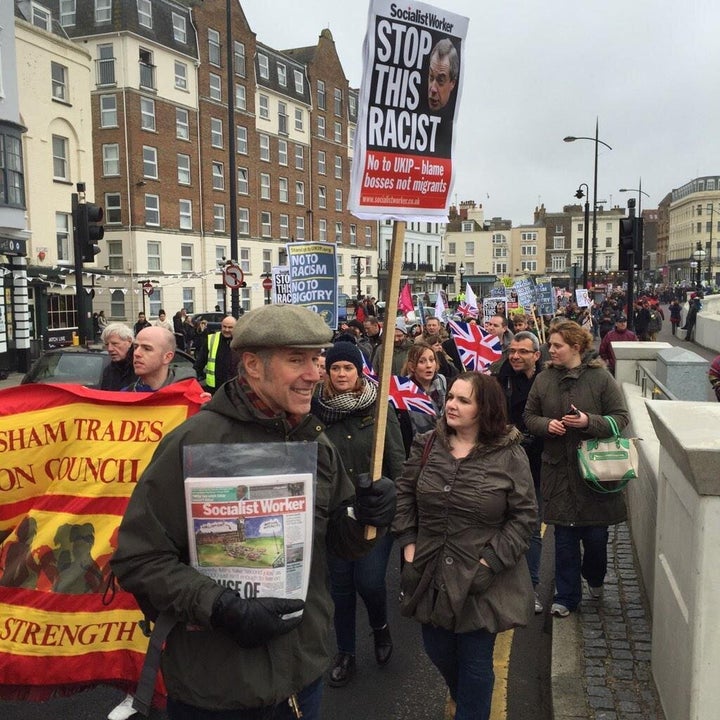 A counter-protest made up of around 20 people holding Union Flags and St George's flags chanting EDL slogans such as "we want our country back" had turned up outside the sea-side Ukip conference venue. Some had arrived in a military-style camouflaged van. As the two marches met they hurled slogans at each other - separated by police.
Most actual Ukip members were blissfully unaware of the two demonstrations taking place outside their conference, which ended this afternoon.
Kent Police said around 250 people took part in the protest and rally, which saw people from different parts of the country gather outside Margate railway station and march through the town in objection to Ukip's spring conference being held in the Winter Gardens.
Senior officers policing the protest said that all groups had co-operated with the police.
A force spokeswoman said: "There have been some very minor verbal exchanges and a woman has been arrested on suspicion of common assault following an isolated incident involving a camera being pointed at her. No one has been injured.
"However, apart from this one incident there have not been any physical confrontations and the protest has generally been conducted peacefully.
"It is estimated that about 250 people took part in the march."
The protest and rally was organised by Thanet Stand Up To Ukip, which is campaigning to stop Ukip leader Nigel Farage being elected to the South Thanet seat.
On its website, the group claims: "We believe Farage has nothing to offer the ordinary people of Thanet.
"Our campaign will challenge Ukip's racism, bigotry, misogyny and homophobia as well as their hard-right cuts agenda on welfare, work and the NHS."
Pictures of protesters carrying banners and placards were also posted on Twitter under the hashtag #ukipspring.
The police spokeswoman said: "As with all such events, the primary role of Kent Police is to work with partners to facilitate peaceful protest whilst ensuring public safety.
"Officers remain in the local area to prevent and detect crime and antisocial behaviour, to reassure the public and to respond to any incidents if required."
Popular in the Community