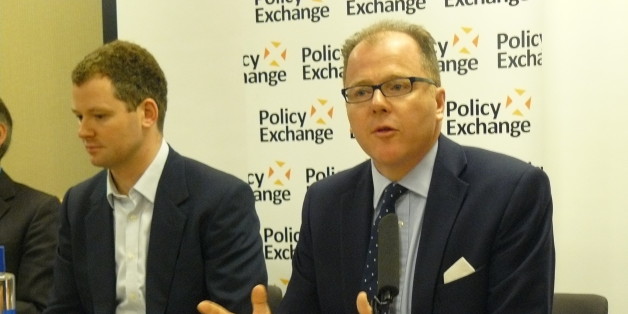 Policy Exchange/Flickr
A Tory minister has come under fire after dismissing calls to prosecute more firms that pay staff below the minimum wage as being motivated by "envy".
Business minister George Freeman made the controversial defence after admitting to MPs on Monday afternoon that only nine firms had been taken to court for failing to pay at least the minimum wage since the coalition took over in 2010.
Freeman, a former businessman, said: "Prosecutions may satisfy the politics of envy of the Opposition, but they are not the best mechanism to drive compliance. The fact is we are trying to drive a system in which employers, the vast majority of whom are responsible, comply properly."
See more on General Election 2015
The minister also said that 162 firms had been named and shamed by the government for not paying the £6.50-an-hour minimum wage during the same period.
Freeman's remarks will be especially unhelpful as the Tory party used to oppose the minimum wage being introduced in the first place, with many current senior figures arguing at the time that it would hamper business. William Hague, now leader of the House of Commons, said in 1997 that the minimum wage "would be either so low as to be utterly irrelevant or so high that it would price people out of work."
Labour expressed alarm about his remarks, with shadow business minister Stella Creasy expressing concern that the government's commitment to the minimum wage was "skin deep".
"It's an odd thing to suggest that it's okay for employers not to pay the minimum wage," she told the Huffington Post UK. "I'm genuinely surprised".
Fellow Labour MP Ann McKechin, member of the Commons business committee, told HuffPost UK: "Sadly it is all too predictable for Tory ministers to engage in political point scoring rather than tackling a problem which afflicts thousands of people struggling to survive across the country."
"The simple fact behind George Freeman's bluster is that his Government has paid lip service to enforcement by failing to provide sufficient resources and the poorest in our society are paying the price."
However, employment expert Richard Dunstan pointed out that Labour's criticism suggests that the party would seek to enforce the national minimum wage by taking more firms to court, which could be very expensive.
.@SDoughtyMP @LabourBIS @stellacreasy Criminal prosecutions have never been a key element of NMW enforcement system established by Labour.

— Richard Dunstan (@Wonkypolicywonk) March 3, 2015
.@SDoughtyMP @LabourBIS @stellacreasy If so, you'd better have some £ promised by Ed B, because criminal prosecutions v v expensive.

— Richard Dunstan (@Wonkypolicywonk) March 3, 2015
According to the Trades Union Congress, at least 250,000 workers are not being paid the legal minimum wage. TUC general secretary Frances O'Grady said: "A fair day's pay for an honest day's work has nothing to do with envy.
"This reminds us that the Conservative party was opposed to the minimum wage for decades. Some of them seem reluctant converts today. We need to be tough on cheating bosses who don't pay up the wages they owe, and tough on politicians who let them off the hook."
"And his subsequent comments about the politics of envy show just how out of touch he is about people having to live on low wages across Britain."
Freeman later told MPs that the national minimum wage has been a "success story" under the coalition, adding: "I am proud to say that this Government feel that the fundamental framework of the wage should be retained in its current form.
"True supporters of the national minimum wage know that it is a partnership between business and society—something that it is particularly crucial in the role played by the independent Low Pay Commission in advising the Government about the level of the wage."