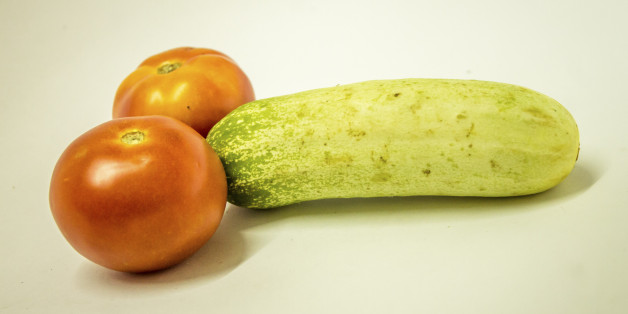 mantosh via Getty Images
From micropenises to penises the size of a baby's arm, we know that the male member comes in all shapes and sizes.
But a new study has revealed what the average penis size really is by analysing the length and width of more than 15,000 penises around the world.
According to the data, presented in the BJU International journal of urology, the average length of an erect penis is 5.2 inches (13.12cm).
The average circumference of an erect penis is 4.6 inches (11.66cm).
And in a flaccid state, the average penis is 3.6 inches (9.16cm) in length and has a girth of 3.7 inches (9.31cm).
The figures indicate that only 2.28% of the male population have an abnormally small penis. The same percentage of men have an unusually large one.
SEE ALSO:

What's It Really Like To Have A Micropenis?
The researchers, from the Institute of Psychiatry, Psychology & Neuroscience (IoPPN) and South London and Maudsley NHS Foundation Trust (SLaM), used the data to create graphs for doctors to use when helping men with penis-related anxiety and Body Dysmorphic Disorder (BDD).
"BDD causes a person to have a distorted view of how they look and they can spend an obsessive amount of time worrying about their appearance," Dr Martin Baggaley, medical director at SLaM explained.
"This can include worries over their weight, specific parts of their body and, for men, the size of their penis. This can take over someone's life and cause a great deal of distress. Hopefully this new study will help reassure those many men who are concerned with their penis size and assist clinicians dealing with BDD."
Ant Smith is someone who knows how damaging penis anxiety can be.
He suffered from small penis anxiety in the past, and told HuffPost UK Lifestyle that the ordeal shaped his personality and sapped his confidence.
But then he decided to tell his friends about his penis worries, and is encouraging more men to do the same by throwing a small penis party.
"Now that just about everybody knows I have a small penis, my life is actually way easier. No more stress that this secret may be discovered," he said.
"Nowadays we don't see each other naked so much. But at the same time we're bombarded by doctored images in advertising and 'specifically selected' larger males in porn, so we not only get the message that bigger is better, but we seem to live in a world where everyone else is bigger."
Dr David Veale from King's College London, who was lead author on the latest research, said he hopes the study will "help doctors reassure the large majority of men that the size of their penis is in the normal range."