Police have released the heartwrenching, hand-written notes of tragic 8-year-old Ayesha Ali, who was tortured, abused and killed by her mother and her lesbian lover.
The pages included a list of actions that were "good" and "bad" dated just four months before her death, and a letter which appears to show Ayesha blaming herself for her mother's aggressive behaviour.
"I don't know how I make myself do these things," she writes. "I'm not just letting myself down, but I am letting my family and Kiki down as well."
Ayesha's mother Polly Chowdhury, 35, and her lover Kiki Muddar, 43, were sentenced at the Old Bailey for causing Ayesha's death at their home in Chadwell Heath, east London, in August 2013. Scribbled-out text at the bottom reads "Amah (mummy) loves me but she doesn't like me! I am crying right now!"
Another piece of paper, shown to the court, appears to be a list of "good" and "bad" things, partly edited by an adult's handwriting.
Scribbled-out parts include "Good: Staying in my room unless someone tells me to do something" and "finishing all my meals on time".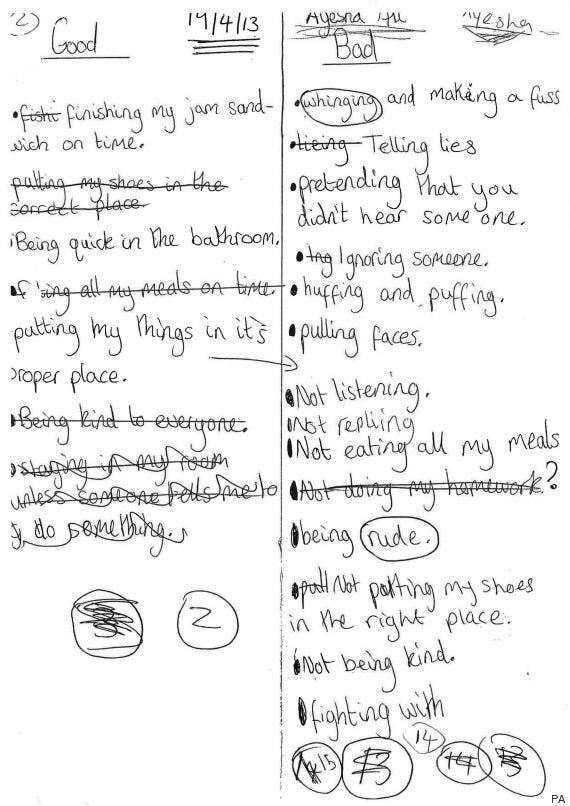 Chowdhury had been befriended by Muddar while she was still living with Ayesha's father Afsar Ali. She gained Chowdhury's trust by pretending to have cancer, the court heard, and claimed the child's misbehaviour made her health deteriorate.
In a recorded phone conversation with a friend the month before the killing, Muddar described Ayesha as a "pure evil" and a "witch" and threatened to drown her in the bath.
Muddar, who was diagnosed with a borderline narcissistic personality disorder, refused to give evidence but claimed to be at her parents' house on the night the little girl died, although a pathologist said Ayesha could have been killed hours before she left.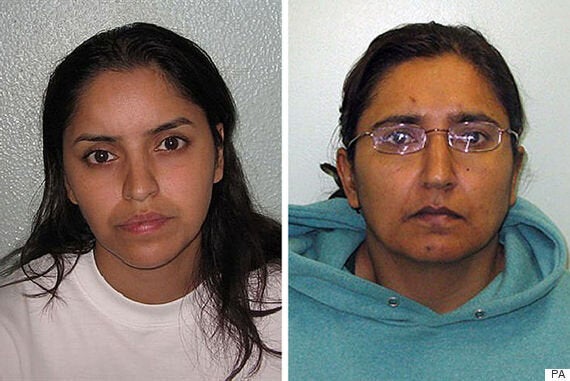 Polly Chowdhury, left, and Kiki Muddar
Retiring on 19 February, the jury cleared the pair of murder but found them guilty of manslaughter by a majority of 10-2 after deliberating for more than 31 hours.
Muddar and Chowdhury had become embroiled in a twisted romance involving fictional Facebook characters before the child's death.
On the morning of August 29, 2013, Muddar dialled 999 to report Chowdhury had tried to kill herself in the bath and that Ayesha was dead. CCTV still released by the Metropolitan Police showing Muddar purchasing a new shower hose on the morning of 28 August
Paramedics discovered the child "cold and stiff" in her bedroom dressed only in a pair of pink pants. Although the cause of her death was head trauma, she suffered more than 40 injuries, including a bite mark and carpet burns. Muddar and Chowdhury both refused to say how Ayesha had received the wounds.
Chowdhury had left a series of notes, appearing to admit the killing, saying: "I have taken my life and Ayesha's life", but during the course of the investigation, police discovered evidence implicating Muddar in Ayesha's death.
Officers unravelled a set of alter egos on Facebook and in text messages which Muddar had created to control and seduce Chowdhury, turning her against her daughter because she saw her as a threat.
Muddar had befriended Chowdhury when they lived next door to each other and she got sympathy by pretending to be fighting cancer.
Chowdhury's husband Afsar Ali moved the family to get away from her influence, but Muddar followed and evicted him from the marital bed, leading to the breakdown of the marriage.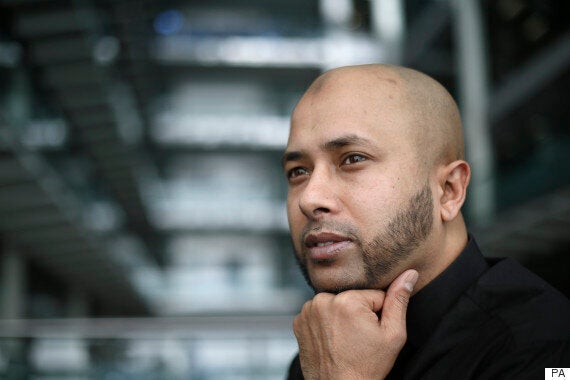 Afsar Ali, Ayesha's father
Meanwhile, Muddar spun a web of lies and deceit through her fake personas, including Chowdhury's cyber boyfriend Jimmy.
Polly Chowdhury thought that Kiki Muddar was the conduit for her mystery soulmate Jimmy, whom she only knew on Facebook and text.
But Jimmy was nothing more than a figment of Muddar's dangerous mind, along with a spirit guide called Skyman who egged Chowdhury on, not only to get close to her but to punish her daughter Ayesha.
And it was only after the little girl's death that Chowdhury realised that Muddar had "groomed" her for sex and none of these characters were real.
Although both women denied it was sexual, the toxic relationship between Muddar and Chowdhury lay at the very heart of the trial.
Muddar's cast of self-serving alter egos helped her become intimate with Chowdhury but in her eyes, Ayesha was getting in the way.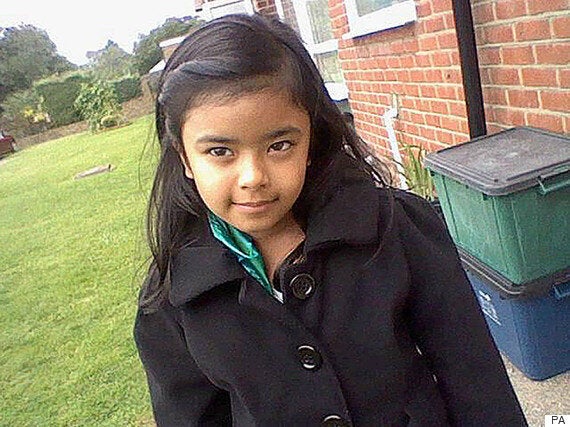 The court was shown "sexting" between Chowdhury and Muddar under the guise of Jimmy who persuaded her to send a sexually explicit picture.
While she was on remand, Chowdhury told a prison officer that her friend had pains in her body and when she touched her, they would disappear.
She later told psychiatrist Dr Philip Joseph: "I now realise she groomed me 100%. I never realised it at the time. I was groomed for sex with her.
"Everything changed about her when she had sex with me ... Skyman was doing us a favour because me and Jimmy were not allowed to see each other.
"It was like his soul in her body - like in the film Ghost."
Muddar, who claimed to work as an engineer for the Olympics, expressed her hatred for the innocent child in a series of phone calls and texts which she kept copies of, and even blamed Ayesha for making her cancer worse, the court heard.
She told Chowdhury, a solicitors' admin worker, that Ayesha was "evil" and had "bad blood" and repeatedly encouraged her to discipline the child.
Examples of some 41,000 texts were read out in court to show how Muddar bombarded her lover with negative ideas of the little girl, saying: "Your daughter is evil, you never disciplined her today", "Your daughter will pay", and "You have no right to ever love or like your evil daughter".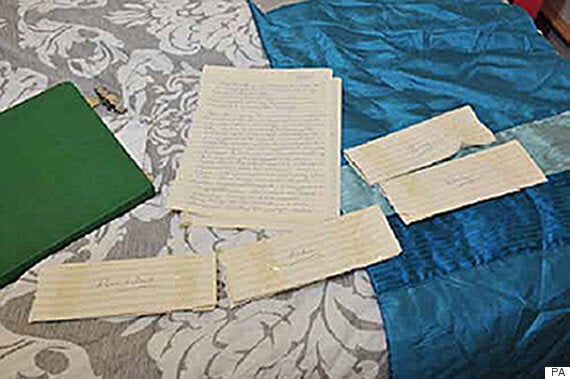 Letters found in Ayesha's bedroom
She bombarded Chowdhury with more than 40,000 texts telling her: "You have no right to ever love or like your evil daughter".
Days before the killing the couple, who were both horror film fans, terrorised Ayesha in the night by taking it in turns to wear a scary mask.
A neighbour heard her screaming, sobbing and then pleading with her mother: "Amah, I don't want to be bad, Amah, Amah I don't want to be bad."
After Ayesha's death, Muddar reacted dismissively when she told a paramedic: "She was a naughty child and mum thought she was possessed by the devil."
Speaking to psychiatrist Dr Philip Joseph, Muddar said: "I have never had cancer but pretended to have cancer at Polly's suggestion so she could get out of her house and could escape her husband."
She also told Dr Joseph she came from a Sikh family but was brought up in the Christian religion and was a Jehovah's witness.
Muddar, of Green Lane, Ilford, and Chowdhury, of Broomfield Road, Chadwell Heath, both denied murder, manslaughter and causing or allowing the death of a child between March 1 and August 29, 2013.
Chowdhury wept in court as she described how Muddar was giving Ayesha a cold bath as punishment for wetting herself around the time she received her fatal injury. A new shower hose believed to have been purchased by Muddar as a replacement for one used to assault Ayesha
Earlier, she said she had found Muddar with her foot on the girl's chest in the bathroom, but after pushing her off, she went back to job-hunting on her computer in the living room.
Both women denied they were in a physical relationship, but Chowdhury told a psychiatrist that Muddar had "groomed" her for sex.
After the verdicts, Ayesha's distraught father Afsar Ali, 35, said he would never forgive his former wife for falling under the spell of their "evil" neighbour when she should have been keeping their "perfect child" from harm.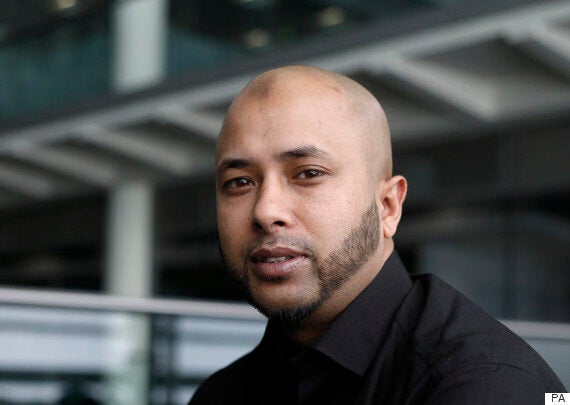 Afsar Ali, Ayesha's father
He said: "As a mother she has to live with the pain for the rest of her life, I guess. The child you gave birth to - to take her life away - that is something I can never forgive. There are only two people I blame - that's her and Kiki.
Mr Ali, who attended court every day of the trial, described his daughter as a "perfect child" and "my angel in disguise".
He added: "Ayesha was an amazing child. Intelligent, loving, caring and passionate about life and world poverty. She loved life and her family and all she wanted was to be part of a happy family. I was her super hero, her super daddy.
"She was a well-mannered child and always had a smile on her face. She was the love of my life and I nearly lost her when she was born premature and was on an incubator for a very long time, fighting for her life.
"She was my angel in disguise. She was a perfect child any parent could wish for."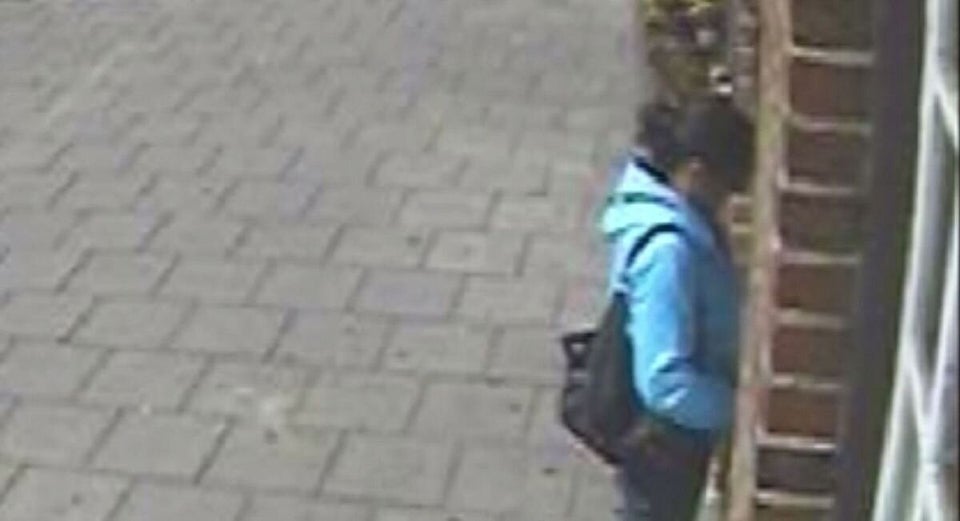 Kiki Muddar on CCTV
Speaking outside court, Detective Sergeant Andy Nimmo said: "Ayesha Ali was an innocent and defenceless eight-year-old child caught up in a bizarre set of circumstances and manipulated by two adults who were intent on causing her harm.
"Through social media and text, Muddar created a sophisticated web of lies and deceit which took officers months to unpick. What unravelled was a picture of enormous hatred directed towards Ayesha by both Muddar and Chowdhury.
"Ayesha should have been able to turn to one person who she could trust - her mother - but Chowdhury had allowed herself to become influenced by Muddar and together they inflicted serious emotional and finally physical harm on Ayesha.
"What the motive behind the campaign of abuse was remains unclear. What is painfully clear, however, is that Ayesha had her life taken away in horrible and brutal circumstances."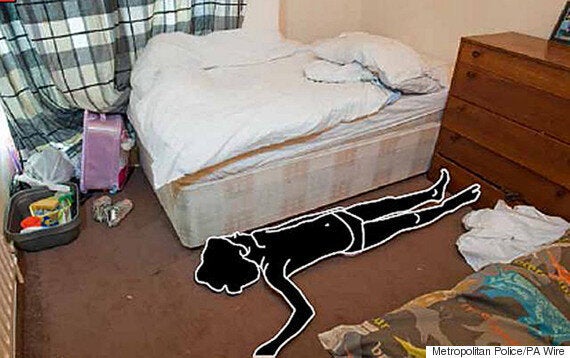 Police highlight where Ayesha's body was found
DS Nimmo went on to read a statement on behalf of a tearful Mr Ali, saying: "Over the last few weeks I sat in the courtroom as the truth unfolded.
"It was not the truth about my princess Ayesha, it was the truth about what they did to my little girl, how they tortured her and took away her life.
"Ayesha was an amazing little girl - loving, caring, intelligent and always smiling. She was helpful and considerate to everyone she met. She was a gift of love. I knew that the very moment she came into my world. Nothing will bring Ayesha back.
"All I have now is happy memories of the past, the joyful moments we have had together. She filled my world with beauty and I'm going to hold on to that for as long as I live. She was my sunshine, my closest friend."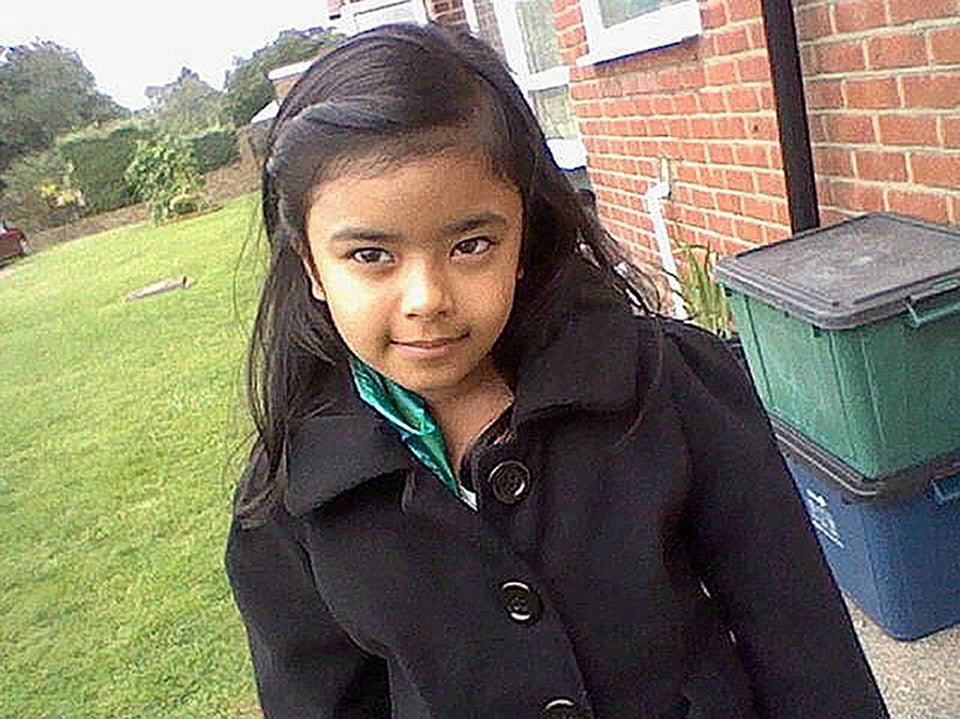 Ayesha Ali