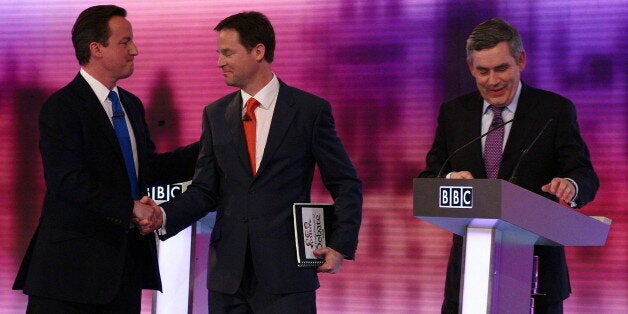 The chance of televised election debates taking place looks increasingly unlikely, after David Cameron appeared to rule out taking part in a head-to-head bout with Ed Miliband one week before polling day as planned.
Under the current proposals drawn up by the broadcasters, voters would get the chance to watch three TV debates before polls open on Thursday May 7.
The BBC and ITV would each host a debate, on April 2 and April 16, featuring the seven party leaders from the Conservatives, Labour, the Lib Dems, Green Party, Ukip, the SNP and Plaid Cymru.
Cameron and Miliband would then debate each other on April 30, in an event hosted by Sky News and Channel 4.
However speaking during prime minister's questions today, the prime minister poured cold water on the idea of taking part in any debates during the so-called "short campaign", which begins on March 30.
He said: "I have been very clear. I have said get on with the debates before the election campaign. I think we should start now."
Cameron has previously said he believed the 2010 general election debates, which some Tory MPs blame for scuppering the party's chances of securing a majority, had the effect of "sucking the life" out of that campaign.
Pressed by Miliband on whether he would agree to take part in TV debates, Cameron replied: "We're having a debate now."
Miliband said: "The broadcasters have proposed a live head-to- head debate between the prime minister and me on the April 30. A week before polling day. I will be at that debate Will he be at that debate?"
The Labour leader also said he was "very happy" to agree to an additional TV debate with Cameron.
Following the spat at PMQs, Sky News indicated it was willing to move its head-to-head debate to a different date to accommodate the prime minister.
Popular in the Community