Commuters making their way through London's Canary Wharf on the morning of Thursday 5 March were presented with a choice: to face the effects of domestic violence head on or to turn a blind eye.
As people made their way to work three days before International Women's Day, they were greeted by a large billboard featuring an image of woman with a bruised face and the simple imperative, 'Look at me'.
Those who didn't fight the urge to look away witnessed a dramatic transformation - before their very eyes, the bruises on the woman's face started to fade and heal.
Polly Neate, chief executive of Women's Aid, said to HuffPost UK Lifestyle: "Often people don't want to see domestic violence or do something about it because it feels too difficult or they're worried what they do won't have any impact. They turn a blind eye because of this, leaving women isolated and making it even harder for them to get help.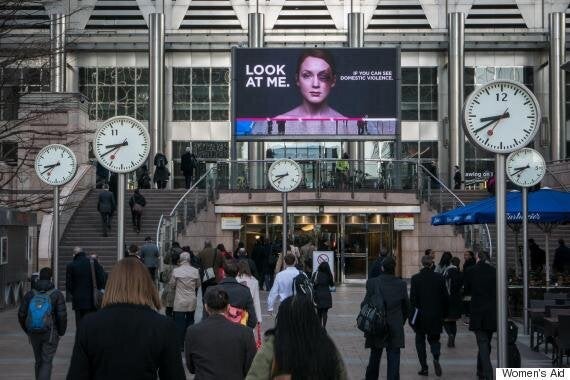 The engagement-activated billboard - which is the first of its kind in the UK - was created by charity Women's Aid and photographer Rankin.
Facial recognition technology built into the billboard recognises when people turn to look at the image of a bruised woman. As more and more people pay attention to the image, the woman's bruises slowly fade - poignantly illustrating how we can all make a tangible difference in the fight against domestic violence.
"We want to show this International Women's Day that anyone can 'Make it Happen'", says Neate referring to the theme of International Women's Day, "and everyone can help put a stop to domestic violence, by noticing it, by donating to Women's Aid, and to making sure their communities don't tolerate the sexist attitudes that lead to abuse. That's what we hope to achieve with this advert."
Victims of domestic violence suffer for nearly three years before getting the help they need according to a recent survey by SafeLives.
"By listening to women, identifying their resources and their needs, and working with them to achieve the best possible outcomes for themselves and their children, we can provide help earlier and make sure its effects actually last."
The billboard was displayed in Canary Wharf between 8am and 10am on Thursday 5 March, before moving on to Birmingham Bullring and Westfield London on March 7 and 8.