Commuters were forced to practice their rugby skills at Oxford Circus Thursday night as severe congestion caused the pavements to become flooded with people.
Scuffles and arguments broke out as more than a thousand people filled the crossroads where Oxford Street meets Regent Street, waiting to be allowed into the busy station.
The crush was caused by a broken-down Victoria Line train, which led to unusual amounts of overcrowding on the platforms.
I wouldn't try getting on the Tube at Oxford Circus, if I were you... pic.twitter.com/CTZeUn7IC7

— Kevin Rawlinson (@KevinJRawlinson) March 5, 2015
The station has also been struggling with the extra capacity caused by Crossrail works at Tottenham Court Road, forcing many Central Line commuters to use Oxford Circus.
Transport for London ensured the furor was "nothing out of the ordinary" despite attacking Network Rail over a recent scrum at London Bridge station.
Oxford Circus crowds 'nothing out of the ordinary'. London Bridge crowds: Boris gets all huffy and demanding on Network Rail. Difference?

— Boris Watch (@BorisWatch) March 6, 2015
Another day in paradise @TfL #oxfordcircus #rushhourcrush pic.twitter.com/jptf6aBzag

— Ms.D (@Naintre) March 5, 2015
Dr Glenys Jones, 34, a nutritionist based in Portland Place, told the Evening Standard: "All four entrances were closed and about 300 people were queuing at each.
"A tube must have come in at one point, so a gap appeared. People swarmed forward - it was like the first day of the Harrods' sales.
"Those at the front of the queue got agitated because people were pushing in from the sides. There was a lot of pushing and shoving."
Can't wait to get out there NOT!!! #oxfordcircus #centrallondon #london #oxfordstreet #thursday #shopping pic.twitter.com/bs5UXK5P7o

— Estela Drakic (@EssiChic) March 5, 2015
Gillian Smith, 26, said: "It happens almost every day now, they shut these big metal gates and a tannoy blasts out the 'do not enter' message.
"They are trying to stop congestion on the platform but it causes mayhem at street level."
@standardnews This happens everyday now at Oxford Circus. They close the gates from 5.45-6pm. Chaos on the streets above and people crushed.

— Steve Spencer (@stevelspencer) March 6, 2015
#Londra'da metro kuyrugu... Oxford Circus.. Dört giris de böyle! pic.twitter.com/eUfdJXlvJC

— Cagil M. Kasapoglu (@CagilKasapoglu) March 5, 2015
TfL operations director Peter McNaught said: "Due to the vast crowds that often visit the West End we sometimes have to temporarily close the station to ensure customer safety and prevent overcrowding on the platforms.
"Sorry to those who got caught up or delayed."
Oxford Circus underground station shut due to overcrowding. Reminds me why I'd never live in London pic.twitter.com/KTGMAXoy31

— Kevin Murphy-Steele (@RapidAssistant) March 5, 2015
@TfL journey This is ridiculous-everyday being held for TWENTY minutes outside Oxford Circus due to congestion pic.twitter.com/jf2Q6CxOtt

— Gillian Adair (@Gilly331) March 5, 2015
6.19 every evening. Oxford Circus closed. Useful. pic.twitter.com/fdBXz6bZlJ

— delcrookes (@hairydel) March 5, 2015
The mayhem at this busy tourist destination follows an earlier crush at London Bridge which saw tired City workers jumping turnstiles and slipping under the barriers to avoid the stampede.
British Transport Police (BTP) were called to the station to help manage the growing crowds though they were unable to prevent some passengers from clearing the gates out of frustration.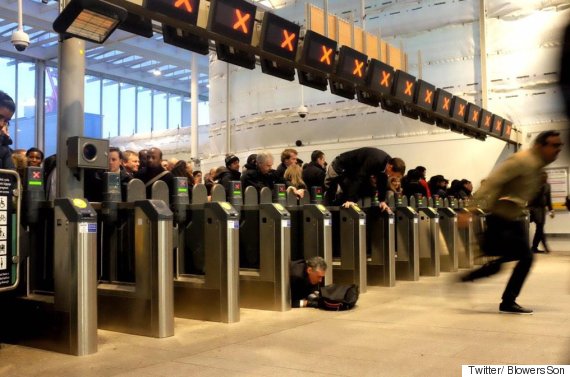 Commuters vault over and burrow under the ticket gates at London Bridge station on Tuesday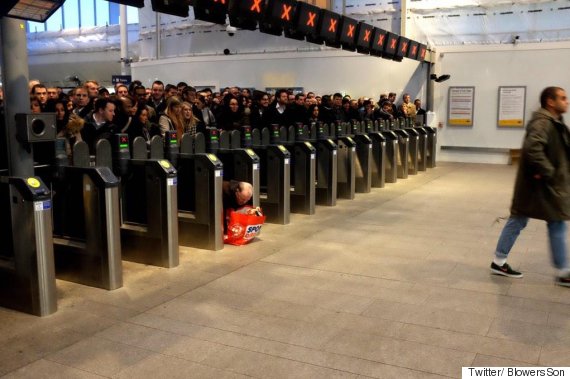 A combination of a person on the tracks and signalling problems saw delays and eventually cancelled services at London Bridge on Tuesday
SEE ALSO: