There's no denying that football has long been considered a man's game.
Sadly, sexism comes hand in hand with the sport, with many women sitting on the receiving end of abusive chants and truly hurtful remarks.
But now, football clubs are being urged to champion their female staff as part of a major social media campaign aimed towards tackling sexism in the game. While also encouraging fans to call out sexism via social media using #ShameOnTheGame.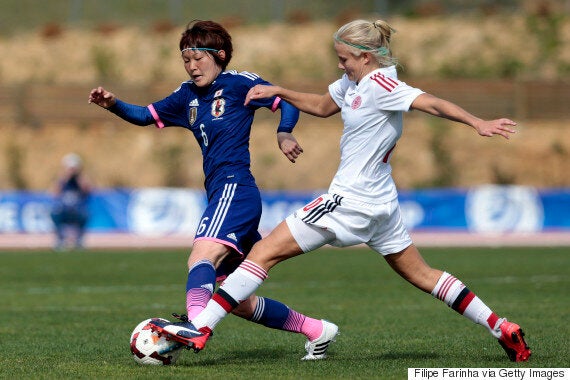 The month-long campaign by Women In Football (WiF), which coincides with International Women's Day, hopes to highlight the growing number of women working in football while also encouraging other women to follow in their footsteps.
Anna Kessel, chair of Women in Football, said: "Women represent half the population and half the talent. They deserve to belong to football with equal recognition in the boardroom, workforce and as supporters.
"While we recognise progress is being made there are still too many barriers to women's progression in the industry and acceptance by the sport."
"That is why we are asking clubs to champion female talent as well as raise awareness of sexist abuse and discrimination and how those affected can report it in a bid to bring about a change in attitudes," she added.
But it's difficult for women to pursue a career in such a male-dominated sport, especially when some men aren't on board with the idea.
Additionally, Carolyn Radford, chief executive of Mansfield Town football club reveals that she's been targeted with "hurtful" and abusive chants before because of her gender.
She adds: "Should I be expected to tolerate such abuse? If this was racist language being chanted at me perhaps people would say something about it.
"But because it's banter - so to speak - I've just got to flick my hair and accept it."
Recently, the Football Association publicly urged to fans to report sexist abuse at games after being shown disturbing scenes of women officials and staff being subjected to disgraceful chants including: "Get your t*ts out for the lads."
The #SheBelongs campaign by Women in Football, which is supported by Everyday Sexism, hopes that people will use the hashtag to raise awareness of this outrageous discrimination and sexist abuse, especially on match days.
Anyone who witnesses match day sexism is encouraged to report it on social media using #ShameOnTheGame.
Laura Bates, founder of the Everyday Sexism project, said: "We have received numerous entries from people who have experienced sexism, harassment or abuse whilst playing, watching, supporting or working in football.
"Whether victims are staff, players or fans, misogynistic chants and sexual harassment can mar the experience of sporting events. It is time that clubs and fans alike stand together and take responsibility for creating a space where everybody can enjoy football, free from any kind of prejudice."
In addition to WiF's social media campaign, all 92 Premier and Football League clubs have been asked to profile inspirational women in their match day programmes to show their commitment to equal opportunities in time for International Women's Day on 8 March.
The move to raise awareness follows Women in Football's survey in March 2014 which found that over 66% of women employed in the sport had witnessed sexism in the workplace.
Over 89% of those who said they had witnessed it said they had not reported it.
Women in Football has also created a sexist briefing note for match day stewards and stadium safety officials to recognise sexist abuse in football stadiums.
The document - which is the first of its kind - was piloted at a Premier League club this season. It's the first time that clubs have specifically been asked to focus on the issue of sexist abuse.
Minister for Sport Helen Grant said: "It is absolutely right that we champion and celebrate women who work in the football industry and play vital roles in making the game the success that it is. I want more women to get involved in football across the board and to see it as a great industry to work in.
"Sexism, in any shape or form, should not be tolerated so I applaud this push to encourage people to report any incidents of sexist abuse and for the promotion of inclusivity across football."