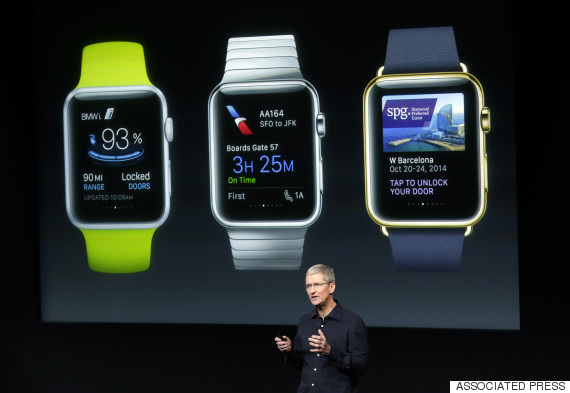 It was the moment we'd all been waiting for. Well, some of us.
Exciting to see this #AppleWatch news today because I can't wait to have this piece of anger-inducing failure jewelry in my life.

— Maureen Johnson (@maureenjohnson) March 9, 2015
If you're a male from 30-50 years old you can stop acting like you don't want the #AppleWatch because we know you do. pic.twitter.com/bH3Uxlk8wM

— Nathan (@stockejock) March 10, 2015
Yes, an Apple Live event took place on Monday -
First image from inside the #AppleWatchEvent pic.twitter.com/jEtoIeOnlo

— THE STUDIO EXEC (@studioexec1) March 9, 2015
But what was #AppleWatch going to involve?
does the #AppleWatch keep track of how long #AppleLive have gone without paying tax in the US?

— iain morris (@iainkevanmorris) March 9, 2015
Sadly not. Nor was it about this...
Hmm. #AppleWatch? Oh God. Did Ed try and eat one or something?

— Ellie Cumbo (@EllieCumbo) March 9, 2015
Or this...
#AppleWatch - Bill Oddie, live from an orchard for three hours.

— Seb Patrick (@sebpatrick) March 10, 2015
But it did involve this...
Late to the #AppleLive event.

Purple-shirted guy in Dad jeans is talking about batteries.

— Thomas L. Strickland (@ThomasLS) March 9, 2015
And, of course, the unveiling of... THE APPLE WATCH!
Hate to point it out, Apple, but that watch is going to be FAR too big for people's wrists.

#AppleWatch #AppleEvent pic.twitter.com/fJ7aly8GS0

— Amanda (@Pandamoanimum) March 9, 2015
GUYS! First look at the #AppleWatch. Oh. http://t.co/nPNflIcrw3 #AppleWatchEvent pic.twitter.com/hvob1A8NmI

— The Poke (@ThePoke) March 9, 2015
That's right. And no, the Apple Watch doesn't look like this:
Queued for 8 minutes this morning in @Asda for my new #AppleWatch #Huddersfield pic.twitter.com/fCWQ9wLWwe

— Huddersfield (@Huddersfield4U) March 10, 2015
I dunno, I don't think it's that practical. #AppleWatch pic.twitter.com/MfciaEMZPI

— David Allison (@DavidHAllison) March 9, 2015
Got my #AppleWatch already! pic.twitter.com/7sIQikD404

— Tommy Paderes (@tpaderes) March 9, 2015
just going to track down ten more photos of people with apples strapped to their wrists (hahahahaha) and then get on with my day #AppleWatch

— Rick Edwards (@rickedwards1) March 10, 2015
Loving the new #AppleWatch except it's actually just an onion I sellotaped to my wrist. pic.twitter.com/OJJ2XmI9jd

— Phil Gibson (@philgibson01) March 10, 2015
Nor does it look this:
Just got my new #AppleWatch pic.twitter.com/Kl0ZuNmI6z

— MyLyricalMind (@MyLyricalMind) March 9, 2015
Why spend $349-$10,000 on an #AppleWatch when you can do this? #wearabletech pic.twitter.com/jUKEQdSkMJ

— Martin D. Gallagher (@MartinGsq) March 9, 2015
There was great discussion of the Apple Watch apps and features:
Inside the #AppleWatch there are tiny distressed Chinese kids wondering why you don't look at the time on your iPhone

— Will Black (@WillBlackWriter) March 10, 2015
Fact: The #AppleWatch comes with a built-in app that identifies you as a prime target for muggers.

— Dai Lama (@WelshDalaiLama) March 10, 2015
Thank goodness the Stocks app is on the #AppleWatch. I imagine a lot of people were starting to panic.

— Tiahowler Biltawülf (@Biltawulf) March 9, 2015
You've got email #AppleWatch pic.twitter.com/asav69yK8s

— *Russian Market (@russian_market) March 9, 2015
@TiernanDouieb Question we all want to know - what sort of core processor does #AppleWatch have? Dualcore? pic.twitter.com/zcnwREyFTj

— Adam Dyster (@AdamDyster) March 9, 2015
March 9, 2015
My Apple Watch says it's almost U2 o'clock [sponsored time]

— Dave Itzkoff (@ditzkoff) March 9, 2015
There were some concerns about the battery life:
The Apple Watch is estimated to have a battery life of eighteen hours. That's estimated as in actually about twelve hours less than that.

— tom jamieson (@jamiesont) March 9, 2015
OK THAT IS TOO FAR APPLE! YOU CAN'T JUST CHANGE HOW MANY HOURS ARE IN A DAY YOU POWER HUNGRY FOOLS! #applelive pic.twitter.com/6sShI4byit

— Tiernan Douieb (@TiernanDouieb) March 9, 2015
And even the fact that Christy Turlington ran a half-marathon using one didn't persuade everyone:
OH: "It was only a half marathon because the battery doesn't last longer."

— Javier Soto (@Javi) March 9, 2015
Plenty of people had issues with the cost:
Apple say they want the #AppleWatch to "replace your wallet".

Starting at £500 I think this is a very realistic target.

— Producer Jim (@Mr_Jimbob) March 10, 2015
Especially the cost of the gold version:
If I wanted to spend $10,000 on something that'll be obsolete in three years I'd buy an engagement ring!!!!! #applewatch

— patrick (@pattymo) March 9, 2015
When you buy the $10,000 Gold #AppleWatch, U2 moves in with you & cooks you breakfast every morning, but you can't get them to leave.

— Matthew Lindblad (@HideYourMilk) March 9, 2015
I wouldn't spend €10,000 on an #AppleWatch

I can't ever imagine needing to know the time that badly.

— Baz (@bazlyons) March 9, 2015
You could spend $10k on an #AppleWatch or you could pay 10k people $1 each to kick some sense into your perenium

— Mitten d'Amour (@MittenDAmour) March 9, 2015
All in all, Twitter remained decidedly underwhelmed...
There's a clock on my phone thanks #AppleWatch

— Liz Buckley (@liz_buckley) March 9, 2015
I really don't get the #AppleWatch at all. Who wants to watch people squinting and yelling at their wrists in public?

— Tom + Lorenzo® (@tomandlorenzo) March 10, 2015
No thanks #AppleWatch pic.twitter.com/9lQcWwMidg

— Rachael (@RachaelvsWorld) March 9, 2015
Because what will the Apple Watch really bring to our lives?
The #AppleWatch will revolutionise the way you withdraw from social situations and ignore your family #AppleEvent

— Ben (@0point5twins) March 9, 2015
Reckon there will be a lot more car crashes with this #AppleWatch

— JC (@JCautomatic) March 9, 2015
And despite tweeters remaining alert...
#AppleWatch It's still sitting there in my fruit bowl.

— Tony Cowards (@TonyCowards) March 9, 2015
#AppleWatch enters its fourteenth hour... pic.twitter.com/gqYVuT32MX

— Nick Pettigrew (@Nick_Pettigrew) March 10, 2015
There were still plenty of unanswered questions:
Question of the day #AppleWatch pic.twitter.com/pOTT22IfrE

— Dave Callan (@davecallantwit) March 10, 2015
As with most things in life, we think it's probably best to give Douglas Adams the final word:
"...ape-descended life forms so amazingly primitive that they still think digital watches are a pretty neat idea"

Douglas Adams

March 10, 2015
Well, exactly. So long and thanks for all the gadgets, Apple.