Over the course of the election campaign, BBC Three's Free Speech programme will feature hour-long interviews with each of the party leaders. First up on Thursday evening was Ed Miliband.
The Labour leader was asked a range of policy questions including tuition fees and the legalisation of cannabis. However the young voters also tackled him on two other more personal subjects.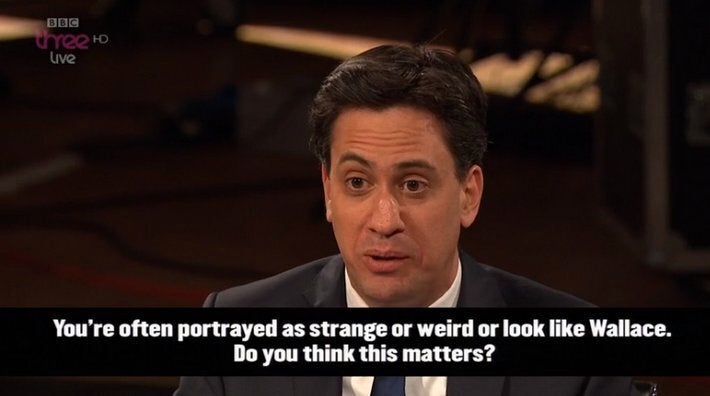 "You're often portrayed as a bit strange a bit weird," one member of the audience asked. "I think you look a bit like Wallace, do you think any of that matters?"
Miliband replied jokingly: "I hadn't heard that. That's a good question ... no."
"The thing I would say about this is if you want this to be a beauty contest or a photo-op contest ... why are you laughing ... then I'm not going to win it. I'm not trying a photo contest and if it was, bacon sandwich being an illustration, then I wouldn't win it.
"I think there are other things that matter to a leader. I think ideas matter to change the country it think decency matters and whether you hear the policies of people across the country. You need someone in Downing Street who stands up for what they believe in."
Miliband's response was met with applause.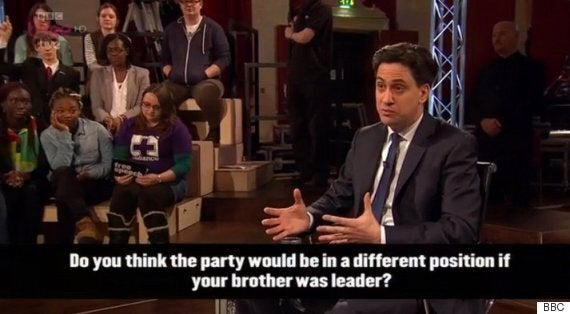 The Labour leader was also asked: "Do you think the party would be in a different position if your brother was leader?
Miliband replied: "I thought I was the best person for the job when I ran for leader and I think that now. Let me try and explain to you why I think that.
"I was obviously really tough for me to be a in a contest for my brother, tough for him as well. I thought we needed to move on from New Labour, because I thought we had been a good government, but I thought on issues like Iraq, inequality, we got it wrong and we needed to move on and I thought I was the best person to move the Labour Party on. Sure it was bruising and sure it was difficult but I thought that then and I think that now."
Another audience member pressed him: "Do you regret stabbing him in the back or not?"
Miliband replied: "That's not the way I describe it. We both stood in this contest. We both offered different things to the Labour Party it was a narrow victory for me but I won the election I won the contest it was tough at the time and its obviously healed since then.
"I think the things people are focused on in the next 55-days is the choice between me and David Cameron not me and David Miliband."