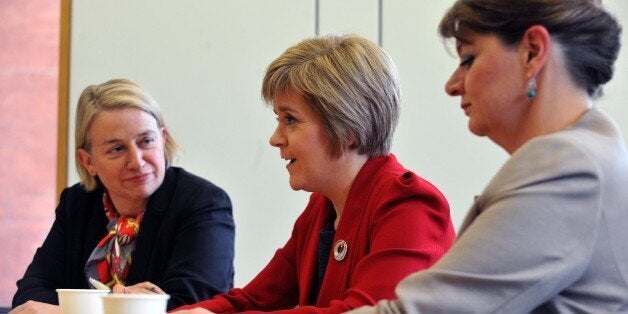 Nicola Sturgeon has urged people in England to vote either for the Green Party or for a Labour candidate that would challenge Ed Miliband from the left.
The SNP leader and Scottish first minister said that while it was not for her to tell the English how to vote, she hoped the general election in May would produce a "progressive alliance" across the UK that could keep David Cameron out of power.
In a speech at the LSE in London on Monday, Sturgeon repeated her prediction that a formal SNP-Labour coalition was "highly unlikely". The Scottish nationalists, who with the aid of a huge surge in support are on course to become the third biggest party in the Commons, are more likely to support a minority Labour government on a case-by-case basis.
Sturgeon said she could imagine working with Miliband on a "looser arrangement" than a coalition in order to "lock the Tories out of government".
Asked who people in England should vote for, Sturgeon said: "If you live in Wales I'd advise vote Plaid Cymru, if you live in England I think there is an argument for voting Green."
She added that if voters thought their local Labour candidate was "progressive and is prepared to challenge" then they should consider voting for them.
"I want to see as many progressive voices in the House of Commons after the election and that is SNP, Green, Plaid Cymru. I would like to see more progressive Labour voices challenging the Labour leadership so there is that scope for that progressive alliance I spend a bit of time in London talking about," she said.
Sturgeon added: "It's not for me to tell people in England how to vote. If I was living in England I would probably be looking at voting Green."
The Conservative Party has decided to highlight the possibility of a Labour-SNP deal to encourage English voters to back the Tory candidate in their seat.
Miliband has been under pressure to rule out a SNP-Labour coalition deal, even though Sturgeon has frequently herself said she does not want one.