Amanda Holden kept up the long tradition of 'This Morning' double entendres alive and kicking during Monday's show - and even managed to make her co-host Phillip Schofield blush in the process.
READ MORE:
During an interview with 'Real Deal' presenter David Dickinson, talk turned to 'Keith Lemon's Through The Keyhole', with Keith contacting the show to label the presenter a 'top bloke'.
Keith then added: "Sorry you weren't in this series Amanda, next series you're in."
Cue Amanda shrieking: "He's never coming in my keyhole, let me say that."
Saucy. Minx.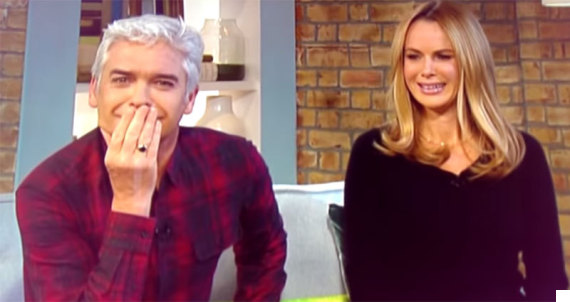 A blushing Phillip was lost for words, but just about managed not to completely lose it, despite having history with this sort of thing.
During the same show, Amanda also managed to throw a pan of hot beans over the 'This Morning' chef, Gino D'Acampo.
Amanda got a little too vigorous when she was asked by Gino to gently toss some cannellini beans he was frying and ended up throwing them all over the mortified chef and the studio floor.
Watch Amanda let slip her sexual innuendo in the video above.
LIKE US ON FACEBOOK | FOLLOW US ON TWITTER