An illicit trading site known as the "top drug market" on the dark web has been taken offline — along with millions of dollars-worth of its users' Bitcoin.
'Evolution' (or 'Evo' for short) was among the sites which filled the void left by the Silk Road and its successors, after law enforcement agencies began widespread takedown operations in 2013.
Operated by two anonymous owners ('Verto' and 'Kimble'), Evo specialised in enabling the sale of drugs, weapons, stolen credit cards and other illegal goods between two or more equally anonymous parties.
But when the site ceased withdrawals of Bitcoin over the weekend, supposedly due to 'technical' problems, users sensed bigger issues.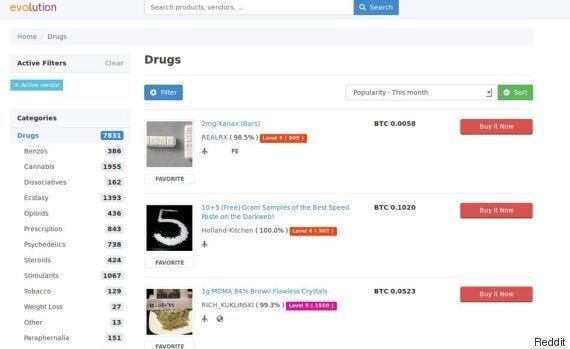 On Reddit NSWGreat, who had previously claimed to be a drug dealer and "PR" staffer for the site, wrote:
"I hate to the bearer of bad news, but I've been suspicious the past few days with withdrawals not working and admins usually are more forth coming in explaining to me why they're slow but they weren't this time. Just kept giving me time-frames.

I have admin access to see parts of the back end, the admins are preparing to exit scam with all the funds. Not a single withdrawal has gone through in almost a week. Automatic withdrawals has been disabled which is only doing on rare occasions.

I am so sorry, but Verto and Kimble have fucked us all. I have over $20,000 in escrow myself from sales."
One user on Reddit claimed to have more than £9,000 invested in the site - and said their life was "in danger" if they were left unable to pay it back.
Another user was said to have as much as 250 Bitcoin — more than £40,000 — on the site.
The anonymous nature of the revolutionary cryptocurrency Bitcoin means that once it is stolen, there is virtually no hope of recovery.
It is still unclear exactly what has happened to Evolution, but in total the amount potentially stolen could be in the millions. Greg Jones at Forbes said that in the last 12 months alone more than 475,000 transactions had taken place on the site, for a potential total revenue of $50 million or more. Based on a 3.5% commission alone that's a total profit for its owners of almost $2 million — and that's before any bitcoin were stolen.
One user on Reddit said that the actions could be "murder worthy" if the site's operators were indeed at fault for the loss. Another user appeared to threaten repercussions for Evo's operators if they did not bring the site back, suggesting that personal information could be leaked online, or the authorities, which might help track them down.
Others were less convinced. "I am guessing they have new identities and a nice remote beachside mansion all lined up, probably there already," one user wrote on Reddit, via Wired. "Damn, sounds like a movie, except real people lost real money."
Related